Dragon Naturally Speaking Reviews

- 2004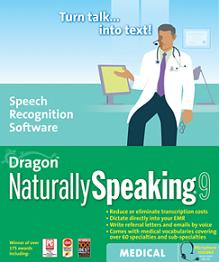 ---
Tech S2 Selects ScanSoft Dragon NaturallySpeaking SDK Server Edition to Speech-Enable Mobile Veterinary Records Management Solution
Powered by Dragon NaturallySpeaking, New Mobile Dictation Solution Will Allow Veterinarians to Dictate Wirelessly, Receive Timely Transcription of Findings and Diagnoses
PEABODY, Mass., November 24, 2004 - ScanSoft, Inc. (Nasdaq: SSFT), the global leader of speech and imaging solutions, today announced that Tech S2, Inc., a privately held software solutions technology company, has selected the ScanSoft® Dragon NaturallySpeaking® SDK (software developers toolkit) Server Edition to speech-enable a mobile records management system for veterinarians. Dragon NaturallySpeaking is the world's leading speech recognition solution, enabling the automatic conversion of speech into text at up to 160 words per minute, and allowing the voice-control of software applications simply by speaking.
Tech S2 is using the Dragon NaturallySpeaking SDK Server Edition to integrate speech with its mobile veterinary records management solution, CaseScribe, which will allow veterinarians in the field to quickly dictate and transcribe their findings while on the go. Notes are dictated using Tech S2's voice recording software on a PDA Phone or Smartphone, and these voice files are then transmitted to the CaseScribe application server where they are immediately transcribed by Dragon NaturallySpeaking Server Edition. The transcription is then electronically delivered to the veterinarian's home office or other location depending on their preference. Eliminating the reliance on written notes and manual transcription, CaseScribe leverages Dragon NaturallySpeaking to dramatically reduce the time and cost associated with producing veterinary case reports.
The ScanSoft Dragon NaturallySpeaking SDK Server Edition provides Tech S2 with everything needed to rapidly add back-end speech capabilities to CaseScribe. Back-end speech recognition enables the batch-processing of recorded speech from a range of devices, including digital recorders, PDA's, Tablet PC's and telephone dictation systems. Dragon NaturallySpeaking automatically converts the recordings into transcription data, reducing transcription processing costs by 50% or more.
"For veterinarians who are constantly back and forth between clinical sites, mobile technology is absolutely critical," said Mark Wheeler, president and co-founder, Tech S2, Inc. "ScanSoft's Dragon NaturallySpeaking SDK Server Edition has allowed us to quickly and effectively build mobile dictation and transcription capability into CaseScribe to enable our customers to dictate and transcribe case reports regardless of their location."
The ScanSoft Dragon NaturallySpeaking SDK Server Edition provides healthcare providers, technology suppliers and integrators with the ability to quickly and easily speech-enable PC- and Web-based Healthcare Information Systems (HIS) and Electronic Medical Records (EMR) applications. Speech-enabled solutions provide healthcare organizations with the ability to improve patient care while saving thousands of dollars per doctor each year by automating the capture and processing of patient data.
"Speech and mobility are two critical elements within today's healthcare applications," said John Shagoury, president, ScanSoft Productivity Applications Division. "We are pleased to have Tech S2 select Dragon NaturallySpeaking as their core speech technology, and are impressed with the level of integration and mobility that they have achieved with their application."
About ScanSoft, Inc.
ScanSoft, Inc. (Nasdaq: SSFT) is the global leader of speech and imaging solutions that are used to automate a wide range of manual processes - saving time, increasing worker productivity and improving customer service. For more information regarding ScanSoft® products and technologies, please visit www.ScanSoft.com.
About Tech S2, Inc.
Tech S2, Inc. is a privately held software solutions technology company located in Lansing, NY that specializes in database application software products and customized software solutions. For more information, please visit www.techs2.com.
Trademark reference: ScanSoft, the ScanSoft logo, and Dragon NaturallySpeaking are registered trademarks or trademarks of ScanSoft, Inc. or its subsidiaries in the United States and/or other countries. All other company or product names mentioned may be the trademarks of their respective owners.
The statements in this press release that relate to future plans, events or performance are forward-looking statements that involve risks and uncertainties, including risks associated with market trends, competitive factors, and other risks identified in ScanSoft's SEC filings. Actual results, events and performance may differ materially. Readers are cautioned not to put undue reliance on these forward-looking statements that speak only as of the date hereof.
Order Dragon Naturally Speaking
Schedule your FREE Medical Transcription Software Demo today.
View the History of Voice Recognition and Speech Recognition Software