Dragon Naturally Speaking Reviews

- 2004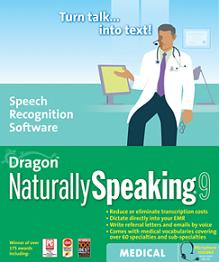 ---
ScanSoft's Dragon NaturallySpeaking Recognized by University of Cambridge as Key Preventative and Productivity Solution
ScanSoft Signs Site License with University of Cambridge Enabling University-Wide Access to ScanSoft's Dragon NaturallySpeaking, OmniPage and PaperPort Productivity Solutions
Peabody, Mass. and Ghent, Belgium, January 7, 2004 - ScanSoft, Inc. (Nasdaq: SSFT), the leading supplier of speech and imaging solutions, today announced that it has signed a site license agreement with the University of Cambridge. The agreement will enable university-wide access to ScanSoft's Dragon NaturallySpeaking® dictation solution as a productivity tool, and as a preventative tool to help avoid the possible development of conditions such as repetitive strain injury (RSI).
The agreement with ScanSoft is fully endorsed by Cambridge's University Computing Service and University Disability Resource Centre. The University of Cambridge's University Computer Service (UCS) will distribute all of the products, as well as provide front line support, demonstrations and product training. The agreement enables Cambridge to distribute a selection of ScanSoft's productivity solutions on a university-wide basis and to related institutions such as the BP Institute, the Cambridge Entrepreneurship Centre, Hutchison / MRC Research Centre, and the UK Astronomical Technology Centre. Additional ScanSoft® products in the agreement include OmniPage® and PaperPort®.
"Our primary interest in ScanSoft's Dragon NaturallySpeaking is how it can help people suffering from RSI or other disabilities to be as productive as possible," said Mike Sayers, Director of University Computing Service, University of Cambridge. "For the University of Cambridge, this agreement with ScanSoft is about making a tried and tested solution available to everyone throughout the university. We anticipate that Dragon will be used not only for University staff and students with upper extremity disabilities, but for those simply looking for an effective productivity solution."
"Ten years ago, I developed very bad RSI, and Dragon essentially saved my career," said Darran Bryant, Unix Support Team, University Computer Service, University of Cambridge. "We set up the assisted technology room to help fellow RSI sufferers, as well as others with upper mobility restrictions to benefit from assistive technologies such as Dragon NaturallySpeaking. Today, the software has liberated those with limited upper body mobility, and has garnered interest from those who simply want to benefit from the software's productivity gains. With the increase in computing power and incremental improvements in the software, Dragon NaturallySpeaking is fantastically usable. I've tried all the solutions on the market and I think ScanSoft's is the best out there, especially if you want to do hands-free computing like surfing the Internet, in addition to just dictating documents into Word."
"The agreement between the University of Cambridge and ScanSoft will provide even greater access and support for people at the university who are interested in using Dragon NaturallySpeaking," said Judith Jesky, University Disability Resource Centre, University of Cambridge. "It will also result in much higher visibility of the software within the university, which is significant, as many students who want to use the software, or who would benefit from using it, aren't currently aware that Computer Service can supply and support the software, as well as provide demonstrations and training. Where people can use Dragon, and where it meets their needs, it proves to be a very important piece of software."
Dragon NaturallySpeaking turns speech into text at up to 160 words-per-minute, and allows users to control Microsoft Windows and many of their PC applications completely by voice. The product is tightly integrated with Microsoft Office, which allows users to create new documents and e-mails, navigate programs, and surf the Web, all by voice.
"This agreement underscores the value that ScanSoft's productivity solutions, particularly Dragon NaturallySpeaking, provide to educational institutions," said Peter Hauser, Senior VP and General Manager for ScanSoft International. "Dragon NaturallySpeaking can play an important role in greatly reducing the risk to students with chronic conditions such as RSI, as well as enable any individuals with limited mobility to become more productive. The agreement with University of Cambridge will enable the professionals of tomorrow to benefit from the productivity and preventative care benefits offered by dictation technologies today."
About The University Of Cambridge
The University of Cambridge is one of the oldest universities in the world, and one of the largest in the United Kingdom with over 16,500 full-time students. It has a world-wide reputation for outstanding academic achievement and the high quality of research undertaken in a wide range of science and arts subjects.
About ScanSoft, Inc.
ScanSoft, Inc. is the leading supplier of speech and imaging solutions that are used to automate a wide range of manual processes-saving time, increasing worker productivity and improving customer service. For additional information on the company, please visit www.ScanSoft.com
ScanSoft, Dragon NaturallySpeaking, OmniPage, PaperPort, and the ScanSoft logo are registered trademarks or trademarks of ScanSoft, Inc. in the United States and other countries. All other company names or product names may be the trademarks of their respective owners.
The statements in this press release that relate to future plans, events or performance are forward-looking statements that involve risks and uncertainties, including risks associated with market trends, competitive factors, and other risks identified in ScanSoft's SEC filings. Actual results, events and performance may differ materially. Readers are cautioned not to put undue reliance on these forward-looking statements that speak only as of the date hereof.
Order Dragon Naturally Speaking
Schedule your FREE Medical Transcription Software Demo today.
View the History of Voice Recognition and Speech Recognition Software