Dragon Naturally Speaking Reviews

- 2004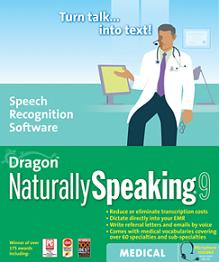 ---
ScanSoft and Microsoft to Deliver High-Quality Speech Applications to Enterprise Organizations
Long-Standing Relationship Leverages ScanSoft's Core Technology, Speech Applications and Professional Services Expertise on Microsoft Speech Server
SAN FRANCISCO, March 24, 2004 - ScanSoft, Inc. (Nasdaq: SSFT), the leading supplier of speech and imaging solutions, today announced a series of initiatives and offerings in conjunction with the newly introduced Microsoft Speech Server 2004. Through its long-standing relationship with Microsoft (Nasdaq: MSFT), ScanSoft is delivering on its commitment to offer a broad array of speech technologies, applications and services on the Microsoft Speech Server that help transform the way businesses interact with customers.
"ScanSoft and Microsoft hold a common vision for bringing innovative speech solutions into today's mainstream markets," said Kai-Fu Lee, vice president for Microsoft Speech Technologies. "We are excited to be working with ScanSoft in helping businesses reap the benefits from a new generation of speech applications. In combination with the Microsoft Speech Server 2004, ScanSoft's technologies, applications and services expertise are invaluable assets as we address the market."
SpeechWorks® solutions from ScanSoft help enterprise and telecommunications organizations around the world, such as Aetna, Bank of America, Boeing, Singapore Telecom and Verizon redefine the way they exchange vital information with customers and employees over the telephone. These same resources are available today as part of or in conjunction with Microsoft Speech Server 2004 and include:

Natural-Sounding Speechify® TTS Software - Microsoft has selected SpeechWorks® Speechify® text-to-speech (TTS) as the exclusive TTS solution for Microsoft Speech Server. Speechify accurately converts textual information such as account balances, store locations, stock quotes and billing addresses into natural-sounding speech. Microsoft Speech Server 2004 will include Speechify Tom, a U.S. English male voice, and Speechify Jill, a U.S. English female voice, as part of the standard product offering. In addition, customers can participate in ScanSoft's Virtuoso™ program to create unique Speechify voices that reflect their brand identity.
Field Proven OpenSpeech™ Recognizer Speech Recognition Software - The SpeechWorks® OpenSpeech™ Recognizer is available as an option on Microsoft Speech Server 2004 Enterprise Edition. OpenSpeech Recognizer is an advanced speech recognition engine that has been field proven in large-scale, mission critical deployments worldwide. It features powerful grammar handling capabilities that provide application designers with great expressivity, including SpeakFreely™ grammars that can determine the meaning of responses to open-ended questions. OpenSpeech Recognizer incorporates patented techniques to deliver leading accuracy and efficiency that support high volume applications requiring vocabularies containing millions of words, and result in a superior caller experience even under noisy conditions.
Industry-Leading Speech Application Design - ScanSoft has designed and developed more than 400 major speech systems and thousands of applications in multiple languages across 25 industries. ScanSoft has developed and currently offers a packaged Change of Address application on the Microsoft Speech Server 2004 (see related release "ScanSoft Delivers Change of Address Application for Microsoft Speech Server," March 24, 2004). In addition, the company recently introduced SpeechPAKs™ 1.0, a vertically-focused, packaged applications offering, to respond to market demands for speech applications that help organizations achieve results faster and at a lower cost than custom built applications.
Unmatched Professional Services Expertise - Enterprise organizations can engage ScanSoft's professional services to consult, design and deploy high-quality speech applications on Microsoft Speech Server and the Speech Application SDK. With the industry's most experienced, geographically dispersed team leveraging its proven experience on the Microsoft Speech Platform, ScanSoft's professional services organization is uniquely positioned to deliver high-quality speech applications using best practices in UI design and proven processes that increase caller satisfaction and provide a healthy return on investment. For example, Microsoft recently selected ScanSoft professional services to develop a call routing application for Microsoft's Product Support Services consumer call center. Currently in pilot phase, the application supports 1,000 different Microsoft products and is designed to effectively routes callers to the appropriate destination based on the product name and entitlement.
"Our strategic relationship with Microsoft permeates ScanSoft's network and embedded speech solutions, as well as our productivity applications," said Paul Ricci, chairman and CEO of ScanSoft. "We share a commitment to open-standards and the broad adoption of speech applications by enterprise organizations. By leveraging our combined assets, we can accelerate the growth of the speech industry while ensuring high quality speech solutions that incorporate open standards, proven technologies and best practices in speech application design and deployment."
About ScanSoft, Inc.
ScanSoft, Inc. (Nasdaq: SSFT) is the leading supplier of speech and imaging solutions that are used to automate a wide range of manual processes - saving time, increasing worker productivity and improving customer service. For more information regarding ScanSoft products and technologies, please visit www.ScanSoft.com.
ScanSoft, and the ScanSoft logo are registered trademarks or trademarks of ScanSoft, Inc. in the United States and other countries. SpeechWorks, Virtuoso, SpeakFreely, OpenSpeech, SpeechPAK, and Speechify are registered trademarks or trademarks of SpeechWorks International, Inc. in the United States and other countries. All other company or product names may be the trademarks of their respective owners.
Order Dragon Naturally Speaking
Schedule your FREE Medical Transcription Software Demo today.
View the History of Voice Recognition and Speech Recognition Software