Dragon Naturally Speaking Reviews

- 2004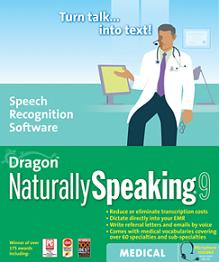 ---
IDX Imagecast™ Integrates Speech Recognition Into Diagnostic Workflow with ScanSoft® Dragon NaturallySpeaking®
Eliminating Transcription Requirements, Creating Voice Access to Structured Reporting Will Help Drive Efficiency; Integration Supports Recent IDX Acquisition of PointDx, Inc.
RSNA 2004, CHICAGO, Ill. - November 30, 2004 - IDX Systems Corporation (NASDAQ:IDXC), a leading provider of healthcare information technology systems, and ScanSoft, Inc. (NASDAQ:SSFT), a global leader of speech solutions, today announced that IDX has selected the ScanSoft® Dragon NaturallySpeaking® SDK (software developers toolkit) to directly integrate speech recognition capabilities into the IDX Imagecast™ product line. These capabilities are expected to enhance the accuracy and speed of diagnostic reporting for Imagecast customers and augment IDX's recent acquisition of PointDx, Inc., a developer of structured medical reporting technology.
Dragon NaturallySpeaking is one of the world's leading speech recognition solutions, enabling the automatic conversion of speech into text at up to 160 words per minute and allowing software applications to respond to verbal commands. Imagecast will use the ScanSoft Dragon NaturallySpeaking SDK to integrate voice capabilities within its single database, web-based solution. It is expected that the integration of front- and back-end speech recognition with ScanSoft Dragon NaturallySpeaking within Imagecast solutions will support improvements in diagnostic reporting speed and accuracy while decreasing the costs of manual transcription.
"The healthcare sector is reaping tremendous benefits from the proliferation of speech technologies," said John Shagoury, president, ScanSoft Productivity Applications Division. "Organizations have struggled to simultaneously reduce their costs and improve the quality of patient care. Solutions such as Imagecast and ScanSoft's Dragon NaturallySpeaking consistently rise to this challenge. We are pleased that IDX has chosen ScanSoft's speech technology to add even more value to their world-class solution."
"Integrating next-generation speech recognition technology within Imagecast is part of IDX's strategy to drive greater accuracy and efficiency in diagnostic reporting. By coupling speech recognition capabilities and structured reporting, clinicians and their employers can improve the quality and clarity of diagnostic reports," said Debra Stenner, Vice President of Business Planning and Business Strategy, IDX Imagecast Operating Unit. "Because ScanSoft's Dragon NaturallySpeaking technology will be tightly integrated within Imagecast, we expect the lag times associated with traditional speech recognition technology to be greatly reduced, enabling the creation of voice-driven reports in real-time. We believe this technology will help Imagecast support our customers' pursuit of operational and clinical excellence."
It is expected that pilot implementations will be in place at select customer sites by the summer of 2005. IDX will feature a prototype of the Imagecast structured reporting with speech recognition solution at RSNA, booth 1936. ScanSoft executives and employees will also be on-site at RSNA, booth 6444.
About ScanSoft, Inc.
ScanSoft, Inc. (Nasdaq: SSFT) is the global leader of speech and imaging solutions that are used to automate a wide range of manual processes - saving time, increasing worker productivity and improving customer service. For more information regarding ScanSoft® products and technologies, please visit www.scansoft.com.
About IDX Imagecast™
Imagecast solutions provide healthcare institutions, such as hospitals, academic medical centers, integrated delivery networks and imaging centers, with comprehensive distributed access to significant clinical findings and associated images. Our solutions optimize productivity, enhance business practices, and facilitate clinical decision making. Today's leading medical specialists, business managers, and executives can depend on IDX because only Imagecast products combine advanced technology with unmatched expertise to deliver visionary workflow integration. For more information, visit http://www.idx.com/imagecast.
About IDX
Founded in 1969, IDX Systems Corporation provides information technology solutions to maximize value in the delivery of healthcare, improve the quality of patient service, enhance medical outcomes, and reduce the costs of care. IDX supports these objectives with a broad range of complementary and functionally rich products installed at 3,300 customer sites. Customers include 138,000 physicians who utilize practice management systems to improve patient care and other workflow processes. IDX software solutions are installed at:
380 integrated delivery networks (IDNs) representing more than 500 hospitals

175 large group practices with more than 200 physicians

665 mid-size group practices with less than 200 physicians
IDX also provides its enterprise clinical software as a subcontractor to BT and Fujitsu Services, Local Service Providers for the United Kingdom National Health Service's National Programme for Information Technology, an initiative to establish electronic patient records for 50 million patients.
The IDX web strategy includes browser technology, e-commerce and web-based tools - built using Internet architecture - that facilitates access for patients, physicians and care providers to vital health information and data managed by the IDX clinical, administrative, financial, and managed care products. IDX has approximately 2,100 full-time employees.
IDX and Imagecast are trademarks or registered trademarks of IDX Investment Corporation.
ScanSoft, the ScanSoft logo, and Dragon NaturallySpeaking are trademarks or registered trademarks of ScanSoft, Inc. or its subsidiaries in the United States and other countries.
All other company names or product names may be the trademarks of their respective owners.
This press release contains forward-looking statements about IDX Systems Corporation that involve a number of risks and uncertainties. Among the important factors that could cause actual results to differ materially from those indicated by such forward-looking statements are uncertainties or difficulties in developing new services and systems, including Imagecast, difficulties in implementing systems, possible deferral, delay or cancellation by customers of computer system or service purchase decisions, possible delay of system installations and service implementations, development by competitors of new or superior technologies, changing economic, political and regulatory influences on the healthcare industry, possible disruptions in the national economy caused by terrorist activities and foreign conflicts, changes in product pricing policies, governmental regulation of IDX's software and operations, the possibility of product-related liabilities, and factors detailed from time to time in IDX's periodic reports and registration statements filed with the Securities and Exchange Commission, which important factors are incorporated herein by reference. IDX undertakes no obligation to update forward-looking statements to reflect changed assumptions, the occurrence of unanticipated events, or changes in future operating results, financial condition or business over time.
Order Dragon Naturally Speaking
Schedule your FREE Medical Transcription Software Demo today.
View the History of Voice Recognition and Speech Recognition Software