Dragon Naturally Speaking Reviews

- 2004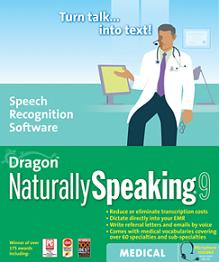 ---
Empire Medicare Improves Provider Self-Service with Speech System from MicroAutomation and ScanSoft
Developed in 3 Months, Speech System Effectively Handles Nearly 70 Percent of Routine Incoming Calls
MANASSAS, VA and PEABODY, MA, April 6, 2004- One of the largest Medicare contractors in the United States is now providing unprecedented service to thousands of providers daily following the successful installation of a new speech-enabled application by MicroAutomation and ScanSoft, Inc. (Nasdaq: SSFT) the leading supplier of speech and imaging solutions. The speech system automates approximately 70 percent of routine incoming calls, resulting in a 62 percent increase in usage over the previous touch-tone system. The easy to use automated system increases call center efficiency and provides a higher level of customer service.
This new speech system allows Empire Medicare Services to provide automated answers to routine questions and requests from health care providers, doctor's offices and billing service providers in its New York service area. Using Vocalocity's VoiceXML Gateway, SpeechWorks® speech solutions and user interface design from ScanSoft, MicroAutomation developed and delivered a standards-based speech system that provides fast and accurate information on patient eligibility, claims and deductible status, pricing, general information about seminar schedules and commonly requested telephone numbers and addresses.
"As our caller base and volume continued to grow, we recognized the need to invest in new technologies to improve our customer service in a cost-effective manner," said Gloria McCarthy, executive vice president and chief operating officer at Empire Medicare Services. "As a result, we partnered with the Centers for Medicare & Medicaid Services (CMS), and through a competitive procurement, retained MicroAutomation who successfully delivered a state-of-the-art system which has met or exceeded all of our goals and expectations."
"This system demonstrates how speech technology can improve customer service, providing access to important information any time of the day through a powerful and user-friendly system. Callers can get information such as claim status and patient eligibility without waiting for a customer service representative (CSR). CSRs are now able to focus on the more complex calls," said Suresh Gursahaney, CEO of MicroAutomation. "We were excited to expand our relationship with Empire Medicare Services and deliver a solution that provided a positive return on their investment in just three months."
As an example of the speech solution's ease of operation, one caller explained that he was able to check on more than 200 claims during a single one-hour phone call, saving him valuable time and resources.
"There are a number of healthcare applications that can be successfully automated with speech," said Steve Chambers, President of SpeechWorks, a division of ScanSoft. "We're pleased that we could leverage our extensive user interface design experience and knowledge of the healthcare industry to improve self-service for Empire Medicare."
The contract was awarded on June 24, 2003 and a pilot phase was completed within three months. The self-service speech system was operational by November 1, 2003. The system currently handles approximately 5,000 to 6,500 calls per day and is installed at Empire's call center in Bohemia, NY.
The IVR platform and database is comprised of a Vocalocity VoiceXML Gateway on Compaq Proliant DL380 GS servers configured with Apache Tomcat, OpenSpeech™ Recognizer speech recognition and Speechify® text-to-speech software from ScanSoft, and IBM Personal Communications. The Vocalocity platform was chosen because it is a truly open standards-based VoiceXML platform designed for flexibility and scalability. This openness enabled MicroAutomation to rapidly build, customize, and deploy the solution, which produced a great caller experience and solid business results. With its adherence to the VoiceXML 2.0 and SALT standards, the Vocalocity platform will grow and evolve, meeting Empire Medicare Services' needs in the future without the lock-in associated with proprietary voice response systems provided by other vendors.
About MicroAutomation
MicroAutomation is a leading provider of contact center solutions including CTI, multimedia contact management, IVR, web, speech recognition, text-to-speech, workforce management, monitoring, and management reporting. MicroAutomation offers its award winning CallCenter Millennium products along with requirements consulting and complete solution design, integration, and implementation services. The company is headquartered in Manassas, VA., a Washington, D.C. suburb. Additional information is available on the MicroAutomation Web site at www.microaut.com .
About SpeechWorks® Solutions from ScanSoft
SpeechWorks® Solutions from ScanSoft comprise network and embedded speech solutions, including natural language speech recognition, text-to-speech (TTS) and speaker verification solutions, as well as auto-attendant, directory assistance, turnkey vertical industry applications and other speech components. SpeechWorks solutions from ScanSoft help organizations redefine the way they exchange vital information with customers and employees over the telephone, and are used within automotive and embedded applications, including navigation systems, computer games, mobile devices, talking dictionaries, ATMs, applications for the visually impaired, and consumer electronic devices. For information, please visit www.scansoft.com/speech.
About ScanSoft, Inc.
ScanSoft, Inc. (Nasdaq: SSFT) is the leading supplier of speech and imaging solutions that are used to automate a wide range of manual processes - saving time, increasing worker productivity and improving customer service. For more information regarding ScanSoft products and technologies, please visit www.ScanSoft.com.
ScanSoft and the ScanSoft logo are registered trademarks or trademarks of ScanSoft, Inc. in the United States and other countries. SpeechWorks, OpenSpeech and Speechify are registered trademarks or trademarks of SpeechWorks International, Inc. in the United States and other countries. All other company or product names may be the trademarks of their respective owners.
Order Dragon Naturally Speaking
Schedule your FREE Medical Transcription Software Demo today.
View the History of Voice Recognition and Speech Recognition Software