Dragon Naturally Speaking Reviews

- 2004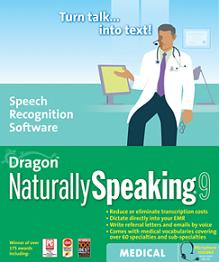 ---
ScanSoft Wins Prestigious Speech Industry Award for "Best Packaged Application" from AVIOS
Customers and Partners Embrace ScanSoft's Differentiated SpeechPAK Offering
PEABODY, Mass., April 15, 2004 - ScanSoft, Inc. (Nasdaq: SSFT), the leading supplier of speech and imaging solutions, today announced that SpeechPAK™ 1.0 for Healthcare has been awarded the "Best Packaged Application" by Applied Voice Input/Output Society (AVIOS) at the annual AVIOS~ SpeechTEK Spring 2004 Conference. Developed by the SpeechWorks® division of ScanSoft, SpeechPAK 1.0 for Healthcare has been adopted by customer service leaders in the healthcare sector to support their self-service initiatives for members and providers. SpeechWorks bested several other providers in the "Best Packaged Application" category based on SpeechPAKs' differentiated vertical industry approach to delivering low cost, high quality speech applications for the healthcare industry in an accelerated time frame.
"In a market that lives and dies by application performance and customer results, we're honored that the AVIOS Board has recognized our unique approach to delivering high quality speech applications faster and at a lower cost," said Steve Chambers, president of SpeechWorks, a division of ScanSoft. "We've combined over ten years of SpeechWorks' application design expertise with front-line input from our leading customers in the market to design targeted packaged applications for healthcare companies. Through our highly valued partner network, we are delivering high quality, lower cost applications, with a flexible deployment architecture."
SpeechPAKs are the first packaged offering for the healthcare industry and were developed based on ScanSoft's experience consulting with more than 50 healthcare organizations to identify specific speech applications that deliver the greatest benefits. SpeechPAK 1.0 for Healthcare are developed in VoiceXML 2.0 and combine SpeechWorks® solutions from ScanSoft with best practices in user interface design to accelerate R.O.I. gains by delivering a fast, high-quality deployment. With SpeechPAKs, healthcare organizations can rapidly deploy speech applications on a variety of VoiceXML 2.0 platforms.
"With our partners, we are working with major healthcare customers to deploy SpeechPAKs," said Scott Taylor, director of applications engineering at SpeechWorks. "Through our SpeechPAK offering, we can develop high quality speech applications in an accelerated time frame using effective and flexible call flows, which have been proven to lead to significant application performance benefits. In just a few days, we designed a Claims Status SpeechPAK that would have typically taken two or more weeks as a purely custom application."
Industry Heavy Weights Rally Around SpeechPAK 1.0 for Healthcare
SpeechPAK 1.0 for Healthcare combines SpeechWorks' achievements in standards-based technologies, with its experience in the healthcare vertical and longstanding expertise in UI design. Designed with the customer in mind, SpeechPAKs are the only packaged application offering that gives customers the flexibility to rapidly deploy on the standards-based platform of their choice.
Aspect Communications
"Aspect understands the needs of the industry because our healthcare customers keep us informed of their broad range of requirements for functionality, flexibility and reliability," said Pat Bernard, VP of Channels and Alliances, Aspect Communications. "Healthcare expenses are rising, so any technology that can reduce costs for providers, and potentially for participants, is clearly advantageous. Speech applications can help reduce costs and improve the ease and speed of communication between parties. Aspect has long recognized the value of speech and is offering SpeechPAKs on our IVR platform to give companies the option of rapid deployment so they can reap the benefits they are seeking quickly."
Edify Corporation
"Healthcare organizations can now benefit from Edify's award-winning, open-standards platform and SpeechWorks' SpeechPAKs," said Ted Bray, director of product marketing at Edify. "The combination of Edify's technology and SpeechWorks' packaged applications enables customers to accelerate time to market of proven speech applications that will result in higher customer satisfaction and improved contact center efficiencies."
Genesys Telecommunications Laboratories
"Genesys and SpeechWorks have successfully deployed voice self-service solutions to many well-established healthcare providers," said Ashish Gupta, vice president of product marketing and solutions at Genesys. "SpeechPAKs and the Genesys Voice Platform will further reduce deployment time and accelerate the ROI of voice solutions we provide to our healthcare customers."
Intervoice
"Based on our own experience in designing, developing and offering packaged applications, Intervoice and SpeechWorks have found that they can significantly reduce the costs associated with application design and call flow development," said Ron Nieman, senior vice president of professional services at Intervoice. "By combining leading technologies with best practices learned from hundreds of successful speech deployments, ScanSoft and Intervoice can offer health care organizations more cost-effective speech applications that support their self service strategy."
VoiceGenie Technologies
"Enterprises today are looking to reduce costs and improve customer service," said John Cameron, executive vice president of sales, marketing and business development at VoiceGenie Technologies. "By integrating VoiceGenie's open platform solutions with SpeechPAKs for Healthcare, we are furthering our ability to deliver flexible, scalable and cost-effective speech applications to global healthcare providers."
West Interactive
"SpeechPAKs are a great addition to our suite of healthcare solutions," said John Johnson, vice president of sales at West Interactive. "West's ability to offer SpeechPAKs in a hosted environment delivers tremendous value to healthcare organizations that require an accelerated deployment and ROI using proven speech solutions."
Unmatched Application and Vertical Market Expertise
Through the SpeechWorks Here Application Discovery™ process, SpeechWorks has engaged with more than 50 healthcare organizations worldwide to identify specific speech applications that will deliver the greatest benefits. SpeechWorks has deployed successful speech applications on a variety of platforms for leading healthcare organizations such as Aetna, Coventry, Empire Medicaid, HCA, HealthNet, Humana, MAMSI, and multiple Blue Cross Blue Shield plans across the United States.
About SpeechWorks® Solutions from ScanSoft
SpeechWorks® Solutions from ScanSoft comprise network and embedded speech solutions, including natural language speech recognition, text-to-speech (TTS) and speaker verification solutions, as well as auto-attendant, directory assistance, turnkey vertical industry applications and other speech components. SpeechWorks solutions from ScanSoft help organizations redefine the way they exchange vital information with customers and employees over the telephone, and are used within automotive and embedded applications, including navigation systems, computer games, mobile devices, talking dictionaries, ATMs, applications for the visually impaired, and consumer electronic devices. For information, please visit www.scansoft.com/speech.
About ScanSoft, Inc.
ScanSoft, Inc. (Nasdaq: SSFT) is a leading supplier of speech and imaging solutions that are used to automate a wide range of manual processes - saving time, increasing worker productivity and improving customer service. For more information regarding ScanSoft products and technologies, please visit www.ScanSoft.com.
ScanSoft and the ScanSoft logo are trademarks or registered trademarks of ScanSoft, Inc. in the United States and other countries. SpeechWorks and SpeechPAK are trademarks or registered trademarks of SpeechWorks International, Inc. in the United States and other countries. All other company name or product names may be the trademarks of their respective owners.
Order Dragon Naturally Speaking
Schedule your FREE Medical Transcription Software Demo today.
View the History of Voice Recognition and Speech Recognition Software