Dragon Naturally Speaking Reviews

- 2004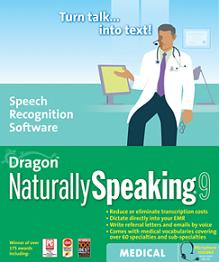 ---
ScanSoft Speech System Deployments Receive Industry Innovation Awards
Verizon and The Burlington Northern and Santa Fe Railway Deployments Honored by Speech Technology Magazine for Increasing Customer Satisfaction and Improving Operations
PEABODY, Mass., May 19, 2004 - ScanSoft, Inc. (Nasdaq: SSFT), the global leader of speech and imaging solutions, today announced that two of its customers, Verizon and The Burlington Northern and Santa Fe Railway Company (BNSF), were selected by Speech Technology Magazine as winners of the magazine's "Most Innovative Solutions Awards."
A panel of industry pundits evaluated 30 entrants to select the most innovative speech solutions deployed in the market. Applications were judged on their ability to increase customer self-service, improve worker efficiency and utilize speech in a creative format for an automated solution.
"Now in its second year, the Most Innovative Solutions awards draw applicants from around the world featuring compelling speech applications. This year, our judge's panel rated the Verizon and BNSF deployments among the highest," said John Kelly, publisher and editor-in-chief at Speech Technology Magazine.
Meeting Customer Service at Verizon
Verizon's National Operations Voice Portal routes every call to its Eastern Region Repair Center to its automated speech system. After greeting a caller, the portal is capable of retrieving the customer's record, running a line test, checking and confirming appointment times, updating customer contact information and creating a trouble ticket. Thousands of calls, made up of a combination of tickets being created, status checks and tickets cancelled, are automated daily.
The system has allowed the telecommunications leader to complete twenty percent of the calls without associate assistance, compared to just three percent with the previous touch-tone service. This improved automation allows Verizon operators to focus more on complex customer inquiries, further increasing their level of customer service.
"We're proud of today's honor because our solution is so critical to driving customer satisfaction," explained Dr. Judith Spitz, senior vice president of network and national operations systems, Verizon. "The Repair Application is one of the toughest because the customer is in some sort of 'trouble' before they even call. The challenge is to provide world-class self-service in a way that leaves the customer feeling like they've been cared for in a positive manner. Combining best of breed technologies like VoIP, VoiceXML, open grammars and state-of-the-art dialogue design, with great teamwork within Verizon and across partners such as the SpeechWorks Division of ScanSoft, resulted in tremendous success across the board."
Delivering Real-Time Information at BNSF
BNSF operates one of the largest railroad networks in North America, with about 32,500 route miles covering 28 states and two Canadian provinces. It recently implemented a speech system to report near-real time data for rail car pickups and deliveries from field personnel. BNSF uses engine-cab radios as the interface to a speech-enabled, interactive voice response (IVR) system from Intervoice to report on customers' shipments. The application allows field personnel to report train arrivals, departures, pick-ups and setouts via microwave radio or cell phone using speech recognition and speaker verification--to ensure that the appropriate person is reporting the train information--providing real-time information and greater customer satisfaction. The VTR application automatically turns voice radio calls into data, capable of integration into the company's computer systems.
"We're honored to be recognized by Speech Technology Magazine, and are pleased to partner with ScanSoft to design and deploy our speech solution," said Jeffrey Campbell, vice president, Technology Services and CIO at BNSF. "With the implementation of our VTR system to capture real-time data, we expect to achieve greater operational efficiency and significantly improve overall customer satisfaction. Ultimately, we are improving our communication practices for the railway by streamlining the train reporting process, leveraging leading-edge speech recognition and speaker verification technology in a non-traditional telephony environment... engine-cab radios."
"Organizations around the world are partnering with SpeechWorks and their partners to deploy complex speech applications that deliver compelling results for their business and customers," said Steve Chambers, president of SpeechWorks, a division of ScanSoft. "We're honored that Verizon and BNSF have been singled out for their progressive adoption of speech within their businesses."
About the SpeechWorks Division of ScanSoft
SpeechWorks is the most trusted name in speech. Through its global partner network, SpeechWorks delivers field-proven applications that revolutionize the way people interact. Today, thousands of companies and millions of users around the world depend on SpeechWorks® solutions from ScanSoft to deliver vital business information and simplify every day life. For information, please visit www.scansoft.com/speech.
About ScanSoft, Inc.
ScanSoft, Inc. (Nasdaq: SSFT) is the global leader of speech and imaging solutions that are used to automate a wide range of manual processes - saving time, increasing worker productivity and improving customer service. For more information regarding ScanSoft products and technologies, please visit www.ScanSoft.com.
ScanSoft, SpeechWorks and the ScanSoft logo are registered trademarks or trademarks of ScanSoft, Inc. and/or its subsidiaries in the United States and other countries. All other company or product names may be the trademarks of their respective owners.
Order Dragon Naturally Speaking
Schedule your FREE Medical Transcription Software Demo today.
View the History of Voice Recognition and Speech Recognition Software