Dragon Naturally Speaking Reviews

- 2004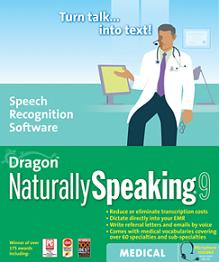 ---
ScanSoft and 1450 Inc. Win Speech Technology Magazine's Most Innovative Solution Award
Leading Industry Publication Recognizes Joint Efforts; Implementation in Upper Chesapeake Health Provides Emergency Room Accessibility for Patients Who Are Deaf
Peabody, Mass., and Palm Beach Gardens, Florida-- May 19, 2004- ScanSoft, Inc. (Nasdaq: SSFT) the global leader of speech and imaging solutions and 1450, Inc. today announced that the companies have been recognized with Speech Technology Magazine's Most Innovative Solution Award for the implementation of Teltronics' iCommunicator software for Upper Chesapeake Health Facilities. Using Teltronics' iCommunicator, Upper Chesapeake Health can now communicate easily and effectively with patients who are deaf admitted to the hospital on an emergency basis. ScanSoft's Dragon NaturallySpeaking® 7 software provides the speech engine for Teltronics' latest release of the iCommunicator V.4.0 technology, which is marketed and distributed by 1450, Inc.
Upper Chesapeake Health receives more than 75,000 emergency room patient visits each year at its two facilities in northeast Maryland, and for patients who are hard of hearing or deaf, sign language interpreters were usually necessary to be called to the scene to assist. However, due its suburban location, interpreters were often difficult to obtain on an emergency basis, making communication often difficult or impossible - a harrowing prospect for an emergency health facility. Using Teltronics' iCommunicator, powered by ScanSoft's Dragon NaturallySpeaking, hospital staff can now quickly and easily communicate with patients who are deaf or hard of hearing by speaking into a microphone system that allows speech to be converted into a number of formats on a computer, including sign language. This assistive technology deployment makes it easier for healthcare professionals to communicate directly with the patient.
"Scansoft, 1450, and Teltronics have created a truly revolutionary device that effectively bridges the gap for individuals who are hard of hearing," said John Kelly, editor-in-chief, Speech Technology Magazine. "The implementation at Upper Chesapeake Health demonstrates how speech technology can be used to make individuals' lives better, and improve communication in the healthcare field."
"We are pleased to be recognized by Speech Technology Magazine, who is considered the standard industry source for speech, and we are proud of the implementation of our technology at Upper Chesapeake Health," said Gail Rosenberg, product manager, 1450 Inc. "Because of the innovations and advances in speech technology, we are able to provide our users with a solution that enables them to communicate freely and effectively, bridging the gap and truly empowering individuals with disabilities."
About ScanSoft, Inc.
ScanSoft, Inc. (Nasdaq: SSFT) is the global leader of speech and imaging solutions that are used to automate a wide range of manual processes - saving time, increasing worker productivity and improving customer service. For more information regarding ScanSoft products and technologies, please visit www.ScanSoft.com.
About Teltronics
For over 30 years, Teltronics (OTCBB: TELT) has been helping people communicate. From traditional circuit-based switching systems, sophisticated alarms management systems, and customer -built electronics, to life-saving E911 solutions and robust feature, rich IP centric and IP-enabled communications solutions. Teltronics also invented, patented and manufactures the iCommunicator assistive technology to enhance the lives of people who are hard of hearing or deaf. Further information regarding Teltronics can be found at their web site, www.teltronics.com and for more information on the iCommunicator visit www.myicommunicator.com.
About 1450, Inc.
1450, Inc. is a distributor of speech and imaging products for accessibility and productivity and is located in Palm Beach Gardens, FL. For more information regarding 1450, Inc. and the iCommunicator, please visit www.1450.com and www.myicommunicator.com.
Trademark reference: ScanSoft, Dragon NaturallySpeaking and the ScanSoft logo are registered trademarks or trademarks of ScanSoft, Inc. and/or its subsidiaries in the United States and other countries. All other company names or product names may be the trademarks of their respective holders.
The statements in this press release that relate to future plans, events or performance are forward-looking statements that involve risks and uncertainties, including risks associated with market trends, competitive factors, and other risks identified in ScanSoft's SEC filings. Actual results, events and performance may differ materially. Readers are cautioned not to put undue reliance on these forward-looking statements that speak only as of the date hereof.
Order Dragon Naturally Speaking
Schedule your FREE Medical Transcription Software Demo today.
View the History of Voice Recognition and Speech Recognition Software