Dragon Naturally Speaking Reviews

- 2004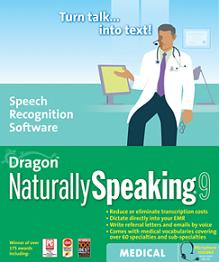 ---
ChartLogic, Inc. Selects ScanSoft's Dragon NaturallySpeaking SDK for Its Comprehensive Electronic Medical Records (EMR) Solution
Dragon NaturallySpeaking SDK Enables Healthcare Providers and Physicians to Virtually Eliminate Transcription Costs, Save Time and Improve Overall Patient Care
PEABODY, Mass., June 17, 2004 - ScanSoft, Inc. (Nasdaq: SSFT), the global leader of speech and imaging solutions, today announced that ChartLogic, Inc, the leader in voice-driven electronic medical records (EMR) has selected ScanSoft's Dragon NaturallySpeaking® SDK, the leading speech recognition software integration solution, for its flagship EMR solution, ChartLogicTM. ChartLogic utilizes voice recognition not only for dictation, but to drive the entire electronic charting process.
Working closely with physicians, ChartLogic leveraged the Dragon NaturallySpeaking 7 SDK to create a comprehensive, voice-directed electronic medical chart. ChartLogic's solution provides physicians with an accurate, easy-to-use alternative to paper charts that enables physicians to save time and money - resulting in more time to focus on patient care. Traditional charts, requiring handwriting, dictation or manual transcription, are time consuming and expensive, and are often not completed by the physician until the end of the examination day. With ChartLogic, physicians can complete their charts in less than 60 seconds at the end of each patient visit - resulting in substantial time savings and more accurate patient notes. By using the speed and accuracy of voice-driven dictation and commands, ChartLogic also enables physicians to more easily and completely document their services for billing purposes.
"Speech recognition is changing the way physicians think about electronic medical records, and the capabilities we've been able to add using ScanSoft's Dragon NaturallySpeaking SDK are the cornerstone for our solution," said Jack Savage, CEO for ChartLogic. "Speech-driven electronic medical records will eventually be the standard required by every physician."
ChartLogic has developed a comprehensive package of easy-to-use software and hardware, known as Precision VoiceTM technology, to optimize its voice capabilities for the clinical environment. Precision Voice technology was designed in conjunction with physicians to mirror the normal processes of a physician practice.
ScanSoft's Dragon NaturallySpeaking 7 SDK technology portfolio provides healthcare providers, technology suppliers and integrators with the ability to quickly and easily speech-enable commercial and in-house PC- and Web-based Healthcare Information Systems (HIS) and Electronic Medical Records (EMR) applications, and delivers unrivaled speed and accuracy. Through their use of the Dragon NaturallySpeaking SDK, healthcare organizations can save thousands of dollars per doctor each year in reduced or eliminated manual transcription costs.
"More and more healthcare professionals are turning to speech technology to help them increase productivity, realize cost savings and improve overall patient care," said Robert Weideman, senior vice president, ScanSoft Productivity Applications, ScanSoft. "ChartLogic is an excellent example of how our technology can be used to improve existing processes, and help organizations to stay compliant."
About ScanSoft, Inc.
ScanSoft, Inc. (Nasdaq: SSFT) is the global leader of speech and imaging solutions that are used to automate a wide range of manual processes - saving time, increasing worker productivity and improving customer service. For more information regarding ScanSoft products and technologies, please visit www.ScanSoft.com.
About ChartLogic, Inc.
ChartLogic, Inc. was founded in 1994 and has since created the most innovative and comprehensive voice driven Electronic Medical Record system available today. ChartLogic, Inc. has integrated clinical experience and technological expertise to create a system that is uniquely designed for clinicians and their diverse environments. For more information regarding ChartLogic, please visit www.ChartLogic.com.
Trademark reference: ScanSoft, the ScanSoft logo, Dragon and NaturallySpeaking are registered trademarks or trademarks of ScanSoft, Inc. in the United States and/or other countries. ChartLogic and Precision Voice are registered trademarks of ChartLogic, Inc.
The statements in this press release that relate to future plans, events or performance are forward-looking statements that involve risks and uncertainties, including risks associated with market trends, competitive factors, and other risks identified in ScanSoft's SEC filings. Actual results, events and performance may differ materially. Readers are cautioned not to put undue reliance on these forward-looking statements that speak only as of the date hereof.
Order Dragon Naturally Speaking
Schedule your FREE Medical Transcription Software Demo today.
View the History of Voice Recognition and Speech Recognition Software