Dragon Naturally Speaking Reviews

- 2004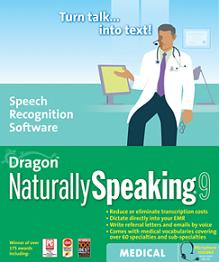 ---
ScanSoft Dragon NaturallySpeaking Wins Editors' Choice Award from C|NET
C|NET Editors Cite ScanSoft Dragon NaturallySpeaking as the "Best in the Biz" and Praises Its Accuracy and Ease of Use and Implementation
PEABODY, Mass., July 8, 2004 - ScanSoft, Inc. (Nasdaq: SSFT), the global leader of speech and imaging solutions today announced that Dragon NaturallySpeaking® has received an Editors' Choice award from C|NET. C|NET editors commended the extraordinarily high accuracy rates of Dragon NaturallySpeaking 7 and commented extensively on the abundance of new features and overall usability of the program.
Dragon NaturallySpeaking version 7 is the latest release of the world's best-selling dictation solution for Microsoft Windows, delivering the accuracy, speed, ease-of-use and innovative features needed to make speech recognition a mainstream application, in the home and at the office. In their review, C|NET editors reported, "Dragon NaturallySpeaking 7.0 [is] one of the best in the biz. Version 7.0 of DNS Preferred wowed us by scoring a 97 to 98 percent accuracy rate when taking dictation. It's easy to install and configure…and offers several new productivity tools designed to ease the chores of dictation and control." The complete review by Gregg Keizer can be found online in the software section of C|NET reviews.
The C|NET Editors' Choice award recognizes outstanding personal technology and consumer electronic products that represent the best available choice for quality, performance, design, and service, and its logo is a mark of excellence denoting the best possible investment for technology buyers.
"ScanSoft Dragon NaturallySpeaking continues to draw praise for its accuracy, implementation and overall usability, and to gain adoption world wide," said John Shagoury, president, ScanSoft Productivity Applications Division. "We are honored to receive this award from C|NET, as they are a renowned standard in comparative reviews, and are a trusted source for users everywhere."
ScanSoft Dragon NaturallySpeaking 7 is a significant improvement over the previous release, increasing accuracy by 15 percent and enabling users to achieve accuracy levels of up to 99 percent. Its speed has been improved by more than 50 percent for dictation initialization. Accuracy and performance are further enhanced by new features such as the Vocabulary Optimizer, which evaluates previously authored emails and documents to personalize itself to the writing style of the user, and the Performance Assistant, which optimizes the efficiency of speech recognition based on a user's workflow. In total, the accuracy and performance improvements within Dragon NaturallySpeaking 7 deliver an unmatched level of productivity and ease of use for speech recognition products.
About ScanSoft, Inc.
ScanSoft, Inc. (Nasdaq: SSFT) is the global leader of speech and imaging solutions that are used to automate a wide range of manual processes - saving time, increasing worker productivity and improving customer service.
Trademark reference: ScanSoft, Dragon and NaturallySpeaking are trademarks or registered trademarks of ScanSoft, Inc. and/or its subsidiaries in the United States and other countries. All other company names and product names mentioned may be the trademarks of their respective owners.
The statements in this press release that relate to future plans, events or performance, including without limitation statements concerning the perceived benefits of receiving a C|NET Editors' Choice award, are forward-looking statements that involve risks and uncertainties, including risks associated with market trends, competitive factors, and other risks identified in ScanSoft's SEC filings. Actual results, events and performance may differ materially. Readers are cautioned not to put undue reliance on these forward-looking statements that speak only as of the date hereof.
Order Dragon Naturally Speaking
Schedule your FREE Medical Transcription Software Demo today.
View the History of Voice Recognition and Speech Recognition Software