Dragon Naturally Speaking Reviews

- 2004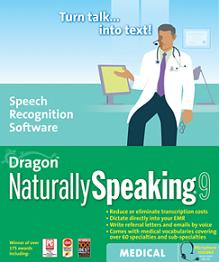 ---
Penn State Milton S. Hershey Medical Center Reduces Medical Transcription Time and Improves Patient Care with ScanSoft's Dragon NaturallySpeaking
Leading PC Dictation Solution Enables Radiology Department to Save $300,000 a Year and Reduce Document Turnaround Time by 80%
PEABODY, Mass., July 21, 2004 - ScanSoft, Inc. (Nasdaq: SSFT), the global leader of speech and imaging solutions, today announced that Penn State Milton S. Hershey Medical Center has selected ScanSoft Dragon NaturallySpeaking®, the leading speech recognition solution for medical professionals, to automate transcription within its Department of Radiology. Leveraging expertise from ScanSoft value-added reseller LANtek, Hershey Medical Center was able to reduce medical report turnaround times by 80%, improve overall patient care and virtually eliminate the costs of manual transcription.
Using ScanSoft Dragon NaturallySpeaking, the medical center's radiology department can now create reports in real-time simply by dictating into their PCs. Prior to deploying Dragon NaturallySpeaking, the institution employed the services of eight full- and part-time transcriptionists, who took approximately 72 hours to turn around completed medical reports. After several unsuccessful attempts at installing other voice recognition systems on their own, the hospital turned to LANtek to design a deployment of Dragon NaturallySpeaking that would work in conjunction with an existing document workflow solution. Within the first four months, the deployment had paid for itself and had reduced report turnaround time to less than 14 hours - an improvement of more than 80%. In addition, the installation resulted in significant cost savings of nearly $300,000 annually, and the hospital was able to reposition the transcriptionists to more value-added positions within the organization.
"Speech recognition software is truly the future of healthcare technology applications - the benefits of the software are clearly tangible, and the cost and time savings are tremendous," said Timothy Yanchuck, Penn State Milton S. Hershey Medical Center. "Within a week of our 'go live' date, it became clear that our use of Dragon NaturallySpeaking would be successful, as the departmental faculty saw the resultant benefit to patient care. We are quite pleased with the level of accuracy and ease of use of ScanSoft's product as well as the training and other services provided by LANtek."
ScanSoft's Dragon NaturallySpeaking 7 technology portfolio gives healthcare providers, technology suppliers and system integrators the ability to quickly and easily add speech recognition functionality to commercial and in-house PC- and Web-based Healthcare Information Systems (HIS) and Electronic Medical Records (EMR) applications. Through the speed and accuracy of Dragon NaturallySpeaking, healthcare organizations world wide have saved thousands of dollars per doctor each year in reduced or eliminated manual transcription costs.
LANtek is a ScanSoft Premier Partner that has been working with Dragon NaturallySpeaking for five years. LANtek's services include customized deployment of Dragon NaturallySpeaking with EMR software, practice management software, and electronic medical document imaging software.
"The Hershey Medical Center had tried a number of other voice recognition solutions prior to Dragon NaturallySpeaking," said Brady Bunner, an account executive at LANtek. "None of the other alternatives provided the level of functionality and ease-of-use Dragon NaturallySpeaking offered. We were able to design compatibility between Dragon NaturallySpeaking and Hershey Medical Center's IDX Radiology Information System that lowered costs for the hospital, that was accepted by physicians, and that improved patient care."
"The healthcare field stands to gain a great deal from the proliferation of speech technologies, and the time and cost savings are real, as proven by implementations such as Hershey Medical Center," said John Shagoury, President, ScanSoft Productivity Applications. "From full-scale hospital implementations to making individual practitioners more productive, ScanSoft speech technology can improve existing processes and compliance and can increase focus on the most important thing - patient care."
About ScanSoft, Inc.
ScanSoft, Inc. (Nasdaq: SSFT) is the global leader of speech and imaging solutions that are used to automate a wide range of manual processes - saving time, increasing worker productivity and improving customer service. For more information regarding ScanSoft products and technologies, please visit www.ScanSoft.com.
About LANtek
LANtek is a computer network solution provider located in eastern Pennsylvania serving small, medium, and enterprise businesses. LANtek supplies technologically advanced software and hardware to create unique business systems including voice activated medical document imaging and practice management systems, voice activated systems for people with disabilities, multiple platform client/server solutions, systems integration and consulting services. For more information regarding LANtek solutions and services, please visit www.lantekonline.com
Trademark reference: ScanSoft, the ScanSoft logo, Dragon and NaturallySpeaking are registered trademarks or trademarks of ScanSoft, Inc. in the United States and/or other countries.
Any statements in this press release that relate to future plans, events or performance are forward-looking statements that involve risks and uncertainties, including risks associated with market trends, competitive factors, and other risks identified in ScanSoft's SEC filings. Actual results, events and performance may differ materially. Readers are cautioned not to put undue reliance on these forward-looking statements that speak only as of the date hereof.
Order Dragon Naturally Speaking
Schedule your FREE Medical Transcription Software Demo today.
View the History of Voice Recognition and Speech Recognition Software