Dragon Naturally Speaking Reviews

- 2004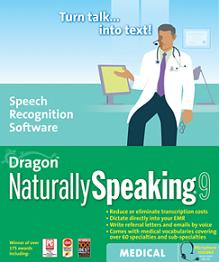 ---
ScanSoft Ships Dragon NaturallySpeaking SDK Server Edition; Lowers Medical Transcription Costs through Highly Accurate Speech Recognition
Server-Based Toolkit Lowers Transcription Costs and Increases Productivity by Incorporating Speech Recognition into Existing Clinical Documentation Systems
PEABODY, Mass., August 26, 2004 - ScanSoft, Inc. (Nasdaq: SSFT), the global leader of speech and imaging solutions, today announced the immediate availability of the Dragon NaturallySpeaking® 7 Software Development Kit (SDK) Server Edition, the latest release of the world's leading dictation SDK. This new release supports server-based speech recognition of recorded dictation and is designed to increase productivity and lower costs in healthcare and other transcription intensive industries. The Dragon NaturallySpeaking SDK Server Edition complements the Dragon NaturallySpeaking SDK Client Edition, which is the leading speech recognition SDK for integration into client workstation applications.
North American medical transcription costs have reached more than $10 billion annually, with nearly every healthcare facility employing or outsourcing significant resources to handle this manual process. Through the use of the Dragon NaturallySpeaking SDK Server Edition, medical transcriptionists will be able to receive an automatically generated draft report, which then only requires editing - a process that can increase transcriptionist productivity rates by 50% or more. The Dragon NaturallySpeaking SDK Server Edition is designed to be integrated into clinical documentation systems by transcription service organizations, healthcare ISVs, and systems integrators.
"As costs spiral upward, healthcare organizations are now more than ever concerned with streamlining their operations. Using speech recognition to improve the manual transcription process is an alternative that is gaining tremendous momentum in the healthcare market because it can offer both significant cost and time savings," said Frank Reeves, CEO of Expresiv Technologies, a provider of clinical documentation automation software. "We are pleased to offer the functionality provided by the Dragon NaturallySpeaking SDK Server Edition as part of our comprehensive solution. We believe it offers both the highest accuracy and the right set of features to enable a powerful integration of speech recognition into the process of creating and managing clinical documentation. Ultimately, that saves our customers time and money while allowing them to focus more on patient care."
The Dragon NaturallySpeaking SDK Server Edition contains several features designed to make integration and deployment seamless and effective, including:
The Industry's Highest Accuracy Rate
Dragon NaturallySpeaking SDK Server Edition is based on the award winning Dragon NaturallySpeaking software; the world's best selling speech recognition software for the PC. Comes with a library of more than 20 medical specialty dictionaries.
Simple Integration for Developers
Developers can build speech recognition into any existing transcription processes, and generate time stamped XML output for any transcript editing station.
Easy Adoption for End-Users
Healthcare professionals can dictate into a telephone, handheld digital recorder, or close talking microphone, and aren't required to perform any upfront "training" or learn special commands.
"The healthcare industry is in desperate need of efficiency improvements in the manual transcription process. Increasingly, we see server-based speech recognition as the approach of choice," said Joe Weber, a healthcare IT analyst and CEO of Lexicore, a provider of clinical documentation efficiency solutions. "The Dragon NaturallySpeaking brand has a history of leading the way in continuous speech recognition on the desktop, and our initial tests of the Dragon NaturallySpeaking SDK Server Edition indicate that this leadership will continue on the server. When integrated into a clinical-documentation system, this new technology will bring about dramatic productivity improvements for healthcare organizations and transcription companies."
"The release of a server based speech recognition engine is part of our goal to lead the healthcare market toward clinical documentation solutions that leverage the full power of speech recognition," said Robert Weideman, VP Marketing at ScanSoft. "The Dragon NaturallySpeaking SDK Server Edition will allow healthcare information systems vendors, manual transcription service organizations and systems integrators to deliver real cost and efficiency savings to their customers, which ultimately translates to better patient care."
About ScanSoft, Inc.
ScanSoft, Inc. (Nasdaq: SSFT) is the global leader of speech and imaging solutions that are used to automate a wide range of manual processes - saving time, increasing worker productivity and improving customer service. For more information regarding ScanSoft products and technologies, please visit www.ScanSoft.com.
Trademark reference: ScanSoft, the ScanSoft logo, Dragon and NaturallySpeaking are registered trademarks or trademarks of ScanSoft, Inc. and/or its subsidiaries in the United States and other countries. All other company or product names may be the trademarks of their respective owners.
The statements in this press release that relate to future plans, events or performance are forward-looking statements that involve risks and uncertainties, including risks associated with market trends, competitive factors, and other risks identified in ScanSoft's SEC filings. Actual results, event and performance may differ materially. Readers are cautioned not to put undue reliance on these forward-looking statements that speak only as of the date hereof.
Order Dragon Naturally Speaking
Schedule your FREE Medical Transcription Software Demo today.
View the History of Voice Recognition and Speech Recognition Software