Dragon Naturally Speaking Reviews

- 2004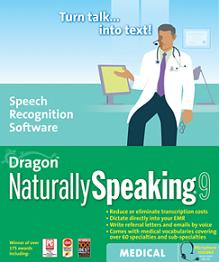 ---
Misys Healthcare Systems Selects ScanSoft Dragon NaturallySpeaking 7 Medical as Preferred Speech Recognition Application for Pathology Information System
Combination Helps Leading Healthcare Organizations, Hospitals and Physicians Reduce Costs and Improve the Quality of Patient Care
PEABODY, Mass., August 31, 2004 - ScanSoft, Inc. (Nasdaq: SSFT), the global leader of speech and imaging solutions, today announced that Misys Healthcare Systems, a top market leader in healthcare information technology in Raleigh, N.C., has selected ScanSoft® Dragon NaturallySpeaking® 7 Medical as the preferred speech recognition solution for its CoPathPlus™ from Misys anatomic pathology information system. In addition, Misys has joined the ScanSoft Healthcare Partner Program, a program created to expand the use of speech technologies among healthcare professionals through leading technology providers and integrators.
CoPathPlus from Misys is an industry-recognized anatomic pathology information system designed to handle the unique requirements of the anatomic pathology department, including patient and specimen information views, reports and billing features. The use of Dragon NaturallySpeaking 7 Medical with Misys' CoPathPlus™ enables pathology healthcare professionals to navigate the system by voice, as well as dictate clinical findings, thereby reducing transcription costs and document turnaround times.
ScanSoft's Dragon NaturallySpeaking 7 technology portfolio gives healthcare providers, technology suppliers and system integrators the ability to quickly and easily add speech recognition functionality to commercial and in-house PC- and Web-based Healthcare Information Systems (HIS) and Electronic Medical Records (EMR) applications. Through the speed and accuracy of Dragon NaturallySpeaking, healthcare organizations world wide have saved thousands of dollars per doctor each year in reduced or eliminated manual transcription costs.
"Healthcare professionals are increasingly turning to voice recognition systems as a means of increasing productivity and reducing costs," said Elinore Craig, product line director of laboratory and clinical financial systems for Misys Healthcare Systems. "We selected ScanSoft's Dragon NaturallySpeaking 7 Medical as the CoPathPlus from Misys voice recognition solution because its combination of robust features and reasonable cost provided the best value proposition for our pathology clients."
"Healthcare organizations are seeking solutions that increase productivity and result in considerable cost savings," said John Shagoury, president, ScanSoft Productivity Applications Division, ScanSoft. "Using Dragon NaturallySpeaking, Misys Healthcare Systems is able to offer some of the best technology and services available to the industry, enabling the pathology department to save considerable time and money and focus more on patient care."
About ScanSoft, Inc.
ScanSoft, Inc. (Nasdaq: SSFT) is the global leader of speech and imaging solutions that are used to automate a wide range of manual processes - saving time, increasing worker productivity and improving customer service. For more information regarding ScanSoft products and technologies, please visit www.ScanSoft.com.
About Misys Healthcare Systems
Misys Healthcare Systems, one of the top five healthcare IT companies in North America, develops and supports reliable, easy-to-use software and services of exceptional quality that enable physicians and caregivers to more easily manage the complexities of healthcare. With more than 20 years experience in the industry, Misys Healthcare Systems, a division of Misys plc, currently serves more than 92,000 physicians, 1,200 hospitals, 600 home care providers and hundreds of commercial laboratories, clinics, managed services and other related organizations. For more information, visit www.misyshealthcare.com.
Trademark reference: ScanSoft, the ScanSoft logo, Dragon and NaturallySpeaking are registered trademarks or trademarks of ScanSoft, Inc. in the United States and/or other countries. CoPathPlus™ is distributed by Misys under license. All other company or product names mentioned may be the trademarks of their respective owners.
The statements in this press release that relate to future plans, events or performances are forward-looking statements that involve risks and uncertainties, including risks associated with market trends, competitive factors, and other risks identified in the Company's SEC filings. Actual results, event and performance may differ materially. Readers are cautioned not to put undue reliance on these forward-looking statements that speak only as of the date hereof.
Order Dragon Naturally Speaking
Schedule your FREE Medical Transcription Software Demo today.
View the History of Voice Recognition and Speech Recognition Software