Dragon Naturally Speaking Reviews

- 2004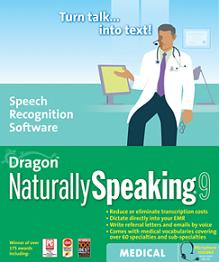 ---
ScanSoft Achieves Global Market Leadership in Speech Recognition Market Based on Shipments in 2003
Analyst Firm Study Shows ScanSoft Leads Global Speech Recognition Deployments with 41% of Total Market; 4.5% More than its Nearest Competitor and 35% Year over Year Growth Based on Shipments in 2003
PEABODY, Mass., September 13, 2004 - ScanSoft, Inc. (Nasdaq: SSFT), the global leader of speech and imaging solutions, today announced that Gartner has recognized ScanSoft as the global market share leader in speech recognition deployments for 2003, in its recent report, titled, "Market Share: Speech Recognition Telephony Software, Worldwide 2003." The company achieved significant world wide leadership at 41%, a 4.5% lead over its nearest competitor, and 35% growth from its position in 2002.
Gartner also reported that the speech market is maturing, with tangible cost savings and return on investment evident in numerous customer deployments, while the technology has improved considerably across the entire market. Standards such as VoiceXML continue to be a key driver for the proliferation of speech technologies into the mainstream.
ScanSoft, delivers speech applications for the real world - field -proven solutions that use the human voice to interact with information systems and devices. ScanSoft continues to gain market share through a commitment to open solutions and a partner network that spans the globe, maintaining strategic relationships with hundreds of leading technology companies, consulting organizations and system integrators. Today, thousands of companies and hundreds of millions of callers around the world depend on SpeechWorks® solutions from ScanSoft to deliver vital business information and simplify every day life.
"We continue to see accelerated demand from our customers and partners around the world, and our partners continue to be the cornerstone to our success," said Steve Chambers, president, SpeechWorks, a division of ScanSoft. "We are particularly pleased to achieve this recognition, as it underscores our superior application design, exceptional customer results and unflagging loyalty in collaborating with our partners."
The complete Gartner report is available for purchase at www.gartner.com.
About ScanSoft, Inc.
ScanSoft, Inc. (Nasdaq: SSFT) is the global leader of speech and imaging solutions that are used to automate a wide range of manual processes - saving time, increasing worker productivity and improving customer service. For more information regarding ScanSoft products and technologies, please visit www.ScanSoft.com.
ScanSoft, SpeechWorks and the ScanSoft logo are trademarks or registered trademarks of ScanSoft, Inc. and/or its subsidiaries in the United States and other countries. All other company name or product names may be the trademarks of their respective owners.
Order Dragon Naturally Speaking
Schedule your FREE Medical Transcription Software Demo today.
View the History of Voice Recognition and Speech Recognition Software