Dragon Naturally Speaking Reviews

- 2004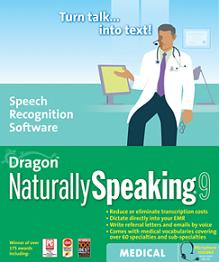 ---
ScanSoft Claims Top Honors at Prestigious Industry Awards
TTS and Embedded Solutions Take Key Awards; Three Executives Honored for Leadership at Speech Technology Magazine's Annual Speech Solutions Awards
Peabody, Mass - September 22, 2004 - ScanSoft, Inc. (Nasdaq: SSFT), the global leader of speech and imaging solutions, today announced that it has once again received prestigious industry awards at the 10th Annual Speech Technology Magazine Speech Solutions Awards. ScanSoft Chief Executive Officer Paul Ricci was named one of the top ten leaders in speech, along with SpeechWorks Division President Steve Chambers and Chief Technology Officer Mike Phillips. In addition, ScanSoft's VoCon® 3200 claimed Best Embedded Solution, while the company's industry-leading text-to-speech (TTS) solution, RealSpeak™, took top billing as the Best TTS Solution.
Speech Technology Magazine's Speech Solutions Awards are the recognized as the industry's preeminent awards, and are selected by Speech Technology Magazine readers through an online poll. Winners were announced at the 10th Annual SpeechTEK Conference and Expo, held September 13-16 in New York City's Marriott Marquis.
"ScanSoft is among the most innovative and groundbreaking vendors in the industry, and their presence is an important cornerstone of our annual event," said John Kelly, editor in chief, Speech Technology Magazine. "We are pleased to recognize the company for its many accomplishments, and to publicly acknowledge the contributions they have made to the industry this year."
Recently named by Gartner as the global market share leader, and awarded Frost & Sullivan's 2004 Market Share Leadership Award, ScanSoft delivers speech applications for the real world - field-proven solutions that use the human voice to interact with information systems and devices. ScanSoft continues to gain market share through a commitment to open solutions and a partner network that spans the globe, maintaining strategic relationships with hundreds of leading technology companies, consulting organizations and system integrators.
"We are pleased to be recognized, yet again, by our peers for our achievements this year, as Speech Technology Magazine's readers are among the most sophisticated and well-informed in the industry," said Steve Chambers, president of SpeechWorks, a division of ScanSoft. "While we are proud of our collective accomplishments, we will continue to strive to meet the demands of our customers through innovation and collaboration with our partners."
About ScanSoft® VoCon® 3200 and RealSpeak™ Solutions ScanSoft's VoCon 3200 is a complete rapid programming and scalable deployment solution for adding speech recognition to embedded applications, and is ideal for automotive, mobile and PC implementations. Its suite of developer tools helps developers to create highly accurate and effective speech recognition applications, whether they are an expert developer or are entirely new to the technology.
ScanSoft RealSpeak is the market-leading solution for converting text into human-sounding synthesized speech. The technology is used for a wide range of applications, including delivering emails for unified messaging systems and providing prompts for interactive voice response (IVR) applications, as well as speech-enabling voice portals, directory assistance and auto-attendant applications. RealSpeak distinguishes itself from other solutions through its quality, port density, and its support for multiple languages around the world on a wide range of hardware and operating systems.
About the SpeechWorks Division of ScanSoft
Speech applications for the real world. Through a global partner network, the company delivers field-proven solutions that use the human voice to interact with information systems and devices. Today, thousands of companies and millions of users around the world depend on SpeechWorks® solutions from ScanSoft to deliver vital business information and simplify every day life.
About ScanSoft, Inc.
ScanSoft, Inc. (Nasdaq: SSFT) is the global leader of speech and imaging solutions that are used to automate a wide range of manual processes - saving time, increasing worker productivity and improving customer service. For more information regarding ScanSoft products and technologies, please visit www.ScanSoft.com.
ScanSoft, RealSpeak, VoCon, SpeechWorks and the ScanSoft logo are trademarks or registered trademarks of ScanSoft, Inc. and/or its subsidiaries in the United States and other countries. All other company names or product names may be the trademarks of their respective owners.
Order Dragon Naturally Speaking
Schedule your FREE Medical Transcription Software Demo today.
View the History of Voice Recognition and Speech Recognition Software