Dragon Naturally Speaking Reviews

- 2004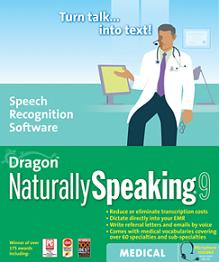 ---
ScanSoft Expands Packaged Applications Portfolio to Offer Apptera Enterprise Speech Applications
Packaged Applications Reduce Deployment Cycles and Drive Broader Adoption of Speech Solutions
CONVERSATIONS 2004, BOCA RATON, FL. - October 5, 2004 - Apptera™, the pioneer in configurable packaged speech applications, and ScanSoft, Inc. (Nasdaq: SSFT), the global leader of speech and imaging solutions, have signed an agreement whereby ScanSoft will resell Apptera's packaged speech applications. As part of the agreement, ScanSoft's global network of partners will deliver to its customers Apptera's packaged solutions with the unique ability to rapidly configure the applications to meet specific enterprise requirements. The companies will also jointly market Apptera's award-winning suite of packaged applications for financial services and future vertical markets.
The combination of Apptera's configurable packaged applications software and ScanSoft's demonstrated leadership in speech applications and services brings a new level of voice-enabled self-service solutions to call centers worldwide. This alliance translates to a faster and more cost-effective deployment of speech systems, while enhancing the quality and consistency of customer service that enterprises have come to expect from voice-enabled self-service solutions. In turn, this means more service functions can be automated with speech and enterprises of all sizes can now enjoy the cost and customer service benefits that speech has already proven to generate for larger businesses.
"Packaged applications significantly improve our ability to offer more cost-effective and timely speech solutions to our customers, and are an important part of our overall strategy," said Steve Chambers, president of SpeechWorks, a division of ScanSoft. "Apptera's packaged applications complement our SpeechPAK™ applications and strategy, and enable us to be more uniquely positioned to provide a broad range of compelling and easy-to-implement speech applications to our customers and partners."
Introduced earlier this year, Apptera's packaged speech applications have been helping businesses provide more efficient, personalized customer service than touchtone systems for a fraction of the cost of agent-handled calls. Each application is delivered as a highly configurable software product, working out-of-the-box and is packaged with complete reporting, documentation and upgrades. Business users can manage and modify the speech applications in-house with flexible, easy-to-use configuration tools that are available with each application. All applications are designed and pre-tuned specifically for caller satisfaction and call flows are optimized for a more personalized caller interaction.
"As the company that introduced the concept of packaged speech applications, Apptera is delighted to see ScanSoft demonstrate a strong commitment to integrating the technology into its already dynamic portfolio of technology, applications and services," said Lorraine Hariton, Apptera's President and CEO. "We're excited about the opportunity that this partnership represents, not just for Apptera, but for the market as a whole. With packaged applications, businesses are now seeing how quickly and affordably speech systems can be deployed, and the range of enterprises for which speech is now globally accessible."
About the SpeechWorks Division of ScanSoft
ScanSoft delivers field-proven speech solutions. Its unmatched portfolio and expertise help thousands of companies around the world to improve the way we communicate. Through a global partner network, the company delivers solutions that use the human voice to interact with information systems and devices. Today, thousands of companies and millions of users around the world depend on SpeechWorks® solutions from ScanSoft to deliver vital business information and simplify every day life.
About ScanSoft, Inc.
ScanSoft, Inc. (Nasdaq: SSFT) is the global leader of speech and imaging solutions that are used to automate a wide range of manual processes - saving time, increasing worker productivity and improving customer service. For more information regarding ScanSoft® products and technologies, please visit www.ScanSoft.com.
About Apptera
Apptera is the pioneer of highly configurable, packaged speech applications that are designed to enrich the caller experience and greatly reduce time-to-market of voice self-service solutions. Apptera significantly lowers the traditional deployment cost and maintenance complexities associated with custom speech offerings, enabling enterprises of all sizes to deploy speech for one-third the time and cost. The company's VoiceXML and SALT-based applications are platform-independent and ship with an intuitive, browser-based studio for easily adapting applications to specific business requirements. All applications are pre-tuned, ready to deploy out of the box and can be easily modified and managed in-house. Founded in 2001, Apptera was recently named to Business 2.0's "Hot Startup" List for 2004. Apptera is a privately held Silicon Valley-based company funded by leading venture firms. For additional information, Apptera can be reached at (650) 635-0600 or www.apptera.com
.
ScanSoft, the ScanSoft logo, SpeechPAK, and SpeechWorks are trademarks or registered trademarks of ScanSoft, Inc. and/or its subsidiaries in the United States and other countries. All other company names and product names may be the trademarks of their respective owners.
Order Dragon Naturally Speaking
Schedule your FREE Medical Transcription Software Demo today.
View the History of Voice Recognition and Speech Recognition Software