Dragon Naturally Speaking Reviews

- 2004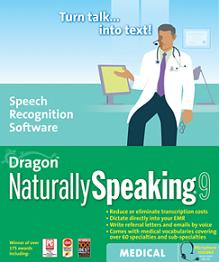 ---
ScanSoft Announces Winners of its Fifth Annual Best Practices Competition at Conversations 2004
Industry Experts Select Vodafone Australia as Overall Best Practices Winner; Recognize Verizon for Most Innovative Solution
Boca Raton, Florida - CONVERSATIONS 2004 - October 6, 2004 - ScanSoft, Inc. (Nasdaq: SSFT), the global leader of speech and imaging solutions, today named Vodafone Australia as the winner of the 2004 Best Practices Competition. Now in its fifth year, the ScanSoft® Best Practices Competition recognizes companies whose speech solutions improve customer satisfaction and deliver measurable results. ScanSoft also recognized Verizon as the winner of the Most Innovative Solution award for its ground breaking application of speech to solve a unique business problem.
The Best Practices Competition is open to all ScanSoft end-user customers and its partners' customers. Participating applicants submit comprehensive case studies that outline the decision-making process and implementation of its speech project, and highlight tangible results of the application. Companies vying for the Best Practices award must meet superior operational efficiencies as well as noticeable customer retention and satisfaction goals. Participants were judged by a panel of industry experts that included Dan Miller, partner and senior analyst at Opus Research, John Kelly, publisher and editor-in-chief of Speech Technology Magazine and several ScanSoft executives and experts.
Vodafone Australia: Increasing Self-Service for Pre-Paid Mobile Customers
As part of a program to deliver simplicity and choice to its customers through self service, Vodafone Australia has been selected as the Global Best Practice winner - the first winner from outside of North America - for their voice self service offering, Lara. Lara's first task of registering pre-paid customers was a global first for the company. Within Australia, Vodafone has a requirement to collect personal information from its customers upon activation of a prepaid SIM - a task previously done via Vodafone's live customer contact centre. Vodafone has used Lara to deliver efficiencies to their business while at the same time maintaining high levels of customer satisfaction.
Lara was developed with partners Dimension Data, ScanSoft, Holly and Audium to provide a solution that takes callers through a series of simple questions with a friendly, helpful voice guiding them through the call. By all accounts, the speech application is a resounding success - through independent studies, nearly 75% of Vodafone users reported a positive caller experience.
"At Vodafone, providing a truly 'wow' customer experience is the most important thing we do. When we were developing Lara, we worked incredibly hard to ensure that the whole experience would deliver on our brand promise whilst at the same time delivering efficiencies to our business," said Adam Spence of Vodafone Australia. "Thanks to some amazing work carried out by our people and our partners, Lara has become a key member of the Vodafone Australia family. We will continue to look for innovative new ways to develop her role further so that we can continue to lead this industry by doing things differently and ultimately putting the customer first."
Pioneering Innovation with Verizon's National Voice Portal
With more than 80 million subscribers and nearly 150 different products resulting in more than 200 million customer care calls per year in Verizon's retail business, providing high-quality, high-touch customer service can be a costly challenge for Verizon. With Verizon's National Voice Portal (NVP), virtually all customer service interactions, ranging from sales campaigns to post-sales account services and repair tickets, can be handled through self-service - a challenging task for traditional touch-tone menu driven applications. Unique dialogue design and state of the art technology have already speech-enabled 45 different transaction types, and are expected to grow to 75 by the end of 2004.
Verizon's NVP has achieved tangible cost and customer service improvements since its implementation, such as reducing the number of misdirected calls, and ensuring that calls that reach live agents are handled more efficiently. In addition, an increase in self-service effectively reduces the number of calls handled by expensive live agents -since its launch, NVP has automated more than 1.3 million calls to Verizon Repair Resolution Centers, nearly 60% in total.
Best Practices Finalists
Virgin Mobile USA: Best Premium Services
Virgin Mobile USA is the first US wireless service designed exclusively around the needs and desires of the youth market, and has quickly become a recognized and respected brand among young customers. Virgin Mobile worked with its customer care center to speech enable its Pay as You Go wireless service, which enables users to choose from a wide selection of handsets that customers can "grab and go" at one of many retailers across the nation, activate and pay as they use the service. Customers can simply use their voice to register payment and credit card information - typically in five minutes or less, and can perform a host of new self-services, including coverage check for activation, device serial number entry, vKey (PIN code) creation for activation and a store locator. By speech-enabling their IVR system, Virgin Mobile USA was able to reduce the number of calls directed to live agents by nearly 50%, keeping customer satisfaction high, while reducing the cost associated with live agents.
SBC Communications: Breakthrough Use of Technology
SBC Communications, Inc. worked with ScanSoft to develop a speech-enabled Automated Call Router that allows SBC to identify the goal (or task) of the caller and to route the call to the correct agent group or self-service application in a satisfying and comfortable manner for the customer. The application replaces the current DTMF-based call routing application, and its initial deployment rolled out in the consumer customer care region in the Southwest region effectively reduces the number of misdirected calls and increases overall caller satisfaction before customers even reach a live agent. Reported customer satisfaction rates for the solution were consistently high - with nearly 70% of customers reporting a better experience with the speech-enabled solution.
Other customer award winners include: Speech Vision: Telstra; Customer Reach: India Times; Industry Pioneer: The Hartford.
About ScanSoft, Inc.
ScanSoft, Inc. (Nasdaq: SSFT) is the global leader of speech and imaging solutions that are used to automate a wide range of manual processes - saving time, increasing worker productivity and improving customer service. For more information regarding ScanSoft® products and technologies, please visit www.ScanSoft.com.
ScanSoft and the ScanSoft logo, are registered trademarks or trademarks of ScanSoft, Inc. in the United States and other countries. All other company or product names may be the trademarks of their respective owners.
Order Dragon Naturally Speaking
Schedule your FREE Medical Transcription Software Demo today.
View the History of Voice Recognition and Speech Recognition Software