Dragon Naturally Speaking Reviews

- 2004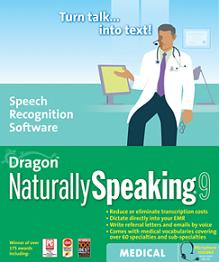 ---
Vianeta Adds Speech Recognition to Harmony Health Information Management Platform Using ScanSoft Dragon NaturallySpeaking SDK
Speech Recognition within Vianeta Harmony Gives Leading Healthcare Organizations and Physicians the Ability to Reduce Transcription Costs While Actually Improving Patient Care
PEABODY, Mass., December 9, 2004 - ScanSoft, Inc. (Nasdaq: SSFT), the global leader of speech and imaging solutions, and Vianeta Communications, the leading provider of Web-based XML health information management (HIM) solutions, announced today the integration of ScanSoft® Dragon NaturallySpeaking® with the Vianeta Harmony Health Information Management (HIM) Platform. Dragon NaturallySpeaking enables the automatic conversion of speech into text at up to 160 words per minute, and allows users to control software applications simply by speaking.
Vianeta Harmony is a unified e-HIM platform used by hundreds of care facilities and more than 64,000 care providers in North America to automate their patient records processes. It provides everything needed for digital dictation, speech recognition, transcription, document scanning and chart distribution, and connects with department-specific systems. Vianeta used the ScanSoft Dragon NaturallySpeaking SDK (software developer's kit) to add front- and back-end speech recognition to several components of Vianeta Harmony, including the Vianeta Speech Recognition Desktop (SRD) for Radiology, and the Vianeta Speech Recognition Enterprise Server (SRES).
"The number one challenge facing our customers is how to balance the trade-offs associated with improving patient care and reducing costs," said Ralph Aceves, Vianeta COO. "The speech recognition capabilities delivered by Dragon NaturallySpeaking combines with our Harmony platform to eliminate those trade-offs, resulting in an affordable and proven e-HIM solution that lets organizations reduce costs and improve patient care at the same time."
Dragon NaturallySpeaking allows the Vianeta Speech Recognition Desktop (SRD) for Radiology to transform instantly the physician's voice dictation into digital text, where it can be easily reviewed, edited and approved by the physician. By enabling front-end speech recognition the system speeds data entry into the electronic medical records (EMR) system, completely avoiding the time and costs associated with traditional manual transcription processing.
ScanSoft Dragon NaturallySpeaking SDK is integrated in Vianeta Speech Recognition Enterprise Server (SRES) to enable the back-end batch-processing of recorded speech from a range of devices, including digital recorders, PDA's, Tablet PC's and telephone dictation systems. After Vianeta's Workflow Manager receives the dictation, Dragon NaturallySpeaking SDK transcribes dictation into text. Using the physician speech profiles that are resident in the Dragon NaturallySpeaking server, the resulting transcription is then sent to a medical transcriptionist for further editing via the Vianeta Transcription Desktop. Vianeta Speech Recognition Enterprise Server (SRES) with integrated speech recognition from ScanSoft Dragon NaturallySpeaking SDK, reduces transcription processing costs by 50 percent or more. The Dragon NaturallySpeaking engine for Vianeta's SRES is an excellent choice for users who want to minimize changes in physician behavior during their dictation.
Built on an XML Web-based platform, Vianeta Harmony is designed to uniquely address many of the shortcomings that exist with legacy clinical documentation solutions and enable hospitals and healthcare systems to leverage clinical documentation to lower costs and improve patient care. From dictation through reimbursement, Vianeta delivers standardized and cost-effective applications for the healthcare enterprise.
The ScanSoft Dragon NaturallySpeaking SDK provides healthcare providers, technology suppliers and integrators with the ability to quickly and easily speech-enable PC- and Web-based Healthcare Information Systems (HIS) and EMR applications. Speech-enabled solutions provide healthcare organizations with the ability to improve patient care while potentially saving thousands of dollars per doctor each year by automating the capture and processing of patient data.
"Speech recognition has become a popular and time-saving technology for healthcare providers, enabling them to dramatically reduce transcription costs and provide faster, more accurate documentation for patient records," said John Shagoury, president, ScanSoft Productivity Applications Division. "Using Dragon NaturallySpeaking as its core speech technology, Vianeta offers some of the best technology and services available to the industry, helping healthcare professionals reduce costs and improve the quality of patient care."
About Vianeta
Headquartered in northern California, Vianeta Communications provides XML-based software solutions for health information management that help healthcare organizations of any size or shape automate HIM processes. Hundreds of hospitals and clinics, 60,000 physicians and 4000 HIM staff members throughout North America use Vianeta Harmony products to effectively create, aggregate, manage, process and distribute patient health information, enabling their organizations to reduce cost, improve revenue cycles, maximize efficiency, prevent errors, improve quality, ensure patient privacy and build a solid foundation for a true electronic medical record.
Vianeta Harmony combines digital dictation, speech recognition, transcription, document scanning and distribution, and electronic integration with multiple hospital departmental systems, to unify health information into a central e-HIM platform that can be accessed securely by clinicians, transcriptionists, coders, billing analysts, patients and more. For more information about Vianeta solutions, please visit, www.vianeta.com.
Vianeta Corporate Contact: Kelly Colburn, 408-519-2142, kcolburn@vianeta.com
About ScanSoft, Inc.
ScanSoft, Inc. (Nasdaq: SSFT) is the global leader of speech and imaging solutions that are used to automate a wide range of manual processes - saving time, increasing worker productivity and improving customer service. For more information regarding ScanSoft® products and technologies, please visit www.ScanSoft.com.
Trademark reference: ScanSoft, the ScanSoft logo, Dragon, and NaturallySpeaking are registered trademarks or trademarks of ScanSoft, Inc. or its subsidiaries in the United States and/or other countries. All other company or product names mentioned may be the trademarks of their respective owners.
The statements in this press release that relate to future plans, events or performance are forward-looking statements that involve risks and uncertainties, including risks associated with market trends, competitive factors, and other risks identified in ScanSoft's SEC filings. Actual results, events and performance may differ materially. Readers are cautioned not to put undue reliance on these forward-looking statements that speak only as of the date hereof.
Order Dragon Naturally Speaking
Schedule your FREE Medical Transcription Software Demo today.
View the History of Voice Recognition and Speech Recognition Software