Dragon Naturally Speaking Reviews

- 2003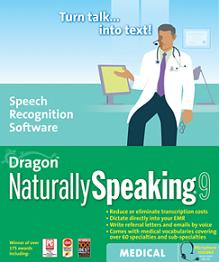 ---
ScanSoft Releases OpenSpeech Recognizer 2.0 Software
Latest Release Features Extensive Accuracy Improvements Optimized for Wireless Networks with Advanced Capabilities for International Deployments, Distributed Speech Recognition and VoIP Networks
PEABODY, Mass., October 16, 2003 - ScanSoft, Inc. (Nasdaq: SSFT), the leading supplier of speech and imaging solutions, today announced the immediate availability of OpenSpeech Recognizer™ version 2.0 speech recognition software, a member of the SpeechWorks® Suite of Network Speech Solutions. The latest version includes features to deliver the highest levels of accuracy even in wireless and VoIP networks.
OpenSpeech Recognizer software is an open, standards-based recognition engine optimized for scalability, performance, and accuracy, particularly in wireless environments. The latest OpenSpeech Recognizer release builds on the advanced capabilities of OpenSpeech Recognizer 1.0, including patented, Finite State Transducer technology, to provide significant memory and CPU savings and support for application vocabularies containing millions of words.
"The latest generational release of OpenSpeech Recognizer is packaged with breakthroughs in accuracy and advanced features," said Steve Chambers, senior vice president and general manager of Network Speech Solutions at ScanSoft. "The technical innovation and performance optimization gains in this release will power the most successful speech applications in the industry."
Accuracy Gains, Standards Support, Optimized for Global Deployments
OpenSpeech Recognizer software is designed to deliver a superior caller experience and a significant return on investment for customers around the world. Enhanced features and additional capabilities include the following:
Improved Out-of-the-Box Accuracy for Wireless and Noisy Environments OpenSpeech Recognizer 2.0 software incorporates unique active noise cancellation technology that eliminates background noise, measurably improving speech clarity and raising accuracy rates dramatically for wireless, hands-free and noisy environments. It also features new endpointer technology that precisely discriminates between background noise and speech. Accuracy improvements yield up to a 68 percent reduction in errors compared to OpenSpeech Recognizer 1.0, making speech recognition perform nearly as well on wireless calls as on landline calls. In addition, OpenSpeech Recognizer 2.0 features an improved, patented LEARN™ capability that automatically adapts based on caller usage, to ensure the highest possible accuracy in any application.
Added Support for VoIP Environments OpenSpeech Recognizer 2.0 software is the first speech engine designed specifically for VoIP environments, including acoustic models designed for popular VoIP codecs, to ensure highest possible accuracy. VoIP is gaining in popularity due to its cost-effectiveness for blending voice and data in large call centers.
Bundled SpeakFreely™ Capabilities for Open-Ended Dialogs OpenSpeech Recognizer 2.0 includes SpeakFreely natural language capabilities to respond accurately to callers' naturally phrased, open-ended requests. SpeakFreely Grammars are built automatically from textual examples of what a caller means along with what they actually say. SpeakFreely capabilities are ideal for call routing or self-service applications where the caller tells the system what they need in their own words rather than being prompted with a long list of choices.
WorldAware™ Capabilities for Global Speech Deployments OpenSpeech Recognizer 2.0 software features WorldAware capabilities for easier application development and more complex speech solutions. It offers full multilingual capabilities that allow any combination of 20 supported languages to be mixed within a single utterance. This new feature is valuable in bilingual markets where callers often switch between languages in a single utterance. In addition, OpenSpeech Recognizer now supports Unicode character encodings in dictionaries, grammars and recognition results and logs, enabling easier development of applications in languages such as Japanese and Chinese that require non-roman scripts.
First Speech Engine to Support Distributed Speech Recognition (DSR) OpenSpeech Recognizer 2.0 is the first commercially available speech recognition engine to support the Aurora standard for DSR servers. DSR is an architecture that divides speech processing between a handset and a network server, enabling superior speech recognition accuracy while reducing transmission bandwidth requirements in wireless environments. Through its Embedded Speech Solutions, ScanSoft also provides an Aurora client for PDAs, mobile phones and other handheld devices.
Smart Text Handling for Large Databases OpenSpeech Recognizer 2.0 software is the first speech recognition engine to leverage text normalization techniques from its leadership in text-to-speech products to determine pronunciations based on how a human would read a given text rather than its literal description. For example, the text "St. James St." would be understood and converted to "Saint James Street" in the recognition grammar.
Improved Support for Open Standards Continuing on ScanSoft's philosophy to embrace industry standards, OpenSpeech Recognizer 2.0 software has been updated to the latest version of the speech recognition grammar specification (SRGS), which supports the latest versions of VoiceXML and SALT.
Support from Platform Providers Worldwide
OpenSpeech Recognizer software will be available through ScanSoft's extensive network of platform providers worldwide. Together, ScanSoft and its partners deliver powerful speech solutions that leverage deployment-proven speech technology and unmatched years of combined expertise in speech application development, tuning, user interface design and platform integration. As a result, customers can choose the platform that best meets their needs with the assurance that the high performance capabilities of OpenSpeech Recognizer 2.0 will be available to them.
"VoiceGenie is proud to be one of the first to offer OpenSpeech Recognizer 2.0, which is now available on the SpeechGenie platform and our public developer's site," said Adrian Lee Kwen, Vice President of Engineering, VoiceGenie Technologies. We are impressed by the quality and performance OpenSpeech Recognizer delivers, and welcome the innovative features that will support more advanced speech solutions for our customers worldwide."
"Microsoft is working closely with ScanSoft to provide enterprise organizations with a greater choice of deployment options for their speech services," James Mastan, director of marketing for the Speech Technologies group at Microsoft. "With OpenSpeech Recognizer 2.0 now optimized for SALT, our customers will be able to leverage its unique functions and features through the Microsoft Speech Server."
"We look forward to making the advanced capabilities of OpenSpeech Recognizer 2.0 available to our customers worldwide," said Henrik Thomé, CEO of Envox Worldwide. "We're particularly excited about bringing new call automation options to our service providers who have developed voice-enhanced communications solutions such as directory assistance and alerts and notifications on Envox 5, our open, standards-based communications development platform."
About ScanSoft® Network Speech Solutions
ScanSoft Network Speech Solutions is the global leader in advanced network speech technologies and professional services. Enterprise and telecommunications organizations around the world such as Time Warner, Bank of America and Qantas Airways leverage the power and innovation of the SpeechWorks® Suite of Network Speech Solutions to redefine the way they exchange vital information with customers and employees over the telephone. With a global sales and engineering presence, ScanSoft is uniquely positioned to help companies create and implement sophisticated speech solutions that deliver proven economic benefits and the highest levels of caller satisfaction. For more information, visit www.scansoft.com/network/.
About ScanSoft, Inc.
ScanSoft, Inc. (Nasdaq: SSFT) is the leading supplier of speech and imaging solutions that are used to automate a wide range of manual processes - saving time, increasing worker productivity and improving customer service. For more information regarding ScanSoft products and technologies, please visit www.ScanSoft.com.
ScanSoft and the ScanSoft logo are registered trademarks or trademarks of ScanSoft, Inc. in the United States and other countries. SpeechWorks, OpenSpeech Recognizer, LEARN, SpeakFreely and Virtuoso are registered trademarks or trademarks of SpeechWorks International, Inc. in the United States and other countries. All other company or product names may be the trademarks of their respective owners.
Order Dragon Naturally Speaking
Schedule your FREE Medical Transcription Software Demo today.
View the History of Voice Recognition and Speech Recognition Software