Dragon Naturally Speaking Reviews

- 2003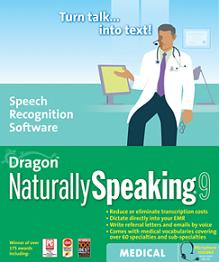 ---
ScanSoft Announces Winners of 4th Annual Best Practices Competition
Panel of Industry Experts Selects Aetna as Best Practices Winner; Centrelink for Most Innovative Speech Solution
San Diego, CA - Conversations - October 23, 2003 -- ScanSoft, Inc. (Nasdaq: SSFT), the leading supplier of speech and imaging solutions, today announced Aetna, Inc. one of the nation's leading providers of health care, dental, pharmacy, group life, disability and long-term care products, as the winner of the 2003 Best Practices Competition. Now in its fourth year, the Best Practices Competition recognizes companies whose speech solutions deliver measurable results and improve customer satisfaction. In addition, Centrelink, an Australian Federal Government agency, was selected as the winner of the "Most Innovative Speech Solution". As a new category within the Best Practices Competition, the Most Innovative Speech Solution award recognizes the company that paves the way for a new frontier of speech applications by applying speech to a unique business problem in an unprecedented way.
The Best Practices Competition is open to all ScanSoft end-user customers and its partners' customers. Participating applicants submit comprehensive case studies that outline the decision-making process and implementation of its speech project, and highlight tangible results of the application. Companies vying for the Best Practices award must meet superior operational efficiencies as well as lofty customer retention and satisfaction goals. This year ScanSoft introduced the Most Innovative Speech Solution category for the customer that has proven to be a true pioneer demonstrating new possibilities and potential in the use of speech technology. Participants were judged by a panel of industry experts that included Dan Miller, partner and senior analyst at Zelos Group, John Kelley, publisher and editor-in-chief of Speech Technology Magazine and Mike Thompson, vice president of marketing for Network Speech Solutions at ScanSoft.
And the Best Practices Winner Is… Aetna for Aetna Voice Advantage
Aetna was selected as this year's Best Practice winner for the company's Aetna Voice Advantage (AVA) speech application that serves more than 13 million medical members and 11.3 million dental members, as well as nearly 349,000 primary care and specialist physicians. AVA is part of a larger corporate initiative to give members, physicians and practice managers a full range of options in contacting and doing business with Aetna, easily and at their convenience. The initiative also includes self-service websites and e-connectivity options where members, physicians and practice managers can receive answers to many questions and complete transactions that are central to doing business with Aetna.
Growing Satisfaction with AVA
AVA was first introduced a year ago, and the number of members and physicians who choose to complete their call entirely through the AVA without opting to speak to a customer service professional continues to grow.
"We continue to see an increase in use from members and physicians, which in our opinion, is a direct reflection of the growing customer satisfaction with our speech technology. Aetna has paid close attention to customer feedback and has fine-tuned the application in response," said Dorothy Verkade, Head of Member Portal & AVA at Aetna. "Callers can simply say what they want, get what they need and get off the phone more quickly. Over a six-month period, the number of callers who fully completed at least one self-service transaction on AVA without opting out or hanging up increased by 46 percent."
Speech Innovation from the Land Down Under
Centrelink was created in 1997 to provide exceptional service to the community by removing the complexity for Australians accessing government services. Centrelink, the largest single-purpose contact center network in the southern hemisphere, processes some 26 million telephone calls and distributes AU$51.7 billion in social security payments each year. The government agency implemented the speech-enabled Report Employment Income (REI) application in its call centers to assist agents with both the existing inbound workload and the anticipated sharp increase in telephony traffic resulting from a key social welfare initiative called Working Credit. The application has also allowed it to be made available to students to report their earnings. In addition, the speech interface design will allow the application to be offered to other customer groups with little change needed.
The speech application gathers several key earnings components, including: income earned by customers, their employer and for some caller groups, the hours worked for each employer. If the caller has a partner, the partner's information is also collected to determine the caller's correct payment. Strong support for speech within the organization and early success with speech has changed the view of the potential of self-service within Centrelink. Staff are now actively promoting self-service options and customer service managers are indicating that there is a potential to reduce customer traffic through face-to-face service centers and call centers by up to 50 percent.
Early Results with Speech
As of August 2003, Centrelink had an average of 9,000 students every two weeks completing their transaction through the natural language speech application. In addition to completed calls, approximately 6 percent of callers who complete the majority of their business using the REI service then transfer to an agent to complete some additional business. These transfers are streamlined using Centrelink's integrated CTI infrastructure and are presented to the agent as a fully authenticated "Screen Pop". The number of customers using the service is expected to rise dramatically over the next few months resulting from the nearly 140,000 customers affected by the Working Credit initiative and an additional 80,000 students who are also required to report employment bi-weekly to Centrelink.
Centrelink anticipated calls completed through the REI application would take 180 seconds on average while the expected call handle time for an agent was 300 seconds. Since agent salary costs alone are in the vicinity of four times that of the total cost of a self-service call, Centrelink anticipated achieving a Return On Investment (ROI) within 18 months of full deployment. Centrelink has since revised these estimates.
"The call handle time for REI calls is currently averaging 120 seconds and coupled with the high take-up rate we've experienced, we now anticipate that we'll achieve our ROI within 9 to 12 months," said Kevin Parsons, National Manager at Centrelink. "As a result of the success of our speech application, we plan to upgrade our existing touch tone functionality for call routing and self service to speech."
"This recognition marks a tremendous achievement for both companies," said Steve Chambers, senior vice president and general manager for Network Speech Solutions at ScanSoft. "Centrelink and Aetna have demonstrated tremendous vision with their individual speech strategies and have differentiated themselves from a virtual 'who's who' of organizations worldwide that have successfully deployed speech recognition systems."
About ScanSoft® Network Speech Solutions
ScanSoft Network Speech Solutions is the global leader in advanced network speech technologies and professional services. Enterprise and telecommunications organizations around the world such as Time Warner, Bank of America and Qantas Airways leverage the power and innovation of the SpeechWorks® Suite of Network Speech Solutions to redefine the way they exchange vital information with customers and employees over the telephone. With a global sales and engineering presence, ScanSoft is uniquely positioned to help companies create and implement sophisticated speech solutions that deliver proven economic benefits and the highest levels of caller satisfaction. For more information, visit www.scansoft.com/network/.
About ScanSoft, Inc.
ScanSoft, Inc. (Nasdaq: SSFT) is the leading supplier of speech and imaging solutions that are used to automate a wide range of manual processes - saving time, increasing worker productivity and improving customer service. For more information regarding ScanSoft products and technologies, please visit www.ScanSoft.com.
ScanSoft and the ScanSoft logo, are registered trademarks or trademarks of ScanSoft, Inc. in the United States and other countries. All other company or product names may be the trademarks of their respective owners.
Order Dragon Naturally Speaking
Schedule your FREE Medical Transcription Software Demo today.
View the History of Voice Recognition and Speech Recognition Software