Dragon Naturally Speaking Reviews

- 2003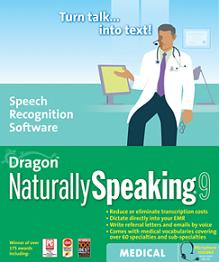 ---
ScanSoft Introduces New Suite of Speech Optimization Services
Powerful New Services Include Speech Branding, Advanced Technology Prototyping, DesignLab Services and the Enterprise Speech Strategy
San Diego, CA -- Conversations - October 23, 2003 -ScanSoft, Inc. (Nasdaq: SSFT), the leading supplier of speech and imaging solutions, today introduced four new services to support customers with their speech investment. Each service was created in response to customers who are requesting that ScanSoft not only to fulfill their demand for individual speech systems, but also provide a broader and deeper expertise that helps them maximize their investment in speech - and create satisfying telephone interactions with callers.
"Customers consistently ask us for support in creating their enterprise speech strategy, branding their speech service to achieve a powerful, memorable identity and exploring new ways to extend their monetary return from existing, deployed speech services," said Steve Chambers, senior vice president and general manager of Network Speech Solutions at ScanSoft. "Now, ScanSoft can respond with proven programs to meet each of these requirements."
Voice Identity Program (V.I.P.™)
Speech recognition systems can deliver a unique and memorable experience and create emotional connections with callers. To assist companies' in creating a powerful and branded audio experience, ScanSoft is now offering the Voice Identity Program (V.I.P.).
Through the V.I.P. research and analysis process, ScanSoft and its branding agency partner will deliver a caller-tested, proven audio identity designed to extend and reinforce a company's corporate brand over the telephone. V.I.P. will also address brand consistency across multiple customer-facing channels (e.g. phone, web, agent).
Advanced Technology Proof of Concept (P.O.C.)
For companies that want to evaluate new, progressive speech technologies for their businesses, ScanSoft is offering the Advanced Technology Proof of Concept (P.O.C.) service. Customers seeking advanced innovation, and who want to test that innovation in a speech prototype, can engage the Technology P.O.C. service to achieve quick, accurate feedback on first-to-market speech capabilities. The Technology P.O.C. service allows customers to quickly assess those advanced speech technologies that can deliver significant business value to their enterprise or telecommunications organization.
Real examples of Advanced Technology P.O.C. engagements include a financial services company who evaluated SpeechSecure™ speaker verification technology to identify suspected fraudulent calls by comparing a caller's voice to the voice prints of known fraudsters, and a phone manufacturer who prototyped Aurora-based distributed speech recognition to significantly boost wireless accuracy and achieve additional benefits on a JMEE-capable mobile phone.
DesignLab Services to Evolve Speech Applications
ScanSoft now offers new DesignLab Services for its existing customer base. DesignLab is for companies that have deployed speech services but want to continually improve the performance of those services by adjusting key system attributes like User Interface (UI) design to accommodate changes in caller populations, or incorporate new business rules and marketing offers.
In a DesignLab Services engagement, ScanSoft works with customers to define a series of tests and evaluations around a deployed system to determine ways to extend the goals of the system, or target a new market segment. DesignLab Services were created in response to feedback from customers like Amtrak who wanted to drive incremental efficiencies in its deployed speech systems by adding natural language to speed up the interaction for frequent callers.
Enterprise Speech Strategy
The Enterprise Speech Strategy is designed for organizations looking for a 3 to 5 year strategic speech plan that spans key initiatives including: inventory of the current caller experience; branding and identity style recommendations with sample Identity Vision Clips; enterprise-wide analysis of potential speech applications in phased-rollout; detailed ROI analysis and modeling across multiple business units; 1-800 number consolidation recommendations and impact analysis; marketing recommendations for launching a speech service, and more.
The Enterprise Speech Plan is available to ScanSoft customers and prospects worldwide and follows classic diagnostic and information gathering and a consultative process for information synthesis and reporting.
Join ScanSoft for a Web Seminar on Voice Identity
ScanSoft's Creative Director Blade Kotelly will host a Webinar on the power of creating a unique voice identity for a company's speech service and customer-facing channels. The Webinar will take place on November 12 at 1:00pm ET. Register today at www.scansoft.com/webinars.
About ScanSoft® Network Speech Solutions
ScanSoft Network Speech Solutions is the global leader in advanced network speech technologies and professional services. Enterprise and telecommunications organizations around the world such as AOL Time Warner, Bank of America and Qantas Airways leverage the power and innovation of the SpeechWorks® Suite of Network Speech Solutions to redefine the way they exchange vital information with customers and employees over the telephone. With a sales and engineering presence in more than 15 countries, ScanSoft is uniquely positioned to help companies create and implement sophisticated speech solutions that deliver proven economic benefits and the highest levels of caller satisfaction. For more information, visit www.scansoft.com/network/.
About ScanSoft, Inc.
ScanSoft, Inc. (Nasdaq: SSFT) is the leading supplier of speech and imaging solutions that are used to automate a wide range of manual processes - saving time, increasing worker productivity and improving customer service. For more information regarding ScanSoft products and technologies, please visit www.ScanSoft.com.
ScanSoft and the ScanSoft logo are registered trademarks or trademarks of ScanSoft, Inc. in the United States and other countries. SpeechWorks, SpeechCare, V.I.P. and SpeechWorks Here Guarantee are registered trademarks or trademarks of SpeechWorks International, Inc. in the United States and other countries. All other company or product names may be the trademarks of their respective owners.
Order Dragon Naturally Speaking
Schedule your FREE Medical Transcription Software Demo today.
View the History of Voice Recognition and Speech Recognition Software