Dragon Naturally Speaking Reviews

- 2003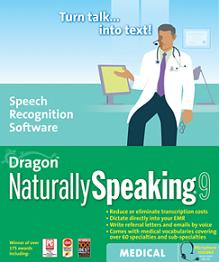 ---
ScanSoft Speech Solution Efficiently Handles More than Eight Million Calls and Generates New Revenues for Dollar Rent A Car
Car Rental Company Receives ScanSoft's Milestone Achievement Award for Improved Customer Self-Service
Peabody, Mass. - November 4, 2003 - ScanSoft, Inc. (Nasdaq: SSFT), the leading supplier of speech and imaging solutions, today recognized Dollar Rent A Car, a subsidiary of Dollar Thrifty Automotive Group, Inc. (NYSE: DTG) with a Milestone Achievement Award for reaching a critical customer service milestone with their speech solution. Since its implementation, Dollar has successfully served eight million customers through its unique, automated customer service personalities "SARA" (Speech Activated Reservations Agent) and "DEE" (derived from DTAG "Dollar Thrifty Automotive Group"). Dollar Rent A Car credits ScanSoft's superior speech recognition solution with helping the company enhance customer service while improving efficiency and generating new revenues for its reservations business.
ScanSoft's Milestone Achievement Award is designed to recognize companies who have achieved significant financial returns from ScanSoft speech recognition deployments. Winners are required to have fully deployed systems for at least 12 months and documented financial targets and results. Milestone drivers include substantial cost savings as a result of increased automation, improved productivity that results in new revenues, or substantial customer satisfaction gains. ScanSoft presented the Milestone Achievement Award to Dollar Rent A Car at Conversations 2003, ScanSoft's annual speech conference.
"At Dollar we are committed to making our customer interactions both high tech and high touch," said Janet Worley, Staff Vice-President of Customer Sales and Service at Dollar. "ScanSoft worked closely with our internal technology team to create both Dee and Sarah. The results have been impressive as we've generated millions of dollars in new revenues and been able to efficiently serve more than 8 million customers."
As with most businesses that need to serve customers promptly and efficiently, Dollar Rent A Car's customer contact centers are under continuous demand to improve customer service, reduce lost calls and ultimately increase sales and decrease transaction costs. To improve customer retention and reduce lost calls, Dollar Rent A Car turned to ScanSoft to develop two speech systems: "SARA" was introduced in 2000 to reconfirm and cancel reservations and "DEE" was introduced in January 2003 to streamline the reservation process. SARA and DEE help customers save time by assisting with bookings, reviewing itineraries and canceling or changing travel plans. Dollar's automated assistants are currently the only speech applications in the world that transfer callers from one speech personality to another one.
SARA is focused on reconfirming and canceling reservations while her counterpart DEE obtains, retrieves and communicates booking information. The unique ability of the applications to transfer calls to each other has proven to be an important advantage to Dollar and its customers. For example, when a customer is working with SARA but needs to actually make reservations SARA states, "please hold for just a minute and I'll transfer you to DEE," marking one of the few instances where an application with a name and a personality tells customers that they are being transferred to another application with a name and a personality.
Dollar Rent A Car's top-line goal in introducing both SARA and DEE was to reduce customer call time from 150 seconds to 125 seconds. In May 2003, Dollar achieved this milestone and then proceeded to take full advantage of the timesavings to train their live "agents" to become even more sales oriented. As a result, SARA and DEE have contributed to a 1.4% increase in Dollar's annual conversion rate, providing Dollar with several million dollars in additional revenue.
"We are honored to recognize Dollar with this milestone achievement award and pleased that Dollar's customers and telephone sales representatives have responded so positively to SARA and DEE," said Steve Chambers, senior vice president and general manager of Network Speech Solutions at ScanSoft. "Dollar Rent A Car is a great example of how speech technology can be used to not only streamline internal processes and improve productivity, but also play a significant role in building new revenue."
About Dollar Rent A Car
Dollar Rent A Car, a subsidiary of Dollar Thrifty Automotive Group, Inc., (NYSE: DTG), has over 400 worldwide locations in 26 countries, with a significant presence in Australia, Canada, the Caribbean and Latin America, including more than 250 locations in the United States. Dollar features quality products of DaimlerChrysler like the Dodge Caravan and other fine cars. For more information the Dollar Web address is www.dollar.com.
About ScanSoft® Network Speech Solutions
ScanSoft Network Speech Solutions is the global leader in advanced network speech technologies and professional services. Enterprise and telecommunications organizations around the world such as Continental Airlines, Bank of America, Qantas Airways, Thrifty Car Rental and United Airlines leverage the power and innovation of the SpeechWorks® Suite of Network Speech Solutions to redefine the way they exchange vital information with customers and employees over the telephone. With a global sales and engineering presence, ScanSoft is uniquely positioned to help companies create and implement sophisticated speech solutions that deliver proven economic benefits and the highest levels of caller satisfaction. For more information, visit www.scansoft.com/network/
About ScanSoft, Inc.
ScanSoft, Inc. (Nasdaq: SSFT) is the leading supplier of speech and imaging solutions that are used to automate a wide range of manual processes - saving time, increasing worker productivity and improving customer service. For more information regarding ScanSoft products and technologies, please visit www.ScanSoft.com.
ScanSoft and the ScanSoft logo, are registered trademarks or trademarks of ScanSoft, Inc. in the United States and other countries. SpeechWorks is a registered trademark or trademark of SpeechWorks International, Inc. in the United States and other countries. All other company or product names may be the trademarks of their respective owners.
Order Dragon Naturally Speaking
Schedule your FREE Medical Transcription Software Demo today.
View the History of Voice Recognition and Speech Recognition Software