Dragon Naturally Speaking Reviews

- 2003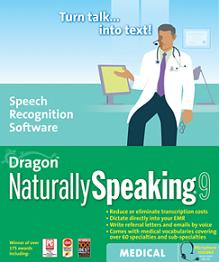 ---
MailCode, Inc. Selects ScanSoft Dragon NaturallySpeaking to Sort Mail by Voice for the United States Postal Service and Corporate Mail Centers
Subsidiary of Pitney Bowes Integrates Dragon NaturallySpeaking into Voice Sort and Voice Scheme Managerä Solutions; Accuracy and Ease of Integration Cited as Key Decision Points
PEABODY, Mass., Feb. 4, 2003 - ScanSoft, Inc. (Nasdaq: SSFT), a leading supplier of imaging, speech and language solutions, today announced that MailCode, Inc., a Pitney Bowes company (NYSE: PBI), has selected ScanSoft® Dragon NaturallySpeaking® as the speech recognition technology for its Voice Scheme Manager ä (VSM) and Voice Sort solutions. Dragon NaturallySpeaking will enable MailCode's solutions to deliver accurate, high-speed voice sorting and processing of postal mail for the United States Postal Service (USPS) and within corporate mailrooms.
"MailCode is dedicated to delivering products that let organizations deliver more mail in less time - and at lower costs," said Mark D. Green, vice president and general manager of MailCode, Inc. "For speech recognition to be accepted in mail sorting applications it has to work, and with ScanSoft we have found a partner that recognizes that simple fact. Dragon NaturallySpeaking is far and away the most accurate and flexible speech recognition solution available."
Designed exclusively for the USPS, MailCode's VSM reduces the need for scheme-trained personnel, making it easy for non-scheme-trained employees to be effective in manual case or other sorts requiring scheme knowledge. MailCode will use Dragon NaturallySpeaking speech recognition software to enable its operators to quickly communicate commands and functions within mail processing departments.
Voice Sort is used to automate mail processing within corporate mailrooms, eliminating the need for mailroom staff to memorize or look-up employee names and associated mail stops. Voice Sort greatly increases the accuracy and productivity of mail centers.
Dragon NaturallySpeaking is the most widely used speech recognition application, and is increasingly being integrated within other solutions and products, including those from MailCode, MediMation, Panasonic, Sony and Volkswagen. Dragon NaturallySpeaking is highly accurate, offering a standard vocabulary of more than 250,000 words, specific extended vocabularies for medical and legal applications, and support for custom vocabularies. The product is also tightly integrated with the latest Microsoft Windows operating systems, providing seamless speech-based interaction with Microsoft Office, Internet Explorer and other commercial applications.
"MailCode is clearly a leading innovator in the mail processing arena, and its integration of speech recognition is impressive," said Wayne Crandall, senior vice president for sales and business development for ScanSoft. "It is clear that the investments we have made in accuracy and ease-of-integration provide ScanSoft with a competitive advantage as more software vendors look to speech as an enabling technology for their applications."
About MailCode, Inc.
MailCode, Inc., a world leader in mixed mail processing solutions located in Lafayette, Indiana, has become the fastest growing MLOCR sorting systems manufacturer in the world through the development of innovative "solutions" technology. Pitney Bowes Inc. is a $4 billion global provider of integrated mail, messaging and document management solutions headquartered in Stamford, Connecticut. Additional information is available at www.mailcode.com.
About ScanSoft, Inc.
ScanSoft, Inc. (Nasdaq: SSFT) is a leading supplier of imaging, speech and language solutions that are used to automate a wide range of manual processes - saving time, increasing worker productivity and improving customer service. For more information regarding ScanSoft products and technologies, please visit www.ScanSoft.com.
Trademark reference: ScanSoft, the ScanSoft logo and Dragon NaturallySpeaking are registered trademarks or trademarks of ScanSoft, Inc. in the United States and other countries. All other company or product names mentioned may be the trademarks of their respective owners.
The statements in this press release that relate to future plans, events or performance are forward-looking statements that involve risks and uncertainties, including risks associated with market trends, competitive factors, and other risks identified in ScanSoft's SEC filings. Actual results, events and performance may differ materially. Readers are cautioned not to put undue reliance on these forward-looking statements that speak only as of the date hereof.
Order Dragon Naturally Speaking
Schedule your FREE Medical Transcription Software Demo today.
View the History of Voice Recognition and Speech Recognition Software