Dragon Naturally Speaking Reviews

- 2003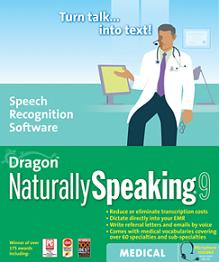 ---
German Ministry of Justice Selects ScanSoft's Dragon NaturallySpeaking
German Integrator ASKA Installs More Than One Thousand Units of Legal Version Throughout Germany; Replaces Costly Manual Transcription with Easy-to-Use Speech Recognition Software
STUTTGART, Germany and GENT, Belgium, February 24, 2003 - ScanSoft, Inc. (Nasdaq: SSFT), a leading supplier of imaging, speech and language solutions, today announced that the ministry of justice of Baden-Wuerttemberg in Germany has selected ScanSoft® Dragon NaturallySpeaking® XP Legal Edition for hundreds of courts to replace manual transcription with its automatic speech recognition solution.
Implemented by ASKA, a German solution integrator, this solution will help the ministry save time and money in costly manual transcription fees and will help legal teams to quickly and easily transcribe depositions, reports and other documents requiring time-intensive transcription. The traditional approach of dictation and manual transcription was costly and time-consuming, reducing productivity. Since the implementation of Dragon NaturallySpeaking XP, reports are being created quickly and easily, resulting in increased productivity and cost reduction.
"Following our initial Dragon NaturallySpeaking XP pilot project in the court of Reutlingen, I was thrilled with the productivity gain and cost savings. The software's accuracy and the training offered by the integrator were unmatched," comments Peter Uhde, judge at the court of Reutlingen. "In fact, the results were so impressive, we decided to implement the software across the entire territory."
"We are really excited about the added value that ASKA has created by implementing the largest volume installation of the software in a legal environment in Germany," says Peter Hauser, senior vice president and general manager for ScanSoft International. "This agreement underscores our success in delivering value to legal organizations of any size and our commitment to eliminating the barriers to productivity - wherever they exist."
Developed through close interaction with the legal community, Dragon NaturallySpeaking XP Legal Solutions is the only speech recognition product created to address the workflow and vocabulary needs of the lawyer, paralegal and legal administrative professional. Its vast vocabulary is augmented by a comprehensive legal vocabulary containing Latin and German law phrases, court names and specialized legal terms. The product can also be integrated with other applications, including electronic records management systems, electronic forms and legal billing products. Implemented in a wide range of corporations, including Volkswagen, Sony and Panasonic, Dragon NaturallySpeaking provides the ability to speech-enable a wide variety of functions to a diverse group of consumers.
About ASKA
ASKA, based in Sindelfingen, Germany, has specialized in implementing speech automation solutions for professional and industrial applications since 1993. ASKA has demonstrated an ability move organizations from cumbersome manual approaches to mobile and speech-enabled solutions. As a ScanSoft Certified Partner, and expert in delivering integrated solutions using Dragon NaturallySpeaking, ASKA offers a compressive ability to speech-enable nearly any commercial and in-house application, offering specific expertise to medical, judicial and industrial markets. The integrator ASKA has introduced a user forum for the more than thousand users on www.aska.de. The forum will be also used for technical support purposes.
About ScanSoft Inc.
ScanSoft, Inc. (Nasdaq: SSFT) is a leading supplier of imaging, speech and language solutions that are used to automate a wide range of manual processes - saving time, increasing worker productivity and improving customer service. For more information regarding ScanSoft® products and technologies, please visit www.scansoft.com.
Trademark reference: ScanSoft and DragonNaturallySpeaking are registered trademarks or trademarks of ScanSoft Inc. in the United States and other countries. All other company names or product names referenced herein may be trademarks of their respective owners.
ScanSoft notes that the statements in this release that relate to future plans, events, or performance, including without limitation projected shipment dates or customers' opting to upgrade to newer or more fully featured products, are forward-looking statements subject to risks and uncertainties that may cause ScanSoft's actual results to differ materially. These risks and uncertainties include, but are not limited to, market acceptance, engineering delays, quality assurance testing delays, contractual negotiations, successful completion of beta site testing, the scheduling of orders, changes in operating systems, a significant change in the competitive environment, timely delivery by component suppliers and other risks detailed from time to time in ScanSoft's SEC reports. Readers are cautioned not to place undo reliance on these forward-looking statements, which speak only as of the date hereof.
Order Dragon Naturally Speaking
Schedule your FREE Medical Transcription Software Demo today.
View the History of Voice Recognition and Speech Recognition Software