Dragon Naturally Speaking Reviews

- 2003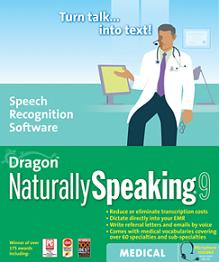 ---
ScanSoft Ships Dragon NaturallySpeaking 7; Speech Recognition Goes Mainstream with Most Accurate and Fastest Release Ever
Significant New Features and Enhancements Result in 50 Percent Improvement in Performance; Accuracy Rates as High as 99 Percent, Making Speech Recognition Valuable for all Users
PEABODY, Mass., March 3, 2003 - ScanSoft, Inc. (Nasdaq: SSFT), a leading supplier of imaging, speech and language solutions, today announced the availability of Dragon NaturallySpeaking version 7, a new release of the world's best-selling speech recognition application for Microsoft Windows. Dragon NaturallySpeaking 7 delivers the accuracy, speed, ease-of-use and innovative features needed to make speech recognition a mainstream application, in the home and at the office.
Dragon NaturallySpeaking 7 is a significant improvement over the previous release, increasing accuracy by 15 percent and enabling users to achieve accuracy levels of up to 99 percent. Its speed has been improved by more than 50 percent for dictation initialization. Accuracy and performance are further enhanced by new features such as the Vocabulary Optimizer, which evaluates previously authored emails and documents to personalize itself to the writing style of the user, and the Performance Assistant, which optimizes the efficiency of speech recognition based on a user's workflow. In total, the accuracy and performance improvements within Dragon NaturallySpeaking 7 deliver an unmatched level of productivity and ease of use for speech recognition products.
"Dragon NaturallySpeaking has been a boon to those who need to limit their typing or who are familiar with dictation," noted Bill Meisel, President, TMA Associates, a speech market research firm. "ScanSoft's new release has addressed the issues that deterred less-motivated users-- getting started, accuracy, and ease-of-use. NaturallySpeaking fills a need beyond dictation-- idea and information capture. A new category of customers will use it to convert ideas in their heads into searchable and editable text. It's the ultimate cure for writer's block--thought-to-text."
Dragon NaturallySpeaking turns speech into text at up to 160 words-per-minute, and allows users to control Microsoft Windows and their PC applications completely by voice. The product is tightly integrated with Microsoft Office, which allows users to create new documents, or change the layout of existing documents, using their voice. The product's new Natural Punctuation feature offers automatic insertion of periods and commas in applications such as e-mails, instant messages and Web-based forms.
"The accuracy and ease-of-use advancements in Dragon NaturallySpeaking 7 represent a step forward in speech recognition technology for users at home and in the office. Dragon NaturallySpeaking 7 was designed and optimized to take advantage of Inte® Pentium® 4 processor based PCs," said David L. Brown, General Manager of Intel's Software Enabling Division. "Intel is pleased to have worked with ScanSoft, a member of the Inte® Early Access Program, to deliver the performance needed to make speech recognition a valuable solution for all PC users."
The new release also includes expanded network tools for installation, maintenance and use of Dragon NaturallySpeaking throughout an enterprise, a key requirement for large healthcare organizations and corporations looking to implement speech recognition solutions.
"Many years of leadership in imaging, and more recently speech technologies, have provided ScanSoft with a keen understanding of what it takes to move recognition products into the mainstream," said Paul Ricci, chief executive officer and chairman for ScanSoft. "The enhancements and features in Dragon NaturallySpeaking 7 demonstrate the implementation of that blueprint - create a highly accurate, innovative and easy to use product that enhances productivity in applications that people already use. This exciting product represents the most robust speech solution in ScanSoft history, with functionality that is unmatched on the market."
New Levels of Accuracy, Speed and Functionality
To help home and office users achieve an increased level of productivity - and a more seamless interaction with their personal computer - ScanSoft has added a number of key capabilities to Dragon NaturallySpeaking 7:
Most Accurate Ever - Significant improvements to the Dragon NaturallySpeaking recognition system has yielded an unprecedented accuracy improvement of up to 15% over the previous release, resulting in speech recognition accuracy levels as high as 99 percent.
Fastest Ever - More than 50 percent improvement inings speech recognition to mainstream users by eliminating the need to say "period" or "comma" when creating e-mail messages, sending instant message text or completing Web-based forms by voice.
Mobile Dictation with Pocket PC Devices - Users can now "talk-and-dock" using standard Pocket PC devices, in addition to handheld digital recorders, to record mobile dictation for automatic transcription when they synch to their PCs.
New Vocabulary Optimizer - Users can instruct Dragon NaturallySpeaking to instantly analyze sentence structure and word use frequency in previously created documents. Dragon NaturallySpeaking then automatically adjusts the recognition engine to match the user's unique writing patterns, thereby further increasing accuracy.
Most Accessible Ever - Dragon NaturallySpeaking 7 is the first desktop speech recognition solution to be certified as compliant with U.S. Section 508, which is focused on enabling the use of PC applications by persons with disabilities. The product supports Section 508 screen readers, and also adds voice control capabilities to Microsoft Windows XP/NT/2000 and all standard PC applications.
Improved Proofing - The time and effort needed to proofread a document created by voice has been significantly reduced with ScanSoft RealSpeak Proofing, which reads email and document text aloud in a human-sounding synthesized voice.
New Performance Assistant - Dragon NaturallySpeaking now optimizes itself for each user's application usage patterns.
Accurate Voice Control of the PC - Dragon NaturallySpeaking has improved voice command and control capabilities, which allows users to use their voice to interact with the PC operating system and control application menus. Most applications gain voice control capabilities by simply installing Dragon NaturallySpeaking onto the PC.
Expanded Custom Voice Shortcuts - The ability to create custom voice shortcuts, where a word or phrase will trigger the insertion of standardized text, has been expanded to support inserting text blocks and graphics. Users can now create a custom voice shortcut for standard letter closings -including a graphic of their signature - and have it automatically added to their email or Microsoft Word correspondence by simply saying the shortcut command (i.e. "Add signature".)
Availability
ScanSoft Dragon NaturallySpeaking 7 Preferred and Standard are available immediately through ScanSoft's global network of reseller partners, software retailers and professional sales organization. Dragon NaturallySpeaking 7 Professional, Medical and Legal solutions will be available within the next 45 days, and sold exclusively through ScanSoft's partners and sales organization. For additional information on features, pricing and volume licensing programs, please visit www.ScanSoft.com or call (1) 800-443-7077.
About ScanSoft, Inc.
ScanSoft, Inc. (Nasdaq: SSFT) is a leading supplier of imaging, speech and language solutions that are used to automate a wide range of manual processes - saving time, increasing worker productivity and improving customer service. For more information regarding ScanSoft products and technologies, please visit www.ScanSoft.com.
Trademark reference: ScanSoft, the ScanSoft logo and Dragon NaturallySpeaking are registered trademarks or trademarks of ScanSoft, Inc. in the United States and other countries. All other company or product names mentioned may be the trademarks of their respective owners.
The statements in this press release that relate to future plans, events or performances are forward-looking statements that involve risks and uncertainties, including risks associated with market trends, competitive factors, and other risks identified in the Company's SEC filings. Actual results, event and performance may differ materially. Readers are cautioned not to put undue reliance on these forward-looking statements that speak only as of the date hereof.
Order Dragon Naturally Speaking
Schedule your FREE Medical Transcription Software Demo today.
View the History of Voice Recognition and Speech Recognition Software