Dragon Naturally Speaking Reviews

- 2003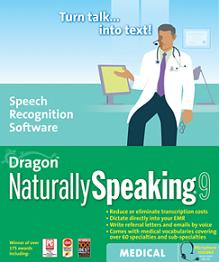 ---
ScanSoft to Offer Online Seminar Series on Productivity Solutions for Healthcare Industry
"Trends in Healthcare Productivity" Webinar Showcases How Speech and Imaging Solutions Can Reduce Operating Costs, Improve Patient Service
PEABODY, Mass., March 5, 2003 - ScanSoft, Inc. (Nasdaq: SSFT), a leading supplier of imaging, speech and language solutions, today announced a series of online seminars in March entitled "Trends in Healthcare Productivity: Eliminating Barriers to Productivity Within Your Organization." These webinars will provide attendees with the latest information and case studies on how speech and imaging solutions can improve worker productivity and reduce costs within the healthcare industry.
In light of the current economy and the availability of new and improved technologies, many leading healthcare organizations are accelerating their investments in productivity solutions. These investments have been driven by a desire to provide improved service to patients while at the same time finding ways to reduce operating costs. Interest in technology-driven productivity has been further heightened by HIPAA and other government mandates, and by a growing recognition that technology can play an important role in reducing errors and mitigating insurance costs.
Hosted by Robert Weideman, chief marketing officer at ScanSoft, these interactive 30-minute seminars are scheduled on March 5, 12 and 19 at 2pm EST. Each session will include a discussion on the following topics.
Electronic Forms and the Microsoft Tablet PC in Healthcare
Leveraging Speech to Reduce Transcription Time, Errors and Costs
Speech-Enabling Your Existing Investments in EMR and HIS
Voice-Dialing Speeds Connections to Your Staff - STAT
Distributed Scanning - A Prescription for Cost Savings
For additional information or to register, please visit http://www.scansoft.com/webinars/healthcare/.
About ScanSoft, Inc.
ScanSoft, Inc. (Nasdaq: SSFT) is a leading supplier of imaging, speech and language solutions that are used to automate a wide range of manual processes - saving time, increasing worker productivity and improving customer service. For more information regarding ScanSoft products and technologies, please visit www.ScanSoft.com.
Trademark reference: ScanSoft is a registered trademark of ScanSoft, Inc. in the United States and other countries. All other company names or product names referenced herein may be the trademarks of their respective owners.
The statements in this press release that relate to future plans, events or performance are forward-looking statements that involve risks and uncertainties, including risks associated with market trends, competitive factors, and other risks identified in ScanSoft's SEC filings. Actual results, events and performance may differ materially. Readers are cautioned not to put undue reliance on these forward-looking statements that speak only as of the date hereof.
Order Dragon Naturally Speaking
Schedule your FREE Medical Transcription Software Demo today.
View the History of Voice Recognition and Speech Recognition Software