Dragon Naturally Speaking Reviews

- 2003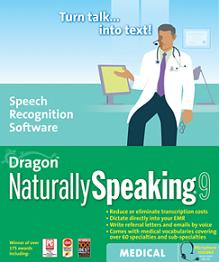 ---
United States Patent and Trademark Office Selects ScanSoft's Dragon NaturallySpeaking as its Speech Recognition Solution
USPTO Extends Agreement with ScanSoft; Deploys Worldwide Leading Speech Recognition Software in Addition to the Award-Winning OmniPage
PEABODY, Mass., April 14, 2003 - ScanSoft, Inc. (NASDAQ: SSFT), a leading supplier of imaging, speech and language solutions, today announced that the United States Patent and Trademark Office (USPTO) has selected ScanSoft® Dragon NaturallySpeaking® as the speech recognition technology for its government offices. Additionally, the software has been tested and approved as part of its official baseline of accessibility tools.
Dragon NaturallySpeaking is the leading desktop dictation solution for the PC, allowing people to use their voice to create documents at up to 160 words-per-minute. Using sophisticated and patented recognition technology, Dragon NaturallySpeaking is able to accurately understand and convert more than 250,000 words into editable text. The software also enables the voice-control of applications through patented Natural Language Commands such open Internet Explorer," "file open," "file save," "select sentence," "bold this sentence," and "open memo to John." Additionally the "um's" and "aah's" that naturally occur in speech are automatically filtered.
This agreement builds upon ScanSoft's relationship with the USPTO in through which it previously licensed ScanSoft's OmniPage® for its digital imaging needs. The UPTO employs approximately 6,500 employees to staff its major functions - the examination and issuance of patents and the examination and registration of trademarks. It also maintains one of the largest databases in the United States. By disseminating both patent and trademark information, it promotes an understanding of intellectual property protection and facilitates the development and sharing of new technologies worldwide.
"Having been approved after completing rigorous testing by the USPTO, we are pleased that Dragon NaturallySpeaking has become the official baseline speech recognition accessibility tool for the USPTO," said Wayne Crandall, senior vice president for sales and business development for ScanSoft. "This underscores our position in the speech recognition arena and demonstrates the productivity gains our solutions bring to the government workplace."
About USPTO
For over 200 years, the basic role of the Patent and Trademark Office (PTO) has remained the same: to promote the progress of science and the useful arts by securing for limited times to inventors the exclusive right to their respective discoveries (Article 1, Section 8 of the United States Constitution). Under this system of protection, American industry has flourished. New products have been invented, new uses for old ones discovered, and employment opportunities created for millions of Americans. The PTO is a non-commercial federal entity and one of 14 bureaus in the Department of Commerce (DOC). The office has offices in 17 buildings in Arlington, Virginia. The office has approximately 6,500 employees supporting its major functions--- the examination and issuance of patents and the examination and registration of trademarks. For additional information, please visit www.uspto.gov.
About ScanSoft, Inc.
ScanSoft, Inc. is a leading supplier of imaging, speech and language solutions that are used to automate a wide range of manual processes-saving time, increasing worker productivity and improving customer service. For additional information on the company, please visit www.ScanSoft.com.
Trademark reference: ScanSoft, OmniPage, and Dragon NaturallySpeaking are registered trademarks or trademarks of ScanSoft, Inc. in the United States and/or other countries. All other company names and product names may be the trademarks of their respective owners.
ScanSoft notes that the statements in this release that relate to future plans, events, or performance, including without limitation the perceived benefits of the agreement, are forward-looking statements subject to risks and uncertainties that may cause ScanSoft's actual results to differ materially. These risks and uncertainties include, but are not limited to, engineering delays, market acceptance, the impact of competitive products and other risks detailed from time to time in ScanSoft's SEC reports. Readers are cautioned not to place undo reliance on these forward-looking statements, which speak only as of the date hereof.
Order Dragon Naturally Speaking
Schedule your FREE Medical Transcription Software Demo today.
View the History of Voice Recognition and Speech Recognition Software