Dragon Naturally Speaking Reviews

- 2003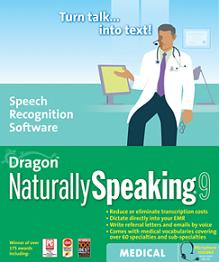 ---
ScanSoft to Host Web Seminar on Newly Launched Voice Identity Program (V.I.P.™)
ScanSoft's Creative Director Blade Kotelly to Discuss the Power of Creating a Unique Voice Identity for a Company's Speech Service and Other Customer-Facing Channels
What:
A free Web seminar, "The Power of a Voice Identity - Creating an Audio Brand Through Speech" presented by Blade Kotelly, creative director at ScanSoft, and recently published author of "The Art and Business of Speech Recognition: Creating the Noble Voice".
Who:
Business and technical managers interested in the potential for speech recognition to increase brand recognition while providing automated customer service over the phone.
When:
Wednesday, November 12, 2003 at 1:00 p.m. ET
Where:
Participants who are interested may register for this event via ScanSoft's Web site at www.scansoft.com/webinars/
Why:
Speech systems deliver a unique and memorable experience and create emotional connections with callers. Research has proven that callers naturally ascribe personality characteristics to speech systems, and make positive or negative connections with those speech systems based on their experiences.
Drawing from expertise gained from building highly successful speech systems at Amtrak, United Airlines and other companies, ScanSoft's Kotelly will explain how an organization can take advantage of V.I.P. to create an enterprise-wide voice identity that can increase brand recognition and customer loyalty while reducing costs through self-service systems.
About ScanSoft® Network Speech Solutions
ScanSoft Network Speech Solutions is the global leader in advanced network speech technologies and professional services. Enterprise and telecommunications organizations around the world such as Aetna, Bank of America and Qantas Airways leverage the power and innovation of the SpeechWorks® Suite of Network Speech Solutions to redefine the way they exchange vital information with customers and employees over the telephone. With a global sales and engineering presence, ScanSoft is uniquely positioned to help companies create and implement sophisticated speech solutions that deliver proven economic benefits and the highest levels of caller satisfaction. For more information, visit http://www.scansoft.com/network/.
About ScanSoft, Inc.
ScanSoft, Inc. (Nasdaq: SSFT) is a leading supplier of speech and imaging solutions that are used to automate a wide range of manual processes - saving time, increasing worker productivity and improving customer service. For more information regarding ScanSoft products and technologies, please visit www.scansoft.com.
ScanSoft, the ScanSoft logo and V.I.P. are registered trademarks or trademarks of ScanSoft, Inc. in the United States and other countries. SpeechWorks is a registered trademark or trademark of ScanSoft, Inc. in the United States and other countries. All other company or product names may be the trademarks of their respective owners.
Order Dragon Naturally Speaking
Schedule your FREE Medical Transcription Software Demo today.
View the History of Voice Recognition and Speech Recognition Software