Dragon Naturally Speaking Reviews

- 2003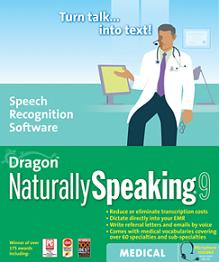 ---
ScanSoft and IBM to Expand Server, Embedded and Desktop Speech Offerings
Agreements Provide Broad Solution Choices for Customers, Integrators and Service Providers Worldwide; Accelerate Adoption of Speech Standards
PEABODY, Mass., April 25, 2003 - ScanSoft, Inc. (NASDAQ: SSFT), a leading supplier of imaging, speech and language solutions, today announced a set of agreements with IBM, a pioneer in speech technology, through which the companies will extend speech technology and applications across enterprise, desktop and multimodal environments.
The relationship encompasses dictation applications, telephony-based speech recognition technology and applications, and text-to-speech solutions. Under this agreement:
IBM will Support and Assist ScanSoft in Porting and Testing Its Telephony Applications for IBM's WebSphere Platform - IBM's WebSphere customers will be able to add ScanSoft's VoiceXML-based speech applications to their current platforms. The two companies will collaborate to ensure that the ScanSoft VoiceRequest and DirectoryAssistance applications are compliant with the VoiceXML 2.0 standard and interoperable with IBM's voice portal solution, WebSphere Voice Application Access. By supporting open standards and porting these applications to the WebSphere platform, ScanSoft can extend its reach throughout IBM's channels and customer base. Applications that are VoiceXML compliant can be extended to multimodal applications through the use of the X+V specification - currently under consideration by the W3C.
IBM Expands License Agreement for ScanSoft RealSpeak - IBM has expanded its license agreement to resell ScanSoft RealSpeak TTS, which converts text into human-sounding synthesized speech in 20 languages, and is widely used within telephony server, PC and embedded device applications. As speech applications become more mainstream, this agreement will enable IBM to offer a choice of IBM or RealSpeak TTS to customers, offering best-of-breed technology based on language and platform. It will also significantly expand ScanSoft's channel for RealSpeak worldwide.
ScanSoft will Distribute IBM ViaVoice Desktop Products - IBM has granted ScanSoft global distribution rights to IBM ViaVoice desktop dictation products. ScanSoft will market, distribute, sell and support the product for the Microsoft Windows and Apple Macintosh platforms. The relationship leverages ScanSoft's expertise and resources in delivering productivity applications through broad channels and will help bring dictation solutions to a wider audience. IBM's ViaVoice desktop products complement the ScanSoft Dragon NaturallySpeaking family by expanding languages and channels for China, Germany, Japan and Latin America, and by adding Macintosh-based editions to its product line. IBM will continue to enhance and develop new versions of ViaVoice desktop products.
"Speech technology is fast-becoming an integral part of the mainstream pervasive computing infrastructure," said Rodney Adkins, General Manager, IBM Pervasive Computing Division. "This agreement gives our customers greater options in speech applications, technologies and languages. This not only expands both companies' offerings and routes to market in server and embedded speech, paving the way for multimodal applications in the future - it also opens channels on the desktop diction market. This will allow customers from both companies to further extend their use of speech technology."
"We are pleased that IBM has selected ScanSoft as a key partner for its speech solutions, providing broader opportunities for customers and partners alike," said Paul Ricci, chairman and CEO of ScanSoft. "This relationship allows our respective organizations to focus on customer requirements and help accelerate the adoption of standards-based speech solutions on a broad scale, spanning multimodal, enterprise and desktop deployments."
About IBM
IBM is the world's largest information technology company, with 80 years of leadership in helping businesses innovate. Drawing on resources from across IBM and key Business Partners, IBM offers a wide range of services, solutions and technologies that enable customers, large and small, to take full advantage of the new era of e-business.
About ScanSoft, Inc.
ScanSoft, Inc. (NASDAQ: SSFT) is a leading supplier of imaging, speech and language solutions that are used to automate a wide range of manual processes - saving time, increasing worker productivity and improving customer service. For more information regarding ScanSoft products and technologies, please visit www.ScanSoft.com.
Trademark reference: ScanSoft, the ScanSoft logo, RealSpeak and Dragon NaturallySpeaking are registered trademarks or trademarks of ScanSoft, Inc. in the United States and other countries. IBM, WebSphere and ViaVoice are registered trademarks of International Business Machines Corporation in the United States and/or other countries. All statements regarding IBM's future direction or intent are subject to change or withdrawal without notice, and represent goals and objectives only.
The statements in this press release that relate to future plans, events or performance are forward-looking statements that involve risks and uncertainties, including risks associated with market trends, competitive factors, and other risks identified in ScanSoft's SEC filings. Actual results, events or performance may differ materially. Readers are cautioned not to put undue reliance on these forward-looking statements that speak only as of the date hereof.
Order Dragon Naturally Speaking
Schedule your FREE Medical Transcription Software Demo today.
View the History of Voice Recognition and Speech Recognition Software