Dragon Naturally Speaking Reviews

- 2003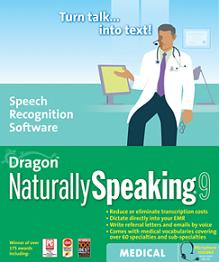 ---
ScanSoft Solutions 2003 VAR Conference Showcases Speech Recognition in Healthcare, Legal and Accessibility Markets
Microsoft and Sony Join ScanSoft in Welcoming Key Resellers at Annual Conference in Cambridge Massachusetts from May 2-4
PEABODY, Mass., April 28, 2003 - ScanSoft, Inc. (Nasdaq: SSFT), a leading supplier of imaging, speech and language solutions, today announced that its Solutions 2003 Annual VAR Conference will be held May 2-4 in Cambridge, Massachusetts. The annual ScanSoft® Solutions conference is the leading event for integrators and value-added resellers (VAR's) specializing in implementing productivity solutions using speech recognition and desktop dictation products. The conference will focus on implementing solutions within healthcare, legal, corporate and government organizations, and will include a keynote address by Gary Moulton, Manager of the Accessibility Group at Microsoft Corporation.
Solutions 2003 will include company updates, product presentations, vendor exhibits and vertical market presentations. In addition, the event provides ScanSoft's reseller community with tips and tools for growing their business using the recently released Dragon NaturallySpeaking® v7. The conference will provide optimal opportunities to learn about new product features, as well as serve as a forum for exchanging ideas with ScanSoft and other members of the Applications Solutions Partner community.
Presentations, seminars and collaboration workshops will span a range of timely topics and areas of focus for the speech and imaging market, including:
Introduction to Dragon NaturallySpeaking 7
Speech Recognition in Enterprise Environments
Increasing Healthcare Productivity
Effective Marketing Techniques
Dragon NaturallySpeaking Case Studies
Integrating Speech with Electronic Forms and the Microsoft Tablet PC
Speech Recognition, Section 508 and Accessibility Concerns
"Our resellers and customers are invaluable to us, our business and the industry," said Kimberlee Mineo, ScanSoft's vice president of North American channel sales. "By continuing our tradition of providing a dynamic forum whereby partners, resellers, customers and integrators can discuss, learn and teach topics and issues pertaining to their business, we are demonstrating ScanSoft's commitment to building, distributing and growing the best imaging, speech and language solutions on the markets today."
ScanSoft's top speech and language VAR's plan to attend the conference, along with a number of customers representing the various vertical market specialties such as medical, legal and financial services.
For additional information for ScanSoft Solutions 2003, please call ScanSoft at 978-977-8109.
About ScanSoft
ScanSoft, Inc. is the leading supplier of imaging, speech and language solutions that are used to automate a wide range of manual processes-saving time, increasing worker productivity and improving customer service. For additional information on the company, please visit www.scansoft.com.
ScanSoft, the ScanSoft logo, and Dragon NaturallySpeaking are trademarks or registered trademarks of ScanSoft, Inc. in the United States and other countries. All other company names and product names may be the trademarks of their respective owners.
Order Dragon Naturally Speaking
Schedule your FREE Medical Transcription Software Demo today.
View the History of Voice Recognition and Speech Recognition Software