Dragon Naturally Speaking Reviews

- 2003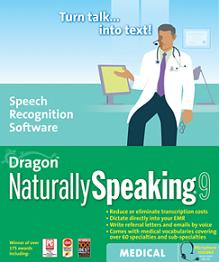 ---
ScanSoft Ships Dragon NaturallySpeaking 7 Legal, Enabling the Creation of Contracts, Letters and Transcripts Simply by Speaking
Entire Law Firms and Mobile Legal Professionals Can Transform Their Practices by Using Highly Accurate Speech Recognition to Save Time and Money
PEABODY, Mass., April 30, 2003 - ScanSoft, Inc. (Nasdaq: SSFT), a leading supplier of imaging, speech and language solutions, today announced the immediate availability of Dragon NaturallySpeaking® 7 Legal, the world's best-selling speech recognition solution designed specifically for law firms and legal professionals. Proven by thousands of legal professionals and law firms worldwide, Dragon NaturallySpeaking Legal converts speech into text at up to 160 words per minute, reducing or eliminating the costs associated with manually creating documents and transcripts. The Microsoft Windows application is used to create contracts, citations, letters and transcripts by voice, and also enables hands-free interaction with practice management, legal research, e-mail and Web applications.
"ScanSoft leads the market because it continually delivers productivity solutions that have the highest accuracy and most innovative features," said Glenn Garnes, attorney and publisher of The ESQlawtech Weekly, an online publication dedicated to law office technology. "Dragon NaturallySpeaking is a product that will transform the way documents are created in firms of all sizes, giving a competitive edge to legal professionals who bring it into their practice."
Dragon NaturallySpeaking 7 Legal is a significant new release, delivering unrivaled levels of accuracy and speed, the benchmarks most widely associated with speech recognition applications. The new version achieves up to 99% percent accuracy, and is 50 percent faster than the previous release. It also expands its support for mobile dictation, a mainstay of the legal industry, allowing users to record speech using Microsoft Pocket PC devices and have documents automatically created the next time they sync to their PCs. The DNS Administrator is also new, adding network installation and management capabilities to the product. This enables rapid deployment and simplified maintenance of the product within network environments, bringing the productivity benefits associated with speech recognition to entire law firms and corporate legal departments.
Dragon NaturallySpeaking 7 Legal comes with a vocabulary of more than 250,000 words and includes a comprehensive legal vocabulary containing Latin and French law phrases, court names, and abbreviations and specialized legal terms. The product also supports adding new words and expanding its vocabulary simply by importing existing documents into the system. Users can take advantage of custom voice commands and macros to instantly create legal document templates, insert boilerplate contract language, launch applications, fill-in-forms, or perform complex tasks with a spoken phrase. Dragon NaturallySpeaking 7 Legal also automatically formats citations.
Dragon NaturallySpeaking 7 Legal delivers additional productivity and quality through enhanced integration capabilities with other applications, including practice management systems, and increased compatibility with the Microsoft Office Suite and Corel Word Perfect. The new release also enables legal professionals to achieve greater mobile productivity by expanding support for mobile dictation, enabling users to process recorded speech from Microsoft Pocket PC devices and digital recording devices from Panasonic, Sony and others, and by offering support for array and wireless microphones, liberating the user from being tethered to the PC by a headset microphone.
"The expanded integration capabilities of Dragon NaturallySpeaking are amazing. The product is integrated into our digital office, speech enabling numerous applications, including the creation of bankruptcy petitions, letters, briefs, memorandums and the input of initial case information," said Attorney Milton Jones. "Dragon NaturallySpeaking saves me thousands of dollars a year in reduced transcription and support costs. I would have a hard time operating without it."
The World's Best Speech Recognition for Legal Professionals Made Better To help legal organizations improve productivity and reduce or eliminate manual transcription costs, ScanSoft has added a number of key capabilities to Dragon NaturallySpeaking 7 Legal, including:
Most Accurate Ever - Significant improvements to the Dragon NaturallySpeaking recognition system has yielded an unprecedented accuracy improvement of up to 15 percent over the previous release, resulting in speech recognition accuracy levels as high as 99 percent.
Fastest Ever - More than 50 percent improvement in the initialization time of Dragon NaturallySpeaking 7 enables "10 seconds to dictation" on baseline systems. Users can train the software on their voice patterns in just five minutes.
Extensible Integration with Microsoft Office - Nearly all standard Microsoft Windows applications are speech enabled simply by installing Dragon NaturallySpeaking, allowing the use of all interface menus and input fields simply by speaking. Dragon NaturallySpeaking 7 Legal comes with enhanced compatibility modules for the full Microsoft Office Suite and Corel Word Perfect.
Mobile Dictation Support - Users can now "talk-and-dock" using standard Pocket PC devices, in addition to handheld digital recorders, to record mobile dictation for automatic transcription when they synch to their PCs.
Support for Array Microphones and Wireless Headsets - This release represents the first Dragon NaturallySpeaking to support array and wireless microphones, giving users the freedom to dictate without being tethered to their PC by a wired headset.
Pre-configured Legal Vocabulary - Dragon NaturallySpeaking 7 Legal comes with a pre-configured legal vocabulary, and automatically formats citations.
New Vocabulary Optimizer - Users can instruct Dragon NaturallySpeaking to instantly analyze sentence structure and word use frequency in previously created documents. Dragon NaturallySpeaking then automatically adjusts the recognition engine to match the user's unique writing patterns, thereby further increasing accuracy.
Improved RealSpeak Proofing - The time and effort needed to proofread a document created by voice has been significantly reduced with ScanSoft® RealSpeak™ Proofing, which reads email and document text aloud in a human-sounding synthesized voice. Dragon NaturallySpeaking can also play back the original voice recording associated with any dictated document, which facilitates third party transcription editing.
Expanded Custom Voice Shortcuts - The ability to create custom voice shortcuts, where a word or phrase will trigger the insertion of standardized text, has been expanded. Users can create a custom voice shortcut for standard blocks of text and have it automatically added to their email or Microsoft Word correspondence by simply saying the shortcut command (i.e. "Add non- disclosure clause"). The inserted text now automatically matches the font of the destination document.
Section 508 Accessibility - Dragon NaturallySpeaking 7 Legal can help people with disabilities achieve maximum productivity on PCs, as well as help prevent carpal tunnel syndrome and other musculoskeletal disorders. Dragon NaturallySpeaking 7 is the only PC dictation application that meets U.S. Section 508 mandates, which were established by the federal government to insure access to technology by people with disabilities.
Network Administration - The new release supports network installation using industry standard MSI, and includes the ScanSoft® DNS Administrator, which simplifies the management and maintenance of voice profiles and vocabularies over a network environment.
"Legal professionals need a solution that reduces the time and costs associated with transcription and redundant tasks," said Robert Weideman, chief marketing office for ScanSoft. "Dragon Naturally Speaking 7 Legal delivers value to legal organizations of all sizes by helping them to become more productive."
Availability and Pricing
ScanSoft Dragon NaturallySpeaking 7 Legal is available immediately through the ScanSoft professional sales organization and its global network of reseller partners. The retail price is $995 for individual users, with multi-seat and site licensing available. For additional information on features, pricing and volume licensing programs, please visit www.ScanSoft.com or call (1) 800.443.7077.
About ScanSoft, Inc.
ScanSoft, Inc. (Nasdaq: SSFT) is a leading supplier of imaging, speech and language solutions that are used to automate a wide range of manual processes - saving time, increasing worker productivity and improving customer service. For more information regarding ScanSoft products and technologies, please visit www.ScanSoft.com.
Trademark reference: ScanSoft, the ScanSoft logo, RealSpeak and Dragon NaturallySpeaking are registered trademarks or trademarks of ScanSoft, Inc. in the United States and other countries. All other company or product names may be the trademarks of their respective owners.
The statements in this press release that relate to future plans, events or performance are forward-looking statements that involve risks and uncertainties, including risks associated with market trends, competitive factors, and other risks identified in ScanSoft's SEC filings. Actual results, events and performance may differ materially. Readers are cautioned not to put undue reliance on these forward-looking statements that speak only as of the date hereof.
Order Dragon Naturally Speaking
Schedule your FREE Medical Transcription Software Demo today.
View the History of Voice Recognition and Speech Recognition Software