Dragon Naturally Speaking Reviews

- 2003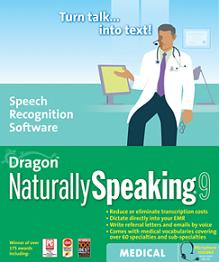 ---
ScanSoft Teams with Microsoft to Expand the Use of Assistive Products Based on Speech Recognition and Text-to-Speech
ScanSoft Named a Level 1 Partner by Microsoft Accessible Technology Group
PEABODY, Mass., June 12, 2003 - ScanSoft, Inc. (NASDAQ: SSFT), a leading supplier of imaging, speech and language solutions, announced today that it has been named a Microsoft Assistive Technology Group Level 1 Partner, and that the companies will implement joint educational and marketing programs designed to expand the development and use of assistive products based on speech recognition and text-to-speech technologies. The Microsoft Assistive Technology Group provides expanded support for technology vendors and developers in delivering products that help people with disabilities more productively and easily use information technology.
ScanSoft is a leading supplier of PC applications and developer toolkits based on speech recognition and text-to-speech technologies. ScanSoft® Dragon NaturallySpeaking® is the de facto standard for automatically turning speech into text at up to 160 words-per-minute and for controlling PC applications completely by voice. ScanSoft® RealSpeak™ is the market-leading solution for converting text into human-sounding synthesized speech and is a critical technology that allows screen-readers and accessible applications to interact effectively with sight impaired users. Both products are widely used within home, corporate and academic environments and allow government agencies to meet accessibility requirements outlined in Section 508 of the US Rehabilitation Act.
"Helping people realize their full potential is more than a goal that is shared by Microsoft and ScanSoft, it is a guiding tenet underlying the design and development of our mutual solutions," said Gary Moulton, Product Manager of the Accessibility Group at Microsoft Corporation. "We welcome ScanSoft as an assistive technology partner, as their products help organizations meet the needs of people with various types of disabilities. In addition, ScanSoft's toolkit products provide developers with the ability to quickly create new, innovative solutions that leverage speech recognition and text-to-speech technologies."
Computer users with disabilities ranging from repetitive stress injuries (RSI) to vision impairment and quadriplegia rely on ScanSoft Dragon NaturallySpeaking to control their PC's using their voice and to type as fast as they can speak. Dragon NaturallySpeaking allows them to control the features within Microsoft Office and other PC applications, and gives them equal access to the Web and email. The product helps halt, prevent or slow down the advance of repetitive stress injuries, improves the quality of education for students, and enables injured employees to return to work more quickly. Dragon NaturallySpeaking can save thousands of dollars per worker, per month, when compared with the expense of insurance and disability claims, lost productivity and replacement workers.
Jillian Bleackley, a 16 year-old quadriplegic as a result of cerebral palsy, has been using ScanSoft Dragon NaturallySpeaking for 7 years to complete all her schoolwork and writing using her voice. Also a poet*, she has used Dragon NaturallySpeaking to compose a collection of poems that she is hoping to have published, and says, "Dragon NaturallySpeaking has given me the ability to express myself in a way that others never thought possible, and has had a positive impact on my life by providing me with a license to be creative."
ScanSoft RealSpeak text-to-speech is used within a wide range of applications, including screen readers, voice portals, unified messaging systems, and interactive voice response (IVR) applications, as well as speech-enabling mobile, automotive, game and PC/multi-media applications. RealSpeak offers a single, standardized application programming interface (API) that supports the creation of speech-enabled applications in over 20 languages, including U.S. and UK English, German, French, French Canadian, Dutch and Belgian Dutch, Castilian and Mexican Spanish, Italian, European and Brazilian Portuguese, Norwegian, Polish, Swedish, Danish, Cantonese and Mandarin Chinese, Korean and Japanese.
"While many users can make a conscious choice whether to increase their productivity through the use of ScanSoft products, we take tremendous pride in being a part of bringing technology to users who otherwise would be denied its advantages," said Robert Weideman, chief marketing officer for ScanSoft. "We are pleased to team with Microsoft in the important arena of accessibility, and to be recognized for our commitment to the assistive community."
Section 508
Extending its leadership in making personal computing more accessible for all users, Dragon NaturallySpeaking is now the first and only desktop speech recognition application to be certified as compliant with Section 508 of the U.S. Rehabilitation Act. Section 508 (29 U.S.C. s794d) applies to all United States agencies when they develop, procure, maintain or use electronic and information technology, and mandates that those agencies must purchase products that give disabled employees and members of the public access to information that is comparable to the access available to others. For additional information on this important U.S. government mandate, please visit www.section508.gov.
Availability
ScanSoft Dragon NaturallySpeaking is available immediately as an easy-to-use application as well as a developer toolkit directly from ScanSoft and its network of reseller partners. ScanSoft RealSpeak TTS (text-to-speech) is available from ScanSoft as a developer toolkit, and supports more than 20 languages. Additional information on ScanSoft products can be found at www.ScanSoft.com.
About ScanSoft, Inc.
ScanSoft, Inc. is a leading supplier of imaging, speech and language solutions that are used to automate a wide range of manual processes-saving time, increasing worker productivity and improving customer service. For additional information on the company, please visit www.ScanSoft.com.
*Dragon's Magic
I start like a painter with an empty canvas.
I formulate an idea, then sit down at my computer and express my thoughts.
My words flow like water out of my mouth and onto my computer screen.
My mind can hardly keep up with my mouth sometimes I get so carried away, that I forget all my punctuation.
At the end of my time spent, the well is dry.
I hopefully have something to be proud of because of the
"Dragon's Magic."

by Jillian Bleackley

Trademark reference: ScanSoft, RealSpeak and Dragon NaturallySpeaking are trademarks or registered trademarks of ScanSoft, Inc. in the United States and other countries. All other company names or product names may be the trademarks of their respective owners.
The statements in this press release that relate to future plans, objectives, events or performance are forward-looking statements that involve risks and uncertainties, including risks associated with market trends, competitive factors, and other risks identified in ScanSoft's SEC filings. Actual results, events and performance may differ materially. Readers are cautioned not to put undue reliance on these forward-looking statements that speak only as of the date hereof.
Order Dragon Naturally Speaking
Schedule your FREE Medical Transcription Software Demo today.
View the History of Voice Recognition and Speech Recognition Software