Dragon Naturally Speaking Reviews

- 2003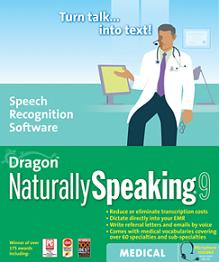 ---
Physician Micro Systems and ScanSoft Integrate Dragon NaturallySpeaking with Practice Partner Patient Records Software
ScanSoft's Dictation Solution, Combined with Practice Partner's Electronic Medical Record Software, Provides Healthcare Professionals with Valuable Tool to Store and Manage Clinical Information; Efficient, Accurate, Eliminates Costs
SEATTLE, WA, and PEABODY, Mass., June 19, 2003 - Physician Micro Systems, Inc. (PMSI), a leader in electronic medical records and practice management systems, and ScanSoft, Inc. (Nasdaq: SSFT), a leading supplier of imaging, speech and language solutions, today announced that PMSI has selected ScanSoft® Dragon NaturallySpeaking® for its Practice Partner Patient Records software solution.
Practice Partner Patient Records is a complete electronic medical record (EMR) system that helps healthcare practices store and retrieve patient charts electronically, replacing paper charts. Users are able to launch Dragon NaturallySpeaking Medical from within Practice Partner Patient Records to quickly and accurately dictate information into the electronic medical records system. Dragon NaturallySpeaking 7 Medical has built-in understanding for more than 250,000 words, and includes additional vocabularies covering terms found in general medicine, pathology, radiology, cardiology and surgery disciplines. Healthcare organizations can also easily add their own words to the solution to create fully customized vocabularies either on individual workstations or throughout a network. Care providers can take advantage of voice-activated shortcuts, allowing a single word or phrase to automatically populate fields in the Practice Partner system.
Thousands of physicians nationwide utilize Practice Partner, including Maggie Blackburn, M.D. "The system offered us a truly paperless solution. The added advantages of the software allow me to see more patients each day and still leave the office at 5:00 p.m." For more than 15 years, Practice Partner Patient Records has helped practices of all sizes to lower costs, boost revenue and improve quality of care.
"It has always been our philosophy to offer physicians a choice of methods for entering their notes into Practice Partner, thus accommodating many different physician styles," said PMSI President Andrew G. Ury. "By fully integrating ScanSoft Dragon NaturallySpeaking into Practice Partner, we have made voice recognition a very practical, accurate and efficient way to record progress notes."
Dragon NaturallySpeaking converts speech into text at up to 160 words per minute, automating the input of patient information and saving thousands of dollars per doctor, per year, when compared to manual processes. With accuracy levels as high as 99 percent, the product is easy-to-use and includes new functionality important to healthcare organizations of all sizes. Features include eliminating the dependency on headset microphones through support for array microphones and Microsoft Pocket PC devices; the ability to speech-enable electronic medical records and healthcare information systems (HIS); and enabling enterprise-wide deployments by supporting network based administration of voice profiles, custom vocabularies and software installation.
"We are pleased to partner with PMSI, a company with a successful track record in implementing electronic medical record systems throughout the industry," said Wayne Crandall, senior vice president of sales and business development for ScanSoft. "The powerful combination of Dragon NaturallySpeaking and Practice Partner provides organizations, from solo practitioner offices to large enterprise multi-site clinics, with an accessible, easy-to-use way to streamline the collection and workflow of patient information."
About Physician Micro Systems, Inc. (PMSI)
Seattle-based PMSI is a leader in the development and marketing of innovative electronic medical records and practice management products for medical offices and large health care enterprises. Founded in 1983 by Andrew Ury, M.D. to provide comprehensive software solutions for office-based physicians, PMSI is one of the pioneers in electronic medical records software. Over 1,300 offices use PMSI software, and more than 700 of them use Practice Partner Patient Records. With over a decade of experience with the EMR, PMSI has created software products that are finely honed to the real-world needs of physicians, nurses, and office professionals. For more information on Physician Micro Systems, Inc. or the Practice Partner product line, contact Derek Baird, Physician Micro Systems, Inc., 206-441-2304, dbaird@pmsi.com, www.pmsi.com.
About ScanSoft, Inc.
ScanSoft, Inc. is a leading supplier of imaging, speech and language solutions that are used to automate a wide range of manual processes-saving time, increasing worker productivity and improving customer service. For additional information on the company, please visit http://www.scansoft.com/.
Trademark reference: ScanSoft and Dragon NaturallySpeaking are trademarks or registered trademarks of ScanSoft, Inc. in the United States and other countries. All other company names or product names may be the trademarks of their respective owners.
The statements in this press release that relate to future plans, objectives, events or performance are forward-looking statements that involve risks and uncertainties, including risks associated with market trends, competitive factors, and other risks identified in ScanSoft's SEC filings. Actual results, events and performance may differ materially. Readers are cautioned not to put undue reliance on these forward-looking statements that speak only as of the date hereof.
Order Dragon Naturally Speaking
Schedule your FREE Medical Transcription Software Demo today.
View the History of Voice Recognition and Speech Recognition Software