Dragon Naturally Speaking Reviews

- 2003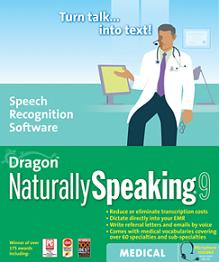 ---
ScanSoft Dragon NaturallySpeaking 7 Software to Bundle with Sony's Latest Portable Digital Voice Recorders
Dragon NaturallySpeaking 7 Improves the Capture of Personal Dictation and Smoothly Converts Speech into Editable Transcripts for the PC
PEABODY, Mass., August 7, 2003 - ScanSoft, Inc. (Nasdaq: SSFT), a leading supplier of imaging, speech and language solutions, today announced that ScanSoft® Dragon NaturallySpeaking® Preferred 7 will be bundled with two of Sony Electronics Inc.'s PC compatible portable digital voice recorders, the Sony ICD-MS515VTP and its newest model, the Sony ICD-ST10VTP.
The combination of Dragon NaturallySpeaking software and Sony's recorders supports the automatic creation of editable documents - helping consumers as well as business, legal and medical professionals improve organization and increase productivity while realizing a significant cost savings.
The automatic creation of editable transcripts from recordings is made possible with ScanSoft Dragon NaturallySpeaking, the world's leader in speech recognition applications for the PC. With its sophisticated and patented speech recognition technology, ScanSoft Dragon NaturallySpeaking is able to accurately understand and convert more than 250,000 words into editable text at a speed of up to 160 words-per-minute, over three times faster than the average typing speed.
Accuracy and performance are further enhanced by other features such as the Vocabulary Optimizer, which evaluates previously authored emails and documents to personalize itself to the writing style of the user, and the Performance Assistant, which optimizes the efficiency of speech recognition based on a user's workflow. The product also includes Nothing But Speech™, which automatically filters out the "um's" and "aah's" that naturally occur in speech.
"The need for reliable and efficient mobile solutions has become increasingly important to today's professionals who want to work smarter rather than work longer," said Wayne Crandall, senior vice president for sales and business development for ScanSoft. "Together with Sony we are elevating mobile business solutions by providing the tools people need to increase flexibility and improve workflow."
Dragon NaturallySpeaking 7 includes a number of unique capabilities that vary by edition, such as:
The industry's highest accuracy rate for desktop automatic speech recognition
Conversion of voice into text at up to 160 words per minute
Hands-free, voice-enabled control of Microsoft Windows-based applications
Ability to expand and customize the vocabulary using existing documents and articles
Option to have e-mails and other documents read aloud using built-in RealSpeak™ text-to-speech
Mobile dictation using supported handheld digital recording devices
Ability to save recorded speech along with a document for later proof reading and correction
About ScanSoft, Inc.
ScanSoft, Inc. is a leading supplier of imaging, speech and language solutions that are used to automate a wide range of manual processes-saving time, increasing worker productivity and improving customer service. For additional information on the company, please visit www.ScanSoft.com.
Trademark reference: ScanSoft, NaturallySpeaking, RealSpeak, and Nothing But Speech are trademarks or registered trademarks of ScanSoft, Inc. in the United States and other countries. All other company names or product names may be the trademarks of their respective owners.
The statements in this press release that relate to future plans, events or performance are forward-looking statements that involve risks and uncertainties, including risks associated with market trends, competitive factors, and other risks identified in ScanSoft's SEC filings. Actual results, events and performance may differ materially. Readers are cautioned not to put undue reliance on these forward-looking statements that speak only as of the date hereof.
Order Dragon Naturally Speaking
Schedule your FREE Medical Transcription Software Demo today.
View the History of Voice Recognition and Speech Recognition Software