Dragon Naturally Speaking Reviews

- 2003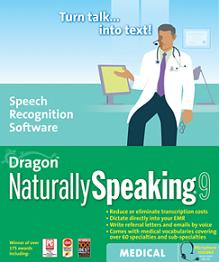 ---
Social Security Administration Selects ScanSoft Dragon NaturallySpeaking to Streamline Manual Processes
Leading Dictation Solution Provides Accessibility to Employees with Disabilities
PEABODY, Mass., August 19, 2003 - ScanSoft, Inc. (NASDAQ: SSFT), a leading supplier of imaging, speech and language solutions, today announced that the Social Security Administration (SSA) has selected ScanSoft's Dragon NaturallySpeaking® to reduce the time and costs associated with producing legal decisions and other documents. The SSA and ScanSoft have also entered into a cooperative Blanket Purchase Agreement (BPA) to further reduce the administrative costs of acquiring commercial items from ScanSoft's General Services Administration (GSA) Schedule.
With Dragon NaturallySpeaking, members of the SSA can create and automatically store documents in the SSA network, reducing the costs, labor and time associated with the current manual processes. For example, Administrative Law Judges and decisions writers often produce complicated decisions following administrative appeals hearings. Previously, the Law Judges would dictate their decisions, which then required a typist to transcribe for printing and electronic storage. Now, ScanSoft's solution can be used to automate the process, which accelerates the entry of decisions, saves valuable time and money, and can improve the accuracy of the written decisions.
ScanSoft's Dragon NaturallySpeaking can also reduce repetitive stress injuries, including carpal tunnel syndrome that can result in savings for the agency by minimizing lost time and decreasing workers' compensation claims. In addition, speech recognition software, specifically Dragon NaturallySpeaking, is currently used by mobility-impaired employees throughout the SSA.
ScanSoft® Dragon NaturallySpeaking® is the market-leading automatic dictation and speech recognition product for Microsoft Windows. The highly accurate speech product allows users to create documents at up to 160 words-per-minute, saving time and increasing worker productivity. It is designed to enable a wide range of users-from government agencies and Fortune 1000 companies to consumers and small businesses-to use the power of voice to create and edit documents, spreadsheets and e-mail, and to increase overall productivity. Although they vary by edition, some key capabilities of Dragon NaturallySpeaking include:
The industry's highest accuracy rate for desktop automatic speech recognition
Conversion of voice into text at up to 160 words per minute
Hands-free, voice-enabled control of Microsoft Windows-based applications
Ability to expand and customize the vocabulary using existing documents and articles
Option to have e-mails and other documents read aloud using built-in ScanSoft® RealSpeak™ text-to-speech
Mobile dictation using supported handheld digital recording devices
Ability to save recorded speech along with a document for later proof reading and correction.
"Dragon NaturallySpeaking is a powerful tool that helps organizations such as the Social Security Administration realize significant savings by making its workforce more productive," said Wayne Crandall, senior vice president for sales and business development at ScanSoft. "This agreement continues to strengthen ScanSoft's position in the market, and demonstrates the tremendous value our solutions bring to the government sector."
Government Volume License Discounts
ScanSoft offers the government significant discounts on multi-unit and agency-wide licensing. To learn more about ScanSoft's government discount program please visit the company's Web site at www.scansoft.com/government/.
About ScanSoft, Inc.
ScanSoft, Inc. (Nasdaq: SSFT) is a leading supplier of imaging, speech and language solutions that are used to automate a wide range of manual processes - saving time, increasing worker productivity and improving customer service. For more information regarding ScanSoft products and technologies, please visit www.ScanSoft.com.
Trademark reference: ScanSoft, the ScanSoft logo, and Dragon NaturallySpeaking are registered trademarks or trademarks of ScanSoft, Inc. in the United States and other countries. All other company or product names may be the trademarks of their respective owners.
The statements in this press release that relate to future plans, events or performance are forward-looking statements that involve risks and uncertainties, including risks associated with market trends, competitive factors, and other risks identified in ScanSoft's SEC filings. Actual results, events and performance may differ materially. Readers are cautioned not to put undue reliance on these forward-looking statements that speak only as of the date hereof.
Order Dragon Naturally Speaking
Schedule your FREE Medical Transcription Software Demo today.
View the History of Voice Recognition and Speech Recognition Software