Dragon Naturally Speaking Reviews

- 2003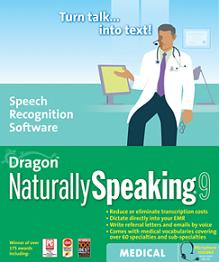 ---
ScanSoft Teams with Microsoft to Enable Paperless Medical Records by Integrating Speech and Network Scanning with New Microsoft Office Products
ScanSoft EMR Assistant Simplifies Paperless Workflows by Combining PaperPort Pro Office, Dragon NaturallySpeaking Medical and Speech-enabled Healthcare Forms with the Microsoft Office System
PEABODY, Mass., August 21, 2003 - ScanSoft, Inc. (NASDAQ: SSFT), a leading supplier of imaging, speech and language solutions, today announced that ScanSoft and Microsoft have teamed to provide healthcare organizations with an affordable way to implement paperless electronic medical records (EMR) based on the 2003 release of Microsoft Office and Microsoft Office SharePoint Portal Server 2003. ScanSoft's EMR Assistant is a new bundled solution that allows Microsoft Office Word 2003-based healthcare forms to be completed by speech using Dragon NaturallySpeaking and enables the scanning of paper into SharePoint Portal Server 2003, PaperPort desktops and existing EMR systems with ScanSoft PaperPort Pro Office.
Rapidly rising healthcare and malpractice insurance costs combined with government mandates, including the Health Insurance Portability and Accountability Act (HIPAA), have accelerated the interest in implementing paperless medical records systems within healthcare organizations of all sizes. Further, these organizations are searching for ways to reduce the costs associated with manual transcription processes - estimated by the Manual Transcription Industry Alliance (MTIA) to be over $10 billion per year in North America alone. The EMR Assistant and the 2003 release of Microsoft Office provide scanning capabilities that enable the conversion of paper into searchable digital records and use speech recognition to reduce the costs associated with manual transcription services.
"The Microsoft Office System is a cost-effective platform for enabling collaboration, streamlining workflow and automating paper-based processes in the healthcare industry," said Ahmad Hashem, global healthcare productivity manager for Microsoft. "The combination of Microsoft Office applications and the ScanSoft imaging and speech solution provides healthcare organizations with a complete framework for implementing paperless medical records, including support for XML connectivity to commercial and in-house EMR systems."
The ScanSoft EMR Assistant comprises:
Dragon NaturallySpeaking 7 Professional Medical
The de facto standard for desktop dictation in the healthcare industry, Dragon NaturallySpeaking is a highly accurate solution that is widely used to convert speech into information for in-house and commercial EMR systems.
PaperPort Pro 9 Office
Used by millions to instantly turn piles of paper into organized and searchable digital documents on the PC, PaperPort Pro Office enables implementing distributed scanning from network MFP and digital copier devices. The solution supports scans-to-PDF, creating PDFs from Microsoft Office applications and other PC applications, and drag & drop document workflow to SharePoint Portal Server 2003 and existing EMR systems.
25 Speech-enabled Healthcare Form Templates
Designed for small-to-medium care providers, these templates enable the collection of patient information using Dragon NaturallySpeaking, supporting desktop, laptop and Tablet PC systems. Additional speech-enabled forms can be easily created using Microsoft Office InfoPath 2003 or Word 2003.
PaperPort Link Agents for Microsoft SharePoint
PaperPort enables drag & drop document workflows using Link Agents and its SendTo feature. Users simply select documents within PaperPort, drag & drop them onto the SharePoint Portal Server Link, and PaperPort processes them into a centralized SharePoint repository. Custom Link Agents, including connectivity to EMR systems, can be created using the PaperPort Link Agent SDK from ScanSoft.
"Medical practices have historically been slow to adopt automation technologies due to the high cost involved in the purchase and maintenance of the solutions," said Robert Weideman, chief marketing officer at ScanSoft. "The EMR Assistant combines with the 2003 release of Microsoft Office to lower the cost of implementing paperless document processes, using standardized software and hardware that is affordable and easy to maintain."
Dragon NaturallySpeaking Professional Medical accurately converts speech into text at up to 160 words per minute, supporting a vocabulary of over 300,000 words as well as custom vocabularies. The application allows users to enter information into Microsoft Office programs and other applications using their voice, and also supports the voice-control of PC applications. ScanSoft PaperPort is an easy-to-use document management and PDF creation application that allows a practice to organize their paper and digital documents, simplifying the scanning of health cards, driver's licenses, payment checks and explanation of benefit forms.
"With the EMR Assistant and the new Microsoft Office products, our practice is able to implement paperless medical records without the IT overhead usually associated with such systems," explains Dr. Eric Fishman of Gold Coast Healthcare in West Palm Beach, Florida. "The accuracy of the speech recognition within Dragon NaturallySpeaking is impressive, as is its integration with Word 2003. This solution really is a very practical way for organizations to implement an electronic medical record."
Availability and Pricing
The ScanSoft EMR Assistant will be available in late October from the ScanSoft eCommerce store, and through 1450, a distributor and VAR support organization for ScanSoft. The PaperPort Link Agent for Microsoft SharePoint 1.0 is available today via download, and will be enhanced to support the Microsoft SharePoint Portal Server 2003 later this year.
The ScanSoft EMR Assistant is $1,500 per seat, with quantity discounts available. For additional information on features, pricing and volume licensing programs, please call 1-800-443-7077.
About ScanSoft, Inc.
ScanSoft, Inc. is a leading supplier of imaging, speech and language solutions that are used to automate a wide range of manual processes-saving time, increasing worker productivity and improving customer service. For additional information on the company, please visit www.ScanSoft.com.
Trademark reference: ScanSoft, Dragon NaturallySpeaking, and PaperPort are registered trademarks or trademarks of ScanSoft, Inc. in the United States and other countries. All other company names or product names referenced herein may be the trademarks of their respective owners.
The statements in this press release that relate to future plans, events or performances are forward-looking statements that involve risks and uncertainties, including risks associated with market trends, competitive factors, and other risks identified in the Company's SEC filings. Actual results, events and performance may differ materially. Readers are cautioned not to put undue reliance on these forward-looking statements that speak only as of the date hereof.
Order Dragon Naturally Speaking
Schedule your FREE Medical Transcription Software Demo today.
View the History of Voice Recognition and Speech Recognition Software