Dragon Naturally Speaking Reviews

- 2003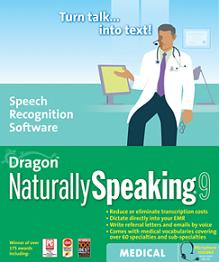 ---
SpeechWorks and ScanSoft Combined Speech Recognition Deployments in 2002 Positions Merged Company as Leader in Speech Recognition Market
Combined Market Share Accounts for 38% of Worldwide Market in 2002
PEABODY, Mass., September 26, 2003 - ScanSoft, Inc. (Nasdaq: SSFT), the leading supplier of speech and imaging solutions, today announced that Gartner Inc. has recognized SpeechWorks as a leader in speech recognition systems deployed worldwide in 2002 based on its latest report, "Speech Recognition Telephony Software: Worldwide, 2002-2007". The combined market share of the newly merged ScanSoft and SpeechWorks accounted for 38 percent of the market share for speech recognition systems shipped worldwide in 2002, a 40 percent lead over its closest competitor.
"Our customers invest in speech systems to achieve results, so this leading position in global speech systems deployed is especially meaningful to us," said Steve Chambers, SVP and General Manager of Network Speech Solutions, ScanSoft. "Our superior speech recognition technologies, industry-leading breadth of languages, TTS, speaker verification, application technologies and unmatched professional services expertise allow our partner network to deliver high quality speech systems to enterprise and telecommunications customers worldwide."
The Gartner report indicates that the speech recognition industry is maturing as deployed systems provide proof that speech delivers a compelling return on investment and improved customer service. The report states that North America was the primary market for speech recognition solutions in 2002, representing 63 percent of the $127.5 million global market. The full Gartner report can be purchased at www.gartner.com.
About ScanSoft® Network Speech Solutions
ScanSoft Network Speech Solutions is the global leader in advanced network speech technologies and professional services. Enterprise and telecommunications organizations around the world such as Time Warner, Bank of America and Qantas Airways leverage the power and innovation of the SpeechWorks® Suite of Network Speech Solutions to redefine the way they exchange vital information with customers and employees over the telephone. With a global sales and engineering presence, ScanSoft is uniquely positioned to help companies create and implement sophisticated speech solutions that deliver proven economic benefits and the highest levels of caller satisfaction. For more information, visit www.scansoft.com/network/.
About ScanSoft, Inc.
ScanSoft, Inc. (Nasdaq: SSFT) is the leading supplier of speech and imaging solutions that are used to automate a wide range of manual processes - saving time, increasing worker productivity and improving customer service. For more information regarding ScanSoft products and technologies, please visit www.ScanSoft.com.
ScanSoft and the ScanSoft logo are registered trademarks or trademarks of ScanSoft, Inc. in the United States and other countries. SpeechWorks is a registered trademark or trademark of SpeechWorks International, Inc. in the United States and other countries. All other company or product names may be the trademarks of their respective owners.
Order Dragon Naturally Speaking
Schedule your FREE Medical Transcription Software Demo today.
View the History of Voice Recognition and Speech Recognition Software