Dragon Naturally Speaking Reviews

- 2003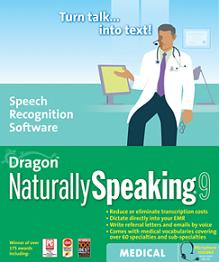 ---
ScanSoft Expands Leading Portfolio of Text-to-Speech Software with Speechify 3.0 and "Speechify Jill", a New U.S. English Voice
ScanSoft's 36 Voices and 22 Languages Comprise Industry's Most Comprehensive Text-to-Speech Offering
PEABODY, Mass., October 9, 2003 -- ScanSoft, Inc. (Nasdaq: SSFT), the leading supplier of speech and imaging solutions, today released Speechify® 3.0, the latest version of the award-winning Speechify text-to-speech (TTS) engine, featuring Speechify Jill, a new U.S. English voice for telephony-based applications. Speechify 3.0 includes several new features and enhancements designed to improve the caller experience, shorten application development time and reduce the cost of VoiceXML implementations.
With this new release, ScanSoft expands its portfolio of industry-leading TTS software that includes Speechify and RealSpeak™ voices in its SpeechWorks® Suite of Network Speech Solutions. ScanSoft's high-performance TTS engines combine to offer an unprecedented 22 languages and 36 male and female voices to provide customers with the most comprehensive and flexible solutions available today. These solutions are the most widely used text-to-speech engines for large-scale deployments of sophisticated telephony applications that deliver real-time or personal information, including personal account information, email by phone for unified messaging systems, locator services for stores and ATMs, 511 traffic and road conditions, weather reports, automated voice dialing, directory assistance and many others. Customers can also take advantage of ScanSoft's Virtuoso™ Program to create a custom voice for their application.
"VoiceGenie is proud to incorporate the latest Speechify engine from ScanSoft into our VoiceXML speech platform," Adrian Lee Kwen, vice president, engineering, VoiceGenie Technologies. "Speechify 3.0 raises the bar yet again for quality and performance in text-to-speech and enables VoiceGenie to provide truly industry-leading speech solutions to its worldwide customer base."
ScanSoft Introduces Speechify Jill
Speechify 3.0 includes Speechify Jill, a new, natural-sounding U.S. English female voice. The superior voice quality of Speechify Jill and Speechify's built-in support for recorded audio within SSML enable new, advanced applications that blend TTS and pre-recorded prompts smoothly. The high quality of Speechify TTS accelerates application development by minimizing or eliminating the time-consuming step of recording with a professional voice talent. Jill is also available for embedded and desktop speech applications such as automotive navigation systems, electronic games and other multimedia. To listen to a sample of ScanSoft's natural-sounding Speechify Jill, visit www.scansoft.com/speechify/voices/.
"With Speechify Jill, our customers now have access to an incredibly natural-sounding voice to enhance their speech applications," said Jonathan McIntosh, senior vice president of operations and technology at West Interactive. "With new features and tools, and increased performance capabilities to support large-scale deployments, the standards-based Speechify engine enables customers to seamlessly mix recorded prompts and TTS for a truly engaging caller experience."
Speechify 3.0 Enhancements
The latest Speechify TTS release builds on the well-regarded capabilities of Speechify 2.1, including advanced unit selection algorithms for modeling voice quality, overall rhythm and intonation and front-end processing, to accurately pronounce textual ambiguities in a sentence (e.g. "Dr. Jones lives on Oak Dr.") or distinguish between words with identical spellings but different pronunciations (e.g. "record" or "read"). It features new tools to improve upon Speechify's ability to accurately pronounce information drawn from a large database, including:
Advanced Email Pre-Processor Speechify provides added functionality for unified messaging applications such as accessing emails over the phone. Using an advanced email pre-processor, the Speechify engine identifies date, sender, subject and text information and accesses header fields so that the email application can choose and order emails for playback. Speechify 3.0 also makes it possible to access documents attached to emails.
Increased Scalability Optimized for large-scale deployments, such as directory assistance solutions, Speechify 3.0 includes a reduced memory footprint of 30 to 40 percent for each voice while the number of channels supported has increased by approximately 1.5 to 2 times for each voice.
Postal Address Tag Speechify 3.0 now features an address tag that significantly improves the interpretation of postal addresses for the United States, Canada, Germany and France.
Language Identifier 1.0 Speechify supports multilingual applications by identifying the source language of incoming text streams for routing to the appropriate speech synthesis engine.
Standards-Optimized Speechify offers full support for standard interfaces such as SAPI 5 and MRCP (Media Resource Control Protocol) to simplify integration into VoiceXML and SALT platforms. MRCP support is provided through an add-on OpenSpeech MediaServer™ component.
Enables Seamless Upgrade Speechify 3.0 offers full API and dictionary compatibility, so customers and partners who have already deployed TTS solutions using Speechify 2.1 can easily update their systems to the latest version.
Speechify customers include AOLByPhone, Centrelink, Microsoft, National Weather Service, The Boeing Company, Yahoo! and many more.
"With each new Speechify voice, the quality and accuracy improves so that it becomes almost indistinguishable from human speech," said Steve Chambers, senior vice president and general manager of Network Speech Solutions at ScanSoft. "Today, enterprise and carrier customers are realizing the significant cost savings associated with implementing TTS into their existing applications. This latest release adds to that value by providing more support for evolving standards, new tools to simplify application development and resource efficiencies that are required for deploying large-scale speech systems."
Pricing and Availability
Speechify 3.0 is available today and supports SAPI 5 (Speech Application Programming Interface), SSML (Speech Synthesis Markup Language), SALT (Speech Application Language Tags) and VoiceXML interfaces. Pricing is available upon request.
TTS Product Portfolio
ScanSoft also offers a full suite of TTS products for embedded TTS applications in mobile, automotive, game and PC/multi-media environments that require a memory footprint ranging from 100KB to 16 MB. For more information and to sample ScanSoft's full portfolio of TTS voices, visit www.scansoft.com/products/.
About ScanSoft® Network Speech Solutions
ScanSoft Network Speech Solutions is the global leader in advanced network speech technologies and professional services. Enterprise and telecommunications organizations around the world such as Time Warner, Bank of America, Microsoft and Qantas Airways leverage the power and innovation of the SpeechWorks® Suite of Network Speech Solutions to redefine the way they exchange vital information with customers and employees over the telephone. With a global sales and engineering presence, ScanSoft is uniquely positioned to help companies create and implement sophisticated speech solutions that deliver proven economic benefits and the highest levels of caller satisfaction. For more information, visit www.scansoft.com/network/.
About ScanSoft, Inc.
ScanSoft, Inc. (Nasdaq: SSFT) is the leading supplier of speech and imaging solutions that are used to automate a wide range of manual processes - saving time, increasing worker productivity and improving customer service. For more information regarding ScanSoft products and technologies, please visit www.ScanSoft.com.
ScanSoft, the ScanSoft logo and RealSpeak are registered trademarks or trademarks of ScanSoft, Inc. in the United States and other countries. SpeechWorks, Speechify, OpenSpeech MediaServer and Virtuoso are registered trademarks or trademarks of SpeechWorks International, Inc. in the United States and other countries. All other company or product names may be the trademarks of their respective owners.
Order Dragon Naturally Speaking
Schedule your FREE Medical Transcription Software Demo today.
View the History of Voice Recognition and Speech Recognition Software