Dragon Naturally Speaking Reviews

- 2003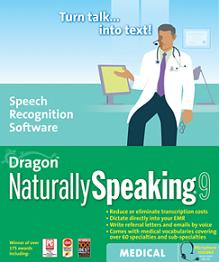 ---
ScanSoft, Teltronics and 1450 Inc. Team to Enable Speech-based Accessibility Solutions for Individuals with Disabilities
Companies' Presence at Capitol Hill Event Sponsored by Microsoft and Easter Seals Generates Widespread Awareness and Underscores Commitment to Accessibility
Washington, DC -- October 14, 2003- ScanSoft, Inc. (Nasdaq: SSFT) the leading provider of speech and imaging solutions, today announced that it has teamed with leading assistive technology companies to provide a range of solutions based on speech recognition and text-to-speech. This announcement coincides with ScanSoft's presence at Innovations in Assistive Technology, an event on Capitol Hill sponsored by Microsoft and Easter Seals, which will be attended by celebrities and political figures such as actress Marlee Matlin and Sen. Tom Harkin (D-IA) and is designed to showcase advances in assistive technology.
ScanSoft's Dragon NaturallySpeaking® 7 software provides the speech engine for Teltronics' latest release of the iCommunicator V.4.0 technology, which is marketed by 1450, Inc. This truly revolutionary device offers people who are hard of hearing or deaf effective, independent two-way communication with the hearing world. By translating speech into text, sign language, and a synthesized voice, persons who are hard of hearing or deaf can communicate freely. Used in K-12 education, post-secondary educational institutions, corporate, government and healthcare environments, as well as public access sites, the iCommunicator enables end-users to leverage speech technology to increase independence and fully participate in all types of communication situations
"ScanSoft and Teltronics are committed to increasing the use of assistive technologies that can help individuals truly realize their full potential," said Gary Moulton, product manager, Microsoft Accessible Technology Group. "Microsoft values their participation as both a technology partner and contributor to the assistive technology industry at large, as their products help organizations meet the needs of people with various types of disabilities, tackling accessibility in a truly broad and innovative way."
ScanSoft, a Level 1 Partner within the Microsoft Accessibility Technology Group, is a leading supplier of PC applications and developer toolkits based on speech recognition and text-to-speech technologies that enable the disabled by providing alternative natural interface methods for individuals with all types of disabilities, from hands-free PC dictation, command and control for those with physical limitations, to solutions such as talking dictionaries and screen readers for students with learning disabilities or individuals with visual impairments.
"The iCommunicator solution provides users with the first software that enables fluent two-way communication between people who are hard of hearing or deaf and the hearing population," said Michael F. Dorety, vice president of business development, Teltronics. "We have worked with ScanSoft's speech technology for many years, and we believe it provides our users with the highest quality solution possible."
In a real-world setting, the speaker wears a wireless headset microphone that relays what is spoken to a PC or portable device used by the deaf or hard of hearing individual. As the person speaks in a normal tone of voice, ScanSoft's highly accurate speech recognition converts speech into text, and the iCommunicator simultaneously presents video sign language from its database of more than 9,200 video clips. The speech is then synthesized and delivered directly to a hearing aid, cochlear implant, or other assistive listening device. The end result enables the user to read what is said in text, see it in sign language, and, if possible, hear what is said.
"ScanSoft is committed to working with Teltronics and the iCommunicator to enhance productivity and enable individuals to leverage technology to provide greater accessibility," said Robert Weideman, general manager, ScanSoft Productivity Applications. "Our partnerships with Teltronics and 1450 are extremely gratifying and demonstrate how our speech technology and innovation can truly enable people with disabilities."
Both companies will be demonstrating their technologies at the 21st annual Closing the Gap conference, on October 16, designed to focus on computer technology for people with special needs.
About ScanSoft, Inc.
ScanSoft, Inc. (Nasdaq: SSFT) is the leading supplier of speech and imaging solutions that are used to automate a wide range of manual processes - saving time, increasing worker productivity and improving customer service. For more information regarding ScanSoft products and technologies, please visit www.ScanSoft.com.
About Teltronics
For over 30 years, Teltronics has been helping people communicate. From traditional circuit-based switching systems, sophisticated alarms management systems, and customer -built electronics, to life-saving E911 solutions and robust feature, rich IP centric and IP-enabled communications solutions. Teltronics also invented, patented and manufactures the iCommunicator assistive technology to enhance the lives of people who are hard of hearing or deaf. Further information regarding Teltronics can be found at their web site, www.teltronics.com and for more information on the iCommunicator visit www.myicommunicator.com.
About 1450, Inc.
1450, Inc. is a distributor of speech and imaging products and is located in Palm Beach Gardens, FL. For more information regarding 1450, Inc. and the iCommunicator, please visit www.1450.com and www.myicommunicator.com.
Trademark reference: ScanSoft and the ScanSoft logo are registered trademarks or trademarks of ScanSoft, Inc. in the United States and other countries. All other company names or product names may be the trademarks of their respective holders.
The statements in this press release that relate to future plans, events or performance are forward-looking statements that involve risks and uncertainties, including risks associated with market trends, competitive factors, and other risks identified in ScanSoft's SEC filings. Actual results, events and performance may differ materially. Readers are cautioned not to put undue reliance on these forward-looking statements that speak only as of the date hereof.
Order Dragon Naturally Speaking
Schedule your FREE Medical Transcription Software Demo today.
View the History of Voice Recognition and Speech Recognition Software