Dragon Naturally Speaking Reviews

- 2003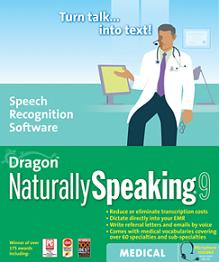 ---
French Highway Subsidiary Selects ScanSoft Speech Technology To Speech-Enable Traffic Information Service
SpeechPearl Speech Recognition Software To Power "Traffic-One" Real-Time Traffic Information Service for Mobile Phone Users
PEABODY, Mass. and GHENT, Belgium, December 18, 2003 - ScanSoft, Inc. (Nasdaq: SSFT), the leading supplier of speech and imaging solutions, today announced that Cofiroute, the only wholly private toll highway in France, has selected SpeechPearl® speech recognition software, a member of the SpeechWorks® Suite of Network Speech Solutions, as the core technology for its new real-time traffic information service, Traffic-One. The new service, offered in French, provides motorists calling from a mobile phone with hands-free, real-time traffic information for the Ile-de-France region around Paris.
The SpeechPearl software enables motorists to find out the duration of their itinerary and to listen to traffic information updated on a real-time basis. By using SpeechPearl software, incoming callers are greeted by a friendly voice that responds to the caller's requests to provide immediate access to traffic information. The platform is implemented on Orateur-2 IVR system from Eurekasoft and is able to handle more than 200 calls simultaneously. The service Traffic-One currently handles 50 000 to 70 000 calls a month.
Bernard Matyjasik, Director of New Technologies for Cofiroute said, "As the traffic service provider to the more congested areas in France, we are keen to offer drivers the highest quality service possible. With ScanSoft's speech recognition software at the core of our traffic service, customers can access easily and quickly the most up-to-date traffic information relevant to their own trip itinerary. This service offering was only possible thanks to the capabilities and performances of this speech-enabled platform."
Steve Chambers, General Manager of Network Speech Solutions at ScanSoft said, "ScanSoft is pleased to leverage its experience developing traffic information services to deliver this compelling speech solution with its partners. Speech provides hands-free access to information over the phone making it the ideal interface for motorists seeking up to the minute travel information, especially in large urban areas such as the Ile-de-France."
Traffic-One is accessible in France by dialing 0 892 00 107 7 and costs 0,34 Euro per minute. ScanSoft has deployed similar speech applications to inform travelers of traffic and road conditions for customers such as ADAC in Germany and CARS-511 Consortium in the United States.
About Cofiroute
Created in 1970, Cofiroute is the only wholly private toll highway in France. The major shareholders are Vinci (65.34%), Eiffage (16.99%) and Colas (16.67%). Cofiroute handles the development, financing, construction and operation of about 900 km highways in France. Cofiroute offers a full range of tailored solutions for physical infrastructure, value pricing and vehicule categories. 20 subsidiaries on several continents include Dartford, the largest toll plaza in volume in Europe, 91 Express Lanes in California, the first automated toll highway or operation of toll highway in Chile. The subsidiairy Intelligent Transport Technologies (IT.Tech) is the provider of the French GSM operators SFR and Bouygues Télécom for Traffic services with the brand TRAFFIC ONE.
About ScanSoft® Network Speech Solutions
ScanSoft Network Speech Solutions is the global leader in advanced network speech technologies and professional services. Enterprise and telecommunications organizations around the world such as AOL Time Warner, Bank of America and Qantas Airways leverage the power and innovation of the SpeechWorks® Suite of Network Speech Solutions to redefine the way they exchange vital information with customers and employees over the telephone. With a sales and engineering presence in more than 15 countries, ScanSoft is uniquely positioned to help companies create and implement sophisticated speech solutions that deliver proven economic benefits and the highest levels of caller satisfaction. For more information, visit http://www.scansoft.com/network/.
About ScanSoft, Inc.
ScanSoft, Inc. (Nasdaq: SSFT) is the leading supplier of speech and imaging solutions that are used to automate a wide range of manual processes - saving time, increasing worker productivity and improving customer service. For more information regarding ScanSoft products and technologies, please visit www.ScanSoft.com.
ScanSoft, the ScanSoft logo and SpeechPearl are registered trademarks or trademarks of ScanSoft, Inc. in the United States and other countries. SpeechWorks is a registered trademark of SpeechWorks International, Inc. in the United States and other countries. All other company or product names may be the trademarks of their respective owners.
Order Dragon Naturally Speaking
Schedule your FREE Medical Transcription Software Demo today.
View the History of Voice Recognition and Speech Recognition Software