Dragon Naturally Speaking Reviews

- 2002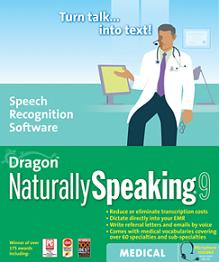 ---
ScanSoft ASR-3200 Brings Advanced Speech Recognition Capabilities to Automotive, Mobile and PC Applications
New Scalable, Speaker-Independent Recognition Engine and Rapid Development Environment Cut Development Time and Costs, Deliver Superior Accuracy and Performance
PEABODY, Mass., October 2, 2002 - ScanSoft, Inc. (Nasdaq: SSFT), the leading supplier of imaging, speech and language solutions, today unveiled the ASR-3200, a highly accurate and scalable speech recognition engine for adding voice control capabilities to automotive, mobile and PC applications. The ASR-3200 is backed by the ASR Embedded Development System, a new rapid development environment that reduces the time needed to integrate automatic speech recognition (ASR) into applications targeting Microsoft Windows 2000/XP, Windows CE and Windows CE for Automotive, as well as embedded Linux® and QNX® operating systems.
The ScanSoft® ASR-3200 is a new speaker-independent recognition engine that meets the size and accuracy requirements for embedded automotive and navigation systems, yet can scale up to add voice-control capabilities to any Intel®-based Pocket PC, PC and Tablet PC application. The ASR-3200 is a companion to the popular ScanSoft ASR-1600, the SAPI-5 reference solution shipped by Microsoft with Windows CE for Automotive. Enhancements in the ASR-3200 include improved accuracy, a scalable grammar capability, and expanded natural language understanding capabilities.
Prototyping and implementing speech-enabled applications can be complex, time-consuming and costly, especially if the development team is not already an expert with speech technology. To overcome this issue, ScanSoft has created the ASR Embedded Development System v1.0, a suite of rapid programming tools that speed the process of adding speech recognition to applications. Using the system, both expert and non-expert developers can quickly add accurate voice control capabilities to navigation, climate control and multimedia systems in cars, or speech-enable PC office applications, games and educational titles.
"Early reactions to the new ScanSoft ASR-3200 indicate that software designers think in different terms about their speech applications, creating new opportunities for products and services in automotive and mobile applications," said Frank Verbist, product development manager, ACUNIA. "By delivering integrated rapid development tools for speech, ScanSoft has perfectly anticipated the need to empower more developers with the ability to add effective voice control to those applications."
The ASR-3200 and ASR Embedded Development System are new members of ScanSoft's family of speech solutions, which meet the demanding requirements of customers throughout the world, including ACUNIA, Citroen, Clarion, Eclipse, Microsoft, Panasonic and Pioneer.
"The release of the ASR-3200 and Embedded Development System is timely," said Judith Markowitz, principal of J. Markowitz Consultants. "ScanSoft has leveraged its experience developing speech recognition for automotive environments into a product that can be applied to a broad spectrum of mobile systems, including PDA and Tablet PC devices. That rapidly-growing market shares many of the attributes that make the automobile a challenge for speech recognition."
The ASR-3200 Speech Recognition Engine
The new ScanSoft ASR-3200 speech recognition engine meets the needs of medium- to large-footprint embedded applications, and is a companion to the small-footprint ScanSoft ASR-1600. The ASR-3200 delivers a number of significant technological advancements, including:
Superior Accuracy and Noise Management capabilities, which combine to support the deployment of applications to a range of user, microphone and vehicle speed environments
Scalable Grammar capability that delivers speaker-independent recognition for up to 50,000 words, eliminating speaker training requirements and enabling more robust applications
Scalable Deployment capability, which enables rapid prototyping on multiple hardware configurations, and optimizes the use of embedded processors and memory capacity. The ASR-3200 engine scales from 780 KB to 4MB running at 80MIPS to 200MIPS
Speaker-Independence and Speaker Adaptation features enhance the user experience through highly accurate speaker-independent recognition and the ability to handle speakers with accents
Advanced Phoneme-Based Recognition increases accuracy and supports more granular voice commands
Continuous-Speech capabilities enhance user satisfaction by allowing a more natural user interface
Language Support includes American English, German, and French with ten additional languages in development.
The ASR Embedded Development System
The ScanSoft ASR Embedded Development System v1.0 provides programmers with a set of visual and command-line tools that allow them to quickly add speaker-independent speech recognition capabilities to hardware and software applications. Key features include:
Grammar Development Suite enables the rapid development of application-specific grammars and word pronunciations, removing the need for the developer to have a profound understanding of recognition characteristics and parameters. It also removes the need to have large collections of recorded data samples in order to implement accurate speech recognition
Recognition Analysis Suite shortens the time needed to optimize speech recognition for specific applications and environments. It provides tools that identify and remove causes of possible recognition errors, such as bad signal quality, and creates robust data analysis reports with detailed information on application areas that are ripe for accuracy improvement
Command Line Interfaces augment the GUI-based rapid development tools, giving developers ultimate control of the development environment
Audio Data Collector is a visual tool that simplifies the remote collection of recorded speech utterances for the grammar development using PC and Pocket PC devices
ASR-3200 SDK supports the cross-platform ScanSoft SpeechAPI, a standardized programming interface that is API compatible the RealSpeakTM Text-to-Speech SDK family
"Speech is quickly becoming the standard way to interact with a wide range of devices and applications, and the ASR Embedded Family provides developers with a range of solutions that enable fast deployment and rich capabilities," said Robert J. Weideman, chief marketing officer, ScanSoft. "This release raises the bar for speech recognition accuracy and deployment, the most critical components to lucrative markets such as automotive and mobile applications, providing the best, most complete speech solution available on the market today."
Pricing and Availability
The ScanSoft ASR-3200 supports Microsoft Windows 2000/XP, Windows CE and Windows CE for Automotive, as well as Linux® and QNX® operating systems. Hardware support includes Hitachi® SH3 and SH4, as well as Intel® x86, StrongARM® and XScale™ chipsets. Supported languages include French, German, and US English with more languages in development. The ScanSoft ASR Embedded Development System v1.0 supports Microsoft Windows 2000.
Please visit www.ScanSoft.com/automotive/ for additional information, details on available configurations, and to request a demonstration. You can also call ScanSoft at 978.977.2000 for additional pricing and configuration details.
About ScanSoft, Inc.
ScanSoft, Inc. (Nasdaq: SSFT) is the leading supplier of imaging, speech and language solutions that are used to automate a wide range of manual processes - saving time, increasing worker productivity and improving customer service. For more information regarding ScanSoft products and technologies, please visit www.ScanSoft.com.
ScanSoft and RealSpeak are trademarks or registered trademarks of ScanSoft, Inc. in the United States and other countries. All other company or product names mentioned herein may be the trademarks of their respective owners.
The statements in this press release that relate to future plans, events or performances are forward-looking statements that involve risks and uncertainties, including risks associated with market trends, competitive factors, and other risks identified in the Company's SEC filings. Actual results, events and performance may differ materially. Readers are cautioned not to put undue reliance on these forward-looking statements that speak only as of the date hereof.
Order Dragon Naturally Speaking
Schedule your FREE Medical Transcription Software Demo today.
View the History of Voice Recognition and Speech Recognition Software