Dragon Naturally Speaking Reviews

- 2002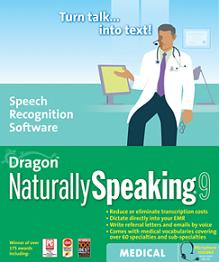 ---
ScanSoft and Interactive Solutions Team on iCommunicator to Automatically Convert Speech into Sign Language
Teachers, Friends and Government Workers Can Have Virtually Seamless Communication with People Who are Hard of Hearing and Deaf
SARASOTA, Fla. and PEABODY, Mass., October 16, 2002 - ScanSoft, Inc. (Nasdaq: SSFT), the leading supplier of imaging, speech and language solutions, and Interactive Solutions, Inc. today introduced the iCommunicator™ 3.0, a revolutionary product that converts speech into video-based sign language in real-time. Developed by ISI, the patented iCommunicator application uses ScanSoft® Dragon NaturallySpeaking® for automatic speech recognition, and ScanSoft RealSpeak™ for converting text into synthesized human speech.
The announcement coincides with National Disability Awareness Month, and showcases how state-of-the-art-computing technology can improve the quality of life for those with many types of disabilities. The iCommunicator is especially significant because it not only helps people with hearing loss but also enhances the ability of others without hearing loss to interact with them - even if they do not know how to sign. Teachers, co-workers, parents and friends can now communicate in sign language simply by speaking.
The iCommunicator is a Microsoft Windows application that enables interactive communication with people who are hard of hearing or deaf, enhancing access to services within government agencies as well as commercial and academic organizations. The product is already in use at Microsoft, the Department of Defense, NASA, the Social Security Administration, the U.S. Postal Service and at more than 125 school districts and universities. The iCommunicator also enables government workers to provide equal access to information and services in compliance with the Americans with Disabilities Act and Section 508.
"Interactive Solutions' goal is to maintain and expand its leadership in the field of assistive technology. We believe that the iCommunicator is one of the first software products to truly bridge the divide between the hearing world and people with hearing disabilities," said Charles Messman, president and CEO of Interactive Solutions. "To accomplish this, we needed a technology that could accurately convert spoken word into text. After an exhaustive search, we were convinced that ScanSoft provided the most reliable and advanced speech solutions in the market."
The iCommunicator is invaluable for people with hearing disabilities. The United States Census Bureau reports the incidence of hearing loss to be approximately 28 million individuals in the U.S. alone. The U.S. Public Health Service has estimated that 5% of all children under age 18 in the U.S. suffer from hearing loss. Many in this population have never been afforded the opportunity to a full educational experience due to the shortage of sign language interpreters and the lack of this type of assistive technology. The iCommunicator program enables people who are hard of hearing or deaf to achieve a greater level of participation in educational settings by converting a teacher's voice into sign language at the student's desktop PC.
In a classroom setting, the teacher wears a wireless headset microphone, which relays what is spoken to a PC used by a student. As the teacher speaks in a normal tone of voice, ScanSoft's highly accurate speech recognition converts the speech into text, where the iCommunicator simultaneously presents video sign language from its database of more than 9,200 video clips of sign language. ScanSoft RealSpeak TTS also converts the text into to a natural sounding synthesized voice, which is directly connected to a hearing aid, cochlear implant or other assistive listening device. The end result allows the user to simultaneously read what is said in text, see what is said in sign, and potentially hear what is said.
"ScanSoft consistently receives accolades from office professionals and enterprises who discover that our solutions enhance their productivity and work experience," said Robert Weideman, chief marketing officer of ScanSoft. "Our partnership with ISI is especially gratifying, as it shows how ScanSoft products can enhance how we interact with one another. From interactive telephony applications to wireless devices and products like the iCommunicator, we see ScanSoft's speech solutions playing an ever growing role."
Pricing and Availability
Please visit www.myicommunicator.com for additional information on pricing, demonstrations, and volume licensing.
About Interactive Solutions, Inc
Interactive Solutions designs and markets technologically advanced, multimedia computer solutions for the education of persons who are deaf or hard-of-hearing. The iCommunicator™ is a revolutionary product that allows persons with hearing loss to comprehend spoken language, achieve two-way communications, improve reading skills, improve linguistics and learn both sign language and the English language.
The iCommunicator™ system has already seen success in schools, universities, workplace environments, government agencies and rehabilitation service centers throughout the United States. The Americans with Disabilities Act (ADA) mandates equal access to education, government facilities and medical and emergency services. The iCommunicator™ software application is an important new technological advancement towards achieving that goal.
For further information visit the Company's website at www.myicommunicator.com or call 888/463-0474 or TDD/TTY 800/362-4584.
iCommunicator is a registered trademark of Interactive Solutions, Inc. in the United States and other countries. All other company or product names mentioned herein may be the trademarks of their respective owners.
About ScanSoft, Inc.
ScanSoft, Inc. (Nasdaq: SSFT) is the leading supplier of imaging, speech and language solutions that are used to automate a wide range of manual processes - saving time, increasing worker productivity and improving customer service. For more information regarding ScanSoft products and technologies, please visit www.ScanSoft.com.
ScanSoft, Dragon NaturallySpeaking and RealSpeak are trademarks or registered trademarks of ScanSoft, Inc. in the United States and other countries. All other company or product names mentioned herein may be the trademarks of their respective owners.
Order Dragon Naturally Speaking
Schedule your FREE Medical Transcription Software Demo today.
View the History of Voice Recognition and Speech Recognition Software