Dragon Naturally Speaking Reviews

- 2002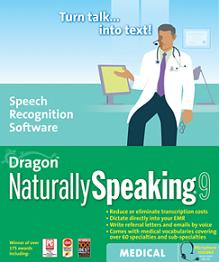 ---
ScanSoft Endorses Speech Application Language Tags (SALT) Standard, Joins the SALT Forum
ScanSoft's Speech Engines to Enhance SALT Platforms Delivered by Microsoft and Others
Peabody, Mass., November 1, 2002 - ScanSoft, Inc. (Nasdaq: SSFT), a leading supplier of imaging, speech and language solutions, today announced its endorsement of Speech Application Language Tags (SALT), an emerging standard for speech-enabling telephony, mobile and Web applications. The company also announced that it has joined the SALT Forum, a standards-setting body that has Cisco, Intel, Microsoft and Philips among its founding members. ScanSoft and Philips recently announced a definitive agreement in which ScanSoft will acquire the Philips Speech Processing Telephony and Voice Control business units.
The SALT specification is a royalty-free, platform-independent standard that is designed to facilitate multimodal and telephony-enabled access to information, applications, and Web services from telephones and wireless mobile devices. Multimodal access will enable users to interact with an application in a variety of ways. They will be able to input data using speech, a keyboard, keypad, mouse and/or stylus, and produce data as synthesized speech, audio, plain text, full-motion video, and/or graphics. The specification has been submitted to the World Wide Web Consortium (W3C) for review.
The Microsoft .NET speech platform is one of several publicly announced SALT-based platforms that may benefit from ScanSoft's efforts. The Microsoft .NET speech platform is a SALT-based multimodal and telephony-enabled solution for developing Web-based speech applications that will span multiple clients including PCs, telephones, wireless personal digital assistants and next-generation laptop computers such as the Tablet PC.
"Open standards are considered a critical component for the broad development, deployment and acceptance of multimodal applications," said X.D. Huang, General Manager, Microsoft .NET Speech Technologies and SALT Forum representative. "Microsoft and the other SALT Forum members are pleased to welcome ScanSoft to the organization and we look forward to the benefits their contributions and expertise will bring to this important initiative."
ScanSoft speech solutions are used in a wide range of applications, including reading emails for unified messaging systems, providing prompts for interactive voice response applications and adding text-to-speech capabilities to mobile, game and multimedia applications. As the use of speech-based applications extends to non-PC and mobile devices, new types of multimodal user interactions are required.
"ScanSoft recognizes that speech-enabled, Web-based solutions will experience faster adoption if they are based on open standards," said Robert Weideman, chief marketing officer at ScanSoft. "Tens of thousands of Microsoft developers can access speech technologies through the Microsoft.NET speech platform. With SALT support, those developers will have access to the broad language support and industry leading engines from ScanSoft."
About ScanSoft, Inc.
ScanSoft, Inc. (Nasdaq: SSFT) is a leading supplier of imaging, speech and language solutions that are used to automate a wide range of manual processes - saving time, increasing worker productivity and improving customer service. For more information regarding ScanSoft products and technologies, please visit www.ScanSoft.com.
ScanSoft and RealSpeak are registered trademarks or trademarks of ScanSoft, Inc. in the United States and other countries. All other company or product names mentioned herein may be the trademarks of their respective owners.
The statements in this press release that relate to future plans, events or performances are forward-looking statements that involve risks and uncertainties, including risks associated with market trends, competitive factors, and other risks identified in the Company's SEC filings. Actual results, events and performance may differ materially. Readers are cautioned not to put undue reliance on these forward-looking statements that speak only as of the date hereof.
Order Dragon Naturally Speaking
Schedule your FREE Medical Transcription Software Demo today.
View the History of Voice Recognition and Speech Recognition Software