Dragon Naturally Speaking Reviews

- 2002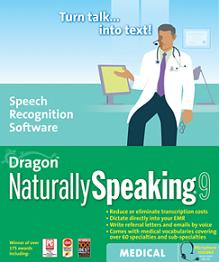 ---
IBM Licenses ScanSoft RealSpeak Text-to-Speech
Integration of Select ScanSoft RealSpeak Languages with WebSphere Voice Server Complements Existing Portfolio; Provides IBM Customers with Broader Voice and Language Options
PEABODY, Mass., November 6, 2002 - ScanSoft, Inc. (Nasdaq: SSFT) today announced that IBM has selected ScanSoft® RealSpeak™ text-to-speech to extend the language capabilities of the IBM WebSphere Voice Server. Under the terms of the multi-year agreement, IBM will market and sell ScanSoft RealSpeak languages as a component of the IBM WebSphere Voice Server, WebSphere Voice Response with DirectTalk technology and other integrated solutions targeting businesses and organizations that require broad language support for speech applications.
IBM's WebSphere Voice Server is a middleware product for developing and deploying voice-enabled e-business solutions that use speech recognition and text-to-speech to enable a more natural customer interaction. These speech applications can be built using development languages such as Java and VoiceXML. WebSphere Voice Response is a voice-processing platform that brings expanded functionality to interactive voice response (IVR) applications, including speech recognition and VoiceXML.
By integrating RealSpeak with the WebSphere Voice Server and WebSphere Voice Response, IBM provides its customers with broader language and voice options. IBM and ScanSoft have collaborated to ensure that RealSpeak is fully compatible with the IBM AIX Unix platform, providing the reliability, scalability, quality and breadth of service customers expect from the two organizations.
"Computing is becoming increasingly ubiquitous and global," said William S. (Ozzie) Osborne, vice president, Segments, IBM Pervasive Computing Division. "As access to technology goes beyond PCs into devices such as telephones, the availability of local languages grows in importance - as do open standards and the ability to work across different platforms. By working with industry players such as ScanSoft, IBM is able to complement its existing portfolio of languages and extend its reach across borders quickly and better serve its customers."
IBM and ScanSoft have worked to ensure that RealSpeak could fully leverage the scalable design of the WebSphere Voice Server. Extensive testing on a variety of high-performance server systems showed that RealSpeak is capable of scaling to the high call volumes required by telecommunications companies and large call centers, where hundreds of concurrent telephony channels are the norm. To achieve this, ScanSoft engineered a new client/server management layer that allows IVR developers to better manage system resources in an AIX environment. Developers can now consolidate their text-to-speech engine installation and allow multiple application servers to access the RealSpeak server from a central location. This helps customers deploy voice solutions in an extremely flexible and efficient manner, characteristic of the AIX platform.
"The relationship with IBM will help broaden our opportunity to deploy RealSpeak text-to-speech into customer applications on a worldwide basis," said Wayne Crandall, senior vice president of sales and business development at ScanSoft. "We're pleased that IBM, one of the world's premier companies, has selected our products. We believe this commitment is a true reflection of the strength of ScanSoft's speech solutions and the value they bring to voice-driven e-business."
ScanSoft RealSpeak is the most widely used product for converting text into natural-sounding, synthesized speech. The product is used for a wide range of applications, including reading emails for unified messaging systems, providing prompts for interactive voice response applications, and speech-enabling mobile, automotive, game and PC/multi-media applications. It supports a range of operating systems, including Microsoft Windows, Windows CE and Windows CE for Automotive, as well as Intel-based Linux systems. RealSpeak is available in up to 19 languages, depending upon platform, including US and UK English, German, French, Dutch and Belgian Dutch, Castilian and Mexican Spanish, Italian, European and Brazilian Portuguese, Norwegian, Polish, Swedish, Danish, Cantonese and Mandarin Chinese, Korean and Japanese.
About ScanSoft, Inc.
ScanSoft, Inc. (Nasdaq: SSFT) is a leading supplier of imaging, speech and language solutions that are used to automate a wide range of manual processes-saving time, increasing worker productivity and improving customer service. For additional information on the company, please visit www.ScanSoft.com.
IBM and WebSphere are registered trademarks of International Business Machines Corporation in the United States and/or other countries. ScanSoft and RealSpeak are registered trademarks or trademarks of ScanSoft, Inc. in the United States and other countries. All other company or product names mentioned herein may be the trademarks of their respective owners.
The statements in this press release that relate to future plans, events or performances are forward-looking statements that involve risks and uncertainties, including risks associated with market trends, competitive factors, and other risks identified in the company's SEC filings. Actual results, events and performance may differ materially. Readers are cautioned not to put undue reliance on these forward-looking statements that speak only as of the date hereof.
Order Dragon Naturally Speaking
Schedule your FREE Medical Transcription Software Demo today.
View the History of Voice Recognition and Speech Recognition Software