Dragon Naturally Speaking Reviews

- 2002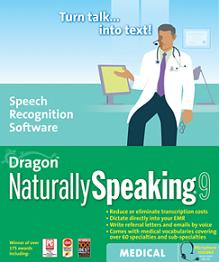 ---
ScanSoft Ships Dragon NaturallySpeaking v6 Medical Solutions; Voice Automation Helps Healthcare Industry Save Time and Money
Accurate Dictation at up to 160 Words-Per-Minute and Specialized Medical Vocabulary Help Doctors, Nurses, Researchers and Insurance Providers Improve Productivity
PEABODY, Mass., February 6, 2002 - ScanSoft, Inc. (Nasdaq: SSFT), a leading supplier of imaging, speech and language solutions, today announced the worldwide availability of Dragon NaturallySpeaking® v6 Medical Solutions, the latest release of its award-winning speech recognition software designed to meet the specific needs of the healthcare industry.
Dragon NaturallySpeaking Medical Solutions software is the only speech recognition software that is specifically designed to address the challenging needs of the healthcare professional and physician. The solution has an extensive medical vocabulary, allowing users to create documents with the highest level of accuracy and incorporate the most technical of terms. By enabling fast, hands-free document creation, Dragon NaturallySpeaking frees physicians and health professionals to focus on patient care rather than time-consuming administrative tasks.
Dragon NaturallySpeaking Medical Solutions software voice-enables all Windows-based applications, providing healthcare professionals with the ability to dictate patient encounters, case report forms and HCFA billing notes. The ScanSoft® system supports direct dictation into PC applications such as Microsoft Word, and reads files created with mobile dictation devices.
"Since I started using the software, each day Dragon NaturallySpeaking Medical becomes easier to use, faster and more accurate," said David Heiman, M.D., a private practice gastroenterologist. "The benefits of the software are endless. Given the speed and cost savings of this product, compared with the cost of transcription services, this product is truly a benefit to any healthcare professional."
Dragon NaturallySpeaking Medical Solutions software contains many new features that make it more accurate, powerful and easy to use. For example, it includes specialty vocabularies for cardiology, radiology and general surgery/operative notes, in addition to the general medical vocabulary. An expanded vocabulary set for insurance or medical specialty can be created quickly using existing documents.
Dragon NaturallySpeaking Medical Solutions software also includes enhanced macro creation capabilities that are used to encapsulate complex processes into a single voice command, and can be used to integrate voice into electronic records management systems, electronic forms applications and medical billing products.
"We have found that many of our healthcare customers require solutions that are easily customizable and tailored to their environment," said Robert Weideman, vice president of marketing for ScanSoft. "Dragon NaturallySpeaking Medical Solutions exemplifies our commitment to the healthcare community by incorporating customer feedback and directly addressing the needs of our diverse user base."
Key benefits of Dragon NaturallySpeaking Medical Solutions software include:
The industry's highest accuracy rate - up to 160 words-per-minute dictation - for converting voice into text
Hands-free, voice-enabled control of Microsoft Windows-based applications
Automatic verification through pre-made vocabulary of medical terms
Ability to expand and customize vocabulary through existing documents and articles
Text-To-Speech features which read aloud e-mails and other PC documents
Mobile dictation using supported handheld digital recording devices
Pricing and Availability
Dragon NaturallySpeaking Medical Solutions software is available immediately through ScanSoft's resellers, Web store and catalogs for $995. For additional information on features, system requirements and pricing, please visit www.ScanSoft.com or call (800) 654-1187.
About ScanSoft, Inc.
ScanSoft, Inc. is the leading supplier of imaging, speech and language solutions that are used to automate a wide range of manual processes -- saving time, increasing worker productivity and improving customer service.
Trademark reference: ScanSoft and Dragon NaturallySpeaking are registered trademarks or trademarks of ScanSoft, Inc., in the United States and other countries. All other trademarks and trade names mentioned herein are recognized and may be registered to their respective holders.
The statements in this press release that relate to future plans, events or performances are forward-looking statements that involve risks and uncertainties, including risks associated with market trends, competitive factors, and other risks identified in the Company's SEC filings. Actual results, event and performance may differ materially. Readers are cautioned not to put undue reliance on these forward-looking statements that speak only as of the date hereof.
Order Dragon Naturally Speaking
Schedule your FREE Medical Transcription Software Demo today.
View the History of Voice Recognition and Speech Recognition Software