Dragon Naturally Speaking Reviews

- 2002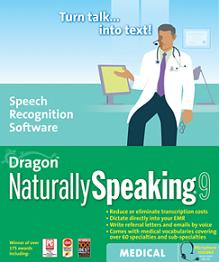 ---
ScanSoft Ships Dragon NaturallySpeaking v6 Legal Solutions; Replaces Manual Dictation with Highly Accurate Voice Recognition
Specialized Legal Vocabulary, Natural Commands and the Industry's Fastest Automatic Dictation Engine Lowers Costs and Speeds Access To Critical Information
PEABODY, Mass., February 26, 2002 - ScanSoft, Inc. (Nasdaq: SSFT), a leading supplier of imaging, speech and language solutions, today announced the immediate availability of Dragon NaturallySpeaking® v6 Legal Solutions, a new release of its award-winning speech recognition software designed specifically for the legal community and value added resellers implementing legal solutions.
Developed through close interaction with customers, Dragon NaturallySpeaking Legal Solutions is the only speech recognition product created to address the workflow and vocabulary needs of the lawyer, paralegal and legal administrative professional. Users can now create documents, forms and briefs and complete other critical tasks more efficiently by utilizing the speech recognition product with the industry's highest level of accuracy. The product offers a vast vocabulary incorporating customized legal terms and a number of advanced features that allow users to automate processes and functions for fast, hands-free document creation. Dragon NaturallySpeaking allows legal professionals to focus on client service and counsel rather than time-consuming administrative items and process-oriented tasks.
"Dragon NaturallySpeaking Legal has revolutionized the productivity of our law practice," said Paul Kiesel, managing partner of consumer law firm Kiesel, Boucher and Larsen. "It has allowed us to completely change the way information is processed and has enabled us to provide consistent, high-quality client service, despite a high volume of administrative tasks."
By voice-enabling Windows-based applications, Dragon NaturallySpeaking Legal Solutions software provides legal professionals with the ability to dictate and transcribe depositions, court proceedings and other events without the added cost of transcription services. The ScanSoft® system supports direct dictation into PC applications such as Microsoft Word, and reads files created with mobile dictation devices.
Dragon NaturallySpeaking Legal Solutions contains many new features that make it highly accurate and easy to use. For example, it includes a standard vocabulary of more than 250,000 terms as well as a comprehensive legal vocabulary containing Latin and French law phrases, court names, and abbreviations and specialized legal terms. The software also includes enhanced macro creation capabilities that are used to encapsulate complex processes into a single voice command, and can be used to integrate voice into electronic records management systems, electronic forms, applications and Legal billing products.
"ScanSoft has demonstrated through Dragon NaturallySpeaking that turn-key desktop dictation reduces costs and increases productivity for everyday office applications," said Robert Weideman, vice president of marketing for ScanSoft. "The Dragon NaturallySpeaking Solutions series brings the power of voice recognition to specific disciplines, and empowers value added resellers with the ability to easily implement custom voice-enabled solutions."
Key benefits of Dragon NaturallySpeaking Legal Solutions software include:
The industry's highest accuracy rate for automatic speech recognition
Converts voice into text at up to 160 words-per-minute
Hands-free, voice-enabled control of Microsoft Windows-based applications
Automatic recognition legal terms and phrases
Ability to expand and customize the vocabulary using existing documents and articles
Option to have e-mails and other documents read aloud using built-in Text-To-Speech
Mobile dictation using supported handheld digital recording devices
Ability to save recorded speech along with your document for later proof reading and correction by an assistant.
Pricing and Availability
Dragon NaturallySpeaking Legal Solutions software is available immediately through ScanSoft's resellers, Web store, catalogs and value-added resellers for $995. For additional information on features, system requirements and pricing, please visit www.ScanSoft.com or call (800) 654-1187.
About ScanSoft, Inc.
ScanSoft, Inc. is the leading supplier of imaging, speech and language solutions that are used to automate a wide range of manual processes -- saving time, increasing worker productivity and improving customer service.
Trademark reference: ScanSoft and Dragon NaturallySpeaking are registered trademarks or trademarks of ScanSoft, Inc., in the United States and other countries. All other trademarks and trade names mentioned herein are recognized and may be registered to their respective holders.
The statements in this press release that relate to future plans, events or performances are forward-looking statements that involve risks and uncertainties, including risks associated with market trends, competitive factors, and other risks identified in the Company's SEC filings. Actual results, event and performance may differ materially. Readers are cautioned not to put undue reliance on these forward-looking statements that speak only as of the date hereof.
Order Dragon Naturally Speaking
Schedule your FREE Medical Transcription Software Demo today.
View the History of Voice Recognition and Speech Recognition Software