Dragon Naturally Speaking Reviews

- 2002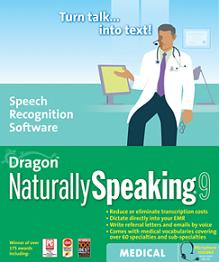 ---
ScanSoft's Dragon NaturallySpeaking v6 Receives Editors' Choice Award from CNET
Accuracy and Compatibility with Microsoft Applications Highlighted in In-Depth Review
PEABODY, Mass., April 9, 2002 - ScanSoft, Inc. (Nasdaq: SSFT), a leading supplier of imaging, speech and language solutions, today announced that its Dragon NaturallySpeaking® v6 software was awarded CNET's prestigious Editors' Choice Award for speech recognition software.
In its online review, CNET.com, April 3, 2002, reports, "Dragon NaturallySpeaking is back, and this time, it's better than ever. When ScanSoft bought Dragon from Lernout & Hauspie, it resurrected the powerful speech recognition program, then refined it. Now, NaturallySpeaking 6.0's dictation accuracy beats even IBM ViaVoice 9.0's. And Dragon's app works so smoothly with Microsoft Word, we experienced no noticeable delay in the program's speech-to-text transcriptions. No matter what your voice recognition task, at home or at work, turn to NaturallySpeaking Preferred 6.0 first."
The complete review can be found at www.cnet.com.
"We are honored to receive this recognition from CNET, an organization that is widely respected for its technical expertise and in-depth product reviews," said Robert Weideman, vice president of worldwide marketing at ScanSoft. "ScanSoft is pleased that Dragon NaturallySpeaking continues to receive industry accolades for its superior performance, unprecedented accuracy and impressive feature list."
ScanSoft's Dragon NaturallySpeaking software helps a range of users - from consumers and small businesses to government agencies and Fortune 1000 companies - use the power of voice to create and edit documents, reports, spreadsheets and email. For more information on ScanSoft's full line of productivity solutions, please visit www.scansoft.com.
About CNET
CNET, www.cnet.com, is the trusted source of information for millions of technology consumers around the world. Winner of countless awards, CNET harnesses the power and promise of technology to enrich our professional and personal lives. CNET provides expert and unbiased advice on technology products and services to inform users and expedite purchasing. Integrating an extensive directory of more than 200,000 computer, technology, and consumer electronics products with editorial content, downloads, trends, reviews and price comparisons, CNET gives users the most up-to-date and efficient shopping resources on the Web. CNET is also comprised of News.com, Download.com, CNET Radio and CNET Computer Shopper Magazine.
About ScanSoft
ScanSoft, Inc. (Nasdaq: SSFT) is the leading supplier of imaging, speech and language solutions that are used to automate a wide range of manual processes - saving time, increasing worker productivity and improving customer service.
Trademark reference: ScanSoft and Dragon NaturallySpeaking are registered trademarks of ScanSoft, Inc. in the United States and other countries. All other product names and company names referenced herein may be the trademarks of their respective owners.
The statements in this press release that relate to future plans, events or performances, including without limitation statements concerning the perceived benefits of receiving CNET's Editors' Choice Award, are forward-looking statements that involve risks and uncertainties, including risks associated with market trends, competitive factors, and other risks identified in the Company's SEC filings. Actual results, event and performance may differ materially. Readers are cautioned not to put undue reliance on these forward-looking statements that speak only as of the date hereof.
Order Dragon Naturally Speaking
Schedule your FREE Medical Transcription Software Demo today.
View the History of Voice Recognition and Speech Recognition Software