Dragon Naturally Speaking Reviews

- 2002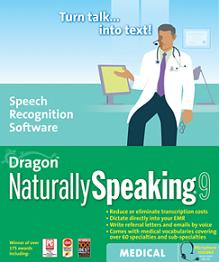 ---
ScanSoft's Enhanced Text-to-Speech Capabilities Integrated by InterVoice-Brite
ScanSoft® RealSpeak™ High Density Language Suite Improves ROI of Voice-enabled Applications
PEABODY, Mass., April 24, 2002 - ScanSoft, Inc. (Nasdaq: SSFT), a leading supplier of imaging, speech and language solutions, today announced that InterVoice-Brite, Inc. (Nasdaq: INTV), a global provider of automated communications and e-business solutions for enterprises and network operators, has integrated the enhanced functionality of ScanSoft's® RealSpeakTM software into its OneVoiceâ and Omviaä product lines. Using ScanSoft's new high density text-to-speech (TTS) capabilities, InterVoice-Brite can now provide increased port capacity for text-to-speech channels, resulting in more cost-effective speech-driven applications.
RealSpeak high-density TTS converts text in 16 languages into natural-sounding human speech, enabling the voice delivery of dynamic information such as stock quotes, weather updates, email messages and web content. The latest capabilities of RealSpeak enhance the usability and cost-effectiveness of InterVoice-Brite's OneVoice speech-enabled IVR and interactive alerts products and its Omvia voice-driven messaging and portal services.
"We are excited about the new enhancements to our text-to-speech offering because it allows us to provide our global customers with voice-driven applications that are understandable and affordable," said John Donaldson, vice president of product management at InterVoice-Brite. "ScanSoft's innovations are very much in sync with our commitment to enhancing the way our customers communicate and do business."
"InterVoice-Brite continues to deliver a superior product to its users by incorporating ScanSoft's text-to-speech technology," said Wayne Crandall, senior vice president of sales and business development at ScanSoft. "ScanSoft is pleased to continue to work with InterVoice-Brite to create state-of-the-art speech-enabled systems and services."
ScanSoft RealSpeak is the company's advanced text-to-speech technology (TTS) that can generate human-sounding synthesized speech. Used in a wide variety of advanced applications, from voice portals to speech-enabled virtual newscasters, RealSpeak technology supports an array of Intel®, Microsoft® Windows® and UNIX® system options and is currently available in 16 high density languages: US and UK English, German, French, Dutch & Belgian Dutch, Castilian and Mexican Spanish, Italian, European and Brazilian Portuguese, Norwegian, Swedish, Cantonese & Mandarin Chinese and Japanese.
About InterVoice-Brite
InterVoice-Brite is the leading global provider of automated communications, collaboration and e-business applications and outsourcing services for enterprises and network service providers. The Company operates in two global divisions, each focusing on a separate marketplace. iVB Network Solutions provides prepaid services, voicemail, unified messaging, short messaging services (SMS), service platforms and speech-enabled applications for network operators marketed under the Omviaä product name. iVB Enterprise Solutions' OneVoice® product family offers speech-enabled IVRs, multimedia portals, web and wireless application gateways that enable enterprises and their customers to exchange information and perform transactions. Both divisions also provide their products and services on an outsourcing basis as an Application Service Provider. For more information, visit www.intervoice-brite.com.
About ScanSoft, Inc.
ScanSoft, Inc. is the leading supplier of imaging, speech and language solutions that are used to automate a wide range of manual processes-saving time, increasing worker productivity and improving customer service. For additional information on the company, please visit www.ScanSoft.com.
Trademark reference: ScanSoft and RealSpeak are registered trademarks or trademarks of ScanSoft, Inc. in the United States and other countries. All other company names or product names referenced herein may be the trademarks of their respective holders.
The statements in this press release that relate to future plans, events or performances are forward-looking statements that involve risks and uncertainties, including risks associated with market trends, competitive factors, and other risks identified in the Company's SEC filings. Actual results, events and performance may differ materially. Readers are cautioned not to put undue reliance on these forward-looking statements that speak only as of the date hereof.
Order Dragon Naturally Speaking
Schedule your FREE Medical Transcription Software Demo today.
View the History of Voice Recognition and Speech Recognition Software