Dragon Naturally Speaking Reviews

- 2002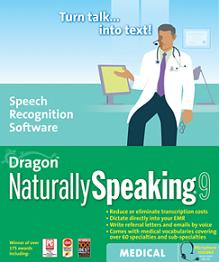 ---
VoicePC Selects ScanSoft Dragon NaturallySpeaking to Enable Voice-Activated Computing
Speech Recognition Software Empowers Users to Manage Desktop Computing Through Voice Commands Without the Use of a Keyboard or Mouse
PEABODY, Mass., May 21, 2002 - ScanSoft, Inc. (Nasdaq: SSFT), a leading supplier of imaging, speech and language solutions, today announced that VoicePC, a leading provider of integrated voice solutions for the personal computer, has selected ScanSoft's recently launched Dragon NaturallySpeaking® v6 to deliver a fully integrated voice-activated personal computer.
VoicePC delivers an integrated voice-enabled computer that combines voice dictation, voice command and text-to-speech technologies in a bundled, comprehensive solution. With a VoicePC computer, users with a wide range of different needs are able to use their PC through the power of voice command, instead of through a mouse or keyboard. Typing is no longer needed to send email, write documents, or surf the Internet. Geared to consumers from the special-needs arena to executive markets, VoicePC provides the following solutions pre-loaded with Dragon NaturallySpeaking v6.
VoicePC E - This base model VoicePC provides a system that features full voice-command of the operating system and applications in a powerful hardware package.
VoicePC SE - Designed for the executive market, VoicePC SE comes pre-loaded with ScanSoft's OmniPage® Pro 11 Suite, combining full voice-command with optical character recognition (OCR) software and resulting in text-to-speech capability and the ability to save scanned documents for editing.
VoicePC LV - This solution is focused on the needs of low-vision users.
VoicePC LD - This solution is designed as a learning aid for students with learning disabilities.
Future releases of VoicePC solutions will include versions designed for professionals in the legal and medical markets.
"Our business is dependent on delivering a fully integrated system that enables the user to take advantage of the benefits of a fully voice-enabled PC with minimal training and difficulty," said Waleed Qirbi, president of VoicePC. "After evaluating a number of products, we found that ScanSoft provided the most effective speech solutions on the market. By bundling the company's Dragon NaturallySpeaking software with our hardware, we are able to provide an affordable solution for customers who are entering the voice-enabled market."
Dragon NaturallySpeaking v6 contains many new features that make the product highly accurate and easy to use. The software includes a standard vocabulary of more than 250,000 terms, as well as ScanSoft's latest feature, Nothing But Speech®, which automatically filters out the "um's" and "aah's" that naturally occur in users' speech processes, providing the most accurate and easy to use speech and language solution to date.
"Dragon NaturallySpeaking provides the most accurate, easy-to-use and powerful speech recognition in the industry, assisting users in the operation of a computer in a hands-free environment," said Wayne Crandall, senior vice president of sales and business development at ScanSoft. "Through this agreement, ScanSoft augments the power of the personal computer, removing the obstacles and overcoming user limitations in creating a voice enabled work station."
Key benefits of Dragon NaturallySpeaking include (features may vary by edition):
The industry's highest accuracy rate for desktop automatic speech recognition
Conversion of voice into text at up to 160 words per minute
Hands-free, voice-enabled control of Microsoft® Windows®-based applications
Ability to expand and customize the vocabulary using existing documents and articles
Option to have e-mails and other documents read aloud using built-in text-to-speech
Mobile dictation using supported handheld digital recording devices
Ability to save recorded speech along with a document for later proof reading and correction by an assistant.
About VoicePC
VoicePC Inc. provides an integrated hardware and software solution combined with a powerful service and support program to make a voice computer possible. The company's products serve the needs of users by combining the most advanced voice-enabling software available with a number of hardware combinations aimed at specific users in the special needs and executive markets. More information is available at www.VoicePC.ca.
About ScanSoft, Inc.
ScanSoft, Inc. is the leading supplier of imaging, speech and language solutions that are used to automate a wide range of manual processes-saving time, increasing worker productivity and improving customer service. For additional information on the company, please visit www.scansoft.com
Trademark reference: ScanSoft, Dragon NaturallySpeaking, OmniPage, and Nothing But Speech are registered trademarks or trademarks of ScanSoft, Inc. in the United States and other countries. All other company names or product names referenced herein may be the trademarks of their respective holders.
The statements in this press release that relate to future plans, events or performances are forward-looking statements that involve risks and uncertainties, including risks associated with market trends, competitive factors, and other risks identified in the Company's SEC filings. Actual results, events and performance may differ materially. Readers are cautioned not to put undue reliance on these forward-looking statements that speak only as of the date hereof.
Order Dragon Naturally Speaking
Schedule your FREE Medical Transcription Software Demo today.
View the History of Voice Recognition and Speech Recognition Software