Dragon Naturally Speaking Reviews

- 2002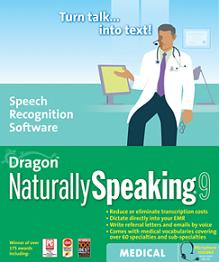 ---
ScanSoft's Dragon NaturallySpeaking Wins the Best Product Award at VARVision® Spring 2002 Event
Market-Leading Dictation and Speech Recognition Application Selected as Best Software Application by Attendees at the Preeminent Channel Event for Value-Added Resellers
PEABODY, Mass., June 6, 2002 - ScanSoft, Inc. (Nasdaq: SSFT), a leading supplier of imaging, speech and language solutions, today announced that its Dragon NaturallySpeaking software application has earned the "Best Product, Software Applications" Award at VARVision Spring 2002, the preeminent channel event for value-added resellers and integrators. ScanSoft outpaced a wide range of software application vendors competing for the award at the event, which is produced by VisionEvents®.
The Intel conference, titled "Advancing the Digital Universe - Computing in Communications," is designed to provide invaluable insight into the next generation of products, technologies and solutions for wire line and wireless communications.
ScanSoft® Dragon NaturallySpeaking® is the market-leading automatic dictation and speech recognition product for Microsoft® Windows®. The highly accurate speech product allows users to create documents at up to 160 words-per-minute, saving time and increasing worker productivity. Dragon NaturallySpeaking also enables voice-control of Microsoft Windows operating system commands and third-party PC applications, giving users an efficient way to start programs, save files, surf the Web and create email.
The "Best of VARVision Awards™" are the only industry awards that are judged exclusively by leading Value Added Resellers (VARs). This year, more than 120 VARs previewed, reviewed and evaluated a broad set of applications in order to determine which products lead the industry in ease-of-use and value.
"The VARVision awards are unique in that they are voted on by a group of industry leaders- the VARs themselves," said Eric Lesonsky, event director for VARVision. "By selecting Dragon NaturallySpeaking for this award, the leading VARs in the industry have acknowledged the software as an exceptional product and definitive leader in their category."
Dragon NaturallySpeaking is available in professional and retail solutions designed to enable a wide range of users - from consumers and small businesses to government agencies and Fortune 1000 companies - to use the power of voice to create and edit documents, spreadsheets and e-mail, and to increase overall productivity.
"The Dragon NaturallySpeaking Professional Solutions family of products has long been lauded for its ease of use and industry-leading accuracy among its broad customer base," said Robert Weideman, vice president of worldwide marketing at ScanSoft. "We are pleased to have been recognized by the array of VARs who work directly with our customers, and this award is a key milestone as we continue to work closely with channel distributors and expand these relationships world wide."
About Vision Events
Vision Events, a Gartner, Inc. (NYSE: IT and ITB) company, is a leading producer of highly focused business events that bring resellers and end users together with leading and emerging vendors in private boardroom appointments to form strategic partnerships and secure new business in the technology sector. Additional information about Vision Events can be found at www.visionevents.com.
About ScanSoft, Inc.
ScanSoft, Inc. (Nasdaq: SSFT) is the leading supplier of imaging, speech and language solutions that are used to automate a wide range of manual processes -- saving time, increasing worker productivity and improving customer service. For more information please visit www.scansoft.com.
Trademark reference: ScanSoft and NaturallySpeaking are trademarks or registered trademarks of ScanSoft, Inc. in the United States and other countries. All other company names or product names referenced herein may be the trademarks of their respective holders.
The statements in this press release that relate to future plans, events or performances, including without limitation statements concerning the perceived benefits of receiving VARVision's "Best Product, Software Applications" Award, are forward-looking statements that involve risks and uncertainties, including risks associated with market trends, competitive factors, and other risks identified in the Company's SEC filings. Actual results, events and performance may differ materially. Readers are cautioned not to put undue reliance on these forward-looking statements that speak only as of the date hereof.
Order Dragon Naturally Speaking
Schedule your FREE Medical Transcription Software Demo today.
View the History of Voice Recognition and Speech Recognition Software